JUST Capital is thrilled to announce a critical new step in our mission to create a more just marketplace. On June 13, Goldman Sachs Asset Management launched the JUST U.S. Large Cap Equity ETF (Ticker: JUST) – the first ever exchange-traded fund designed to align with the American public's priorities for just business behavior, based on JUST Capital's research.
And the response from the investment community has been energizing – we were advised by GSAM that the JUST ETF ended first day of trading with $251M in assets, making it the single most successful ESG ETF launch ever, and in the top 10 equity ETF launches in history.
The JUST ETF invests in U.S. companies that are driving positive change on some of the most pressing social issues of our time – including worker pay and wellbeing, customer treatment and privacy, beneficial products, the environment, job creation, strong communities, and more – all anchored directly to the values and priorities of the American people as identified through JUST Capital's polling.
The Fund, which began trading on the NYSE Arca on June 13, seeks to track the JUST U.S. Large Cap Diversified Index (JULCD), constructed and managed by JUST Capital, and comprised of the top 50% of Russell 1000 companies in each industry, based on our annual rankings. We also refer to the JULCD as the "JUST 500" to denote its broad-based structure.
Compared with Russell 1000 companies excluded from the Index, 2017-18 JULCD constituents on average:
are twice as likely to pay nearly every worker a living wage.

create U.S. jobs at a 20% greater rate.

employ twice as many workers in the U.S.

produce 45% lower greenhouse gas emissions per dollar of revenue.

paid 71% less in fines for consumer sales-terms violations.

give 2.3x more to charity.

paid 94% less in Equal Employment Opportunity Commission fines.

have a 7% higher Return on Equity (ROE).
Since its inception on November 30, 2016 through June 1, 2018, JULCD has returned 32.3%, 4.3% above the Russell 1000 in the same period. (Note this is a new index with a short performance history, and past performance is not indicative of future performance.)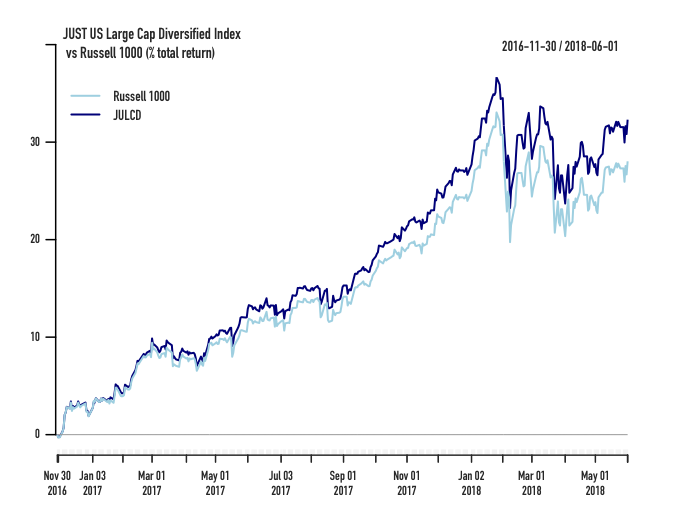 We believe that business, and capitalism, can and must be a positive force for change. Our definitive polling, rankings, indexes, and data empower all market participants – investors, business leaders, consumers, and workers – with the information they need to invest in, purchase from, and work for companies that perform best on the issues they care about.
This is an important new chapter for JUST Capital, an independent nonprofit organization, as we build the business case for just company behavior and demonstrate the power of private capital as a lever of change.
Select Press for the JUST ETF: