2017 JUST Rankings
We will release our 2017 rankings of the Russell 1000 this Fall. These will reveal how the corporations measure up against the public's definition of just business behavior.
Our research team has reached over 50,000 members of the American public to find out how they measure Corporate JUSTness. These polls and interviews help us determine the specific Drivers and Components of corporate JUSTness, and their relative importance. We will be releasing our 2017 methodology this summer along with updates about our research data and our process.
---
Recent Updates
Using Data Science to Create a More Perfect Union: The "Data Challenge for America"
by Martin Whittaker and Tianhui Michael Li
We believe in the power of information. We also believe in markets and capitalism as a force for good. The two are inexorably linked, because markets don't work properly without open access to reliable data and information and the insights and perspectives they drive. Within the impact investing and philanthropic worlds, this is doubly so.
Read»
The More JUST the Company, the Steadier the Stock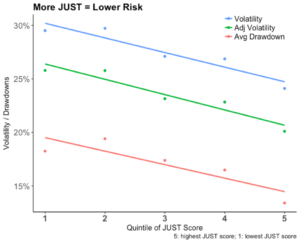 Read»
What effect would tax reform have on America's bottom line?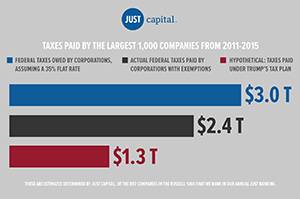 Read»
---
Issues We're Tracking