Polling Results: Aligning with the Priorities of the Public
In 2018, as part of our annual survey effort, JUST Capital conducted a special poll of the American public, to better understand what people believe companies should be doing with their tax savings. When asked to indicate the percentage (ranging from 0% to 100%) of tax savings they thought should be allocated to each category, the results were: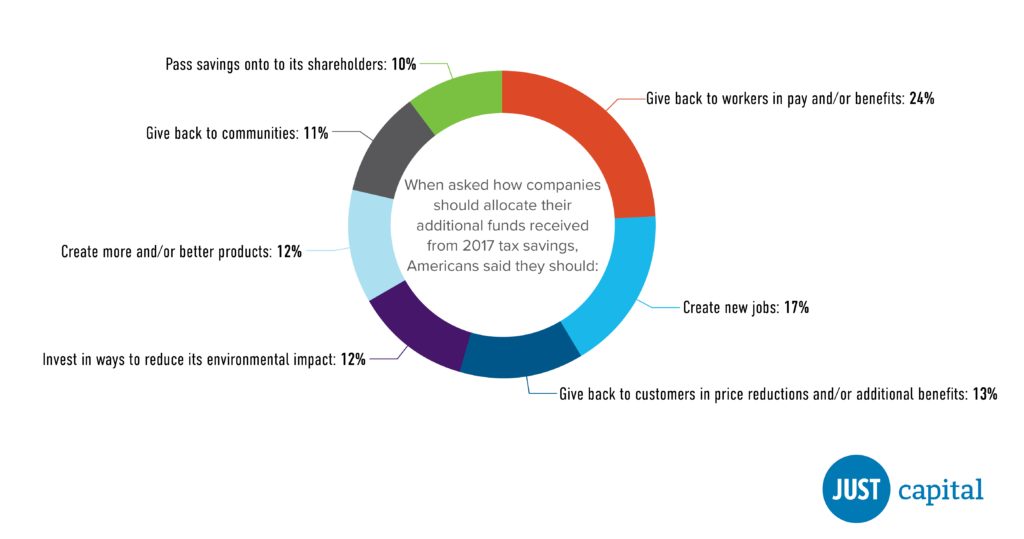 The feedback is striking when looked at alongside our analysis above. While Americans agreed that 24 percent of savings should go toward worker pay and benefits, worker issues account for just six percent of how companies are actually allocating their savings.
Collaboration with Illinois State Treasurer's Office
As part of our effort to inspire greater transparency around how corporations are using or intend to use their anticipated tax windfall, JUST Capital collaborated with the Illinois State Treasurer's Office, and other institutional investors, including Sycomore Asset Management, Trillium Asset Management, CtW Investment Group, The Nathan Cummings Foundation, and Segal Marco Advisors, in a survey to the S&P 100 that asked how they expected to reinvest their savings from the Tax Cut and Jobs Act. The report, which details how 48 of the largest U.S. companies are spending their tax savings, was featured in Politico, and can be downloaded here.
Note About Utilities
In much of the country, investor-owned utilities have a monopoly, and state regulators allow them to charge rates high enough to recoup their costs and provide a return to their shareholders. So, when taxes go down, regulated utilities tend to pass a significant portion of their savings to their customers in the form of lower prices, as evidenced below: