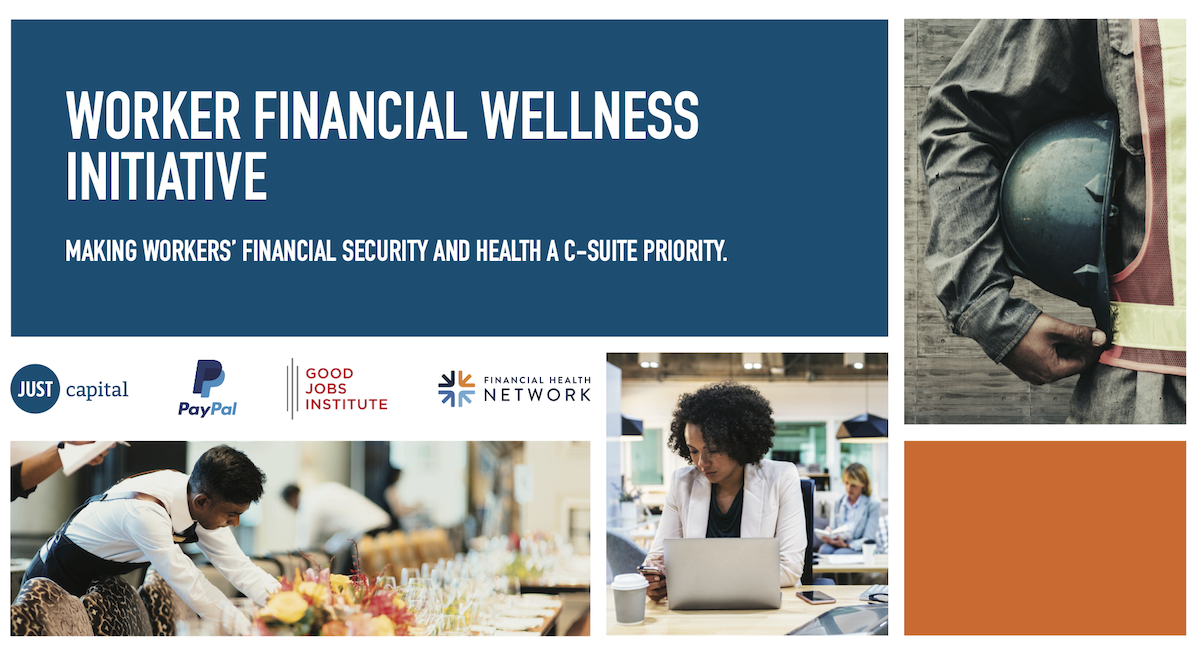 JUST Capital and PayPal , in collaboration with the Financial Health Network and the Good Jobs Institute, have established a new initiative to make workers' financial security and health a C-suite and investor priority. The organizations are calling on the CEOs of America's largest companies to conduct a Worker Financial Wellness Assessment as a vital first step toward understanding the financial vulnerability of their workforce. Leading research shows that when workers are more financially secure, key business outcomes such as productivity, customer satisfaction, and employee turnover and engagement also improve.
On this page you'll find an overview of the project along with a set of resources and related stories. We'll be regularly updating this list as the initiative evolves. Be sure to scroll down to find a link to download the assessment guide.
About the Initiative
Even before the COVID-19 crisis hit the U.S., far too many working Americans were struggling to pay their bills each month, let alone save for an emergency expense or retirement. JUST Capital's research shows that before the pandemic, 50% of workers at Russell 1000 companies weren't making enough to support a family of three, even with a partner working part-time. The pandemic has only exacerbated these systemic economic inequalities.
The Worker Financial Wellness Initiative seeks to make workers' financial security and health a C-suite and investor imperative. Together, the organizations will build upon PayPal's catalytic leadership to directly engage corporate leaders on these issues, providing the resources for companies to conduct a Worker Financial Wellness Assessment and showing why investing in workers leads to improved business outcomes. Key components of the Initiative include:
Convening CEOs and C-suite leaders of the largest public companies in the U.S. to discuss how to improve the financial security and health of their workers.
Providing tools and software to help leaders conduct a Worker Financial Wellness Assessment. This will include a wage assessment to understand if workers earn enough to cover the local cost of basic necessities, including housing, transportation, and food, and whether employer-provided benefits provide meaningful financial support or overburden families with fees. It will also include an employee survey to better understand workers' experiences when it comes to their household planning, spending, savings, and debt.
Conducting new research demonstrating the business case for improving workers' financial health and security, including a detailed case study of the PayPal program and other actions taken by companies participating in the Initiative.
Enlisting business and financial media to shift norms and cultivate new expectations in boardrooms and on Wall Street that a financially healthy and secure workforce is key to delivering on the promise of creating an economy that works for all Americans.
Corporate Engagement and Participation
JUST Capital, PayPal, the Financial Health Network, and the Good Jobs Institute know firsthand that taking steps to assess and improve workers' financial well-being is no easy task. That's why the organizations are providing a range of engagement and assistance opportunities to help companies no matter where they are at on their journey. This includes: hosting private, peer learning opportunities for C-Suite leaders; creating resources and events for HR and compensation professionals; providing direct assistance to companies on how to develop and deploy a Worker Financial Wellness Assessment, and identifying areas for improvement and immediate next steps; and public opportunities to celebrate corporate leadership.
If you are interested in learning more about or participating in the initiative please click here to get in touch with us.

Events
Worker Financial Wellness Initiative Introductory Webinar
We spoke to leading financial health experts from the Financial Health Network and the Good Jobs Institute on how companies can conduct an assessment of wages, benefits, and employees' overall financial health. We also heard directly from PayPal about the actions they took in 2018 after learning that nearly two-thirds of their hourly and entry-level employees were running out of money between paychecks. Today, these workers are on track to have a minimum net disposable income of 16%, up from as low as 4% in some regions.
Watch the full conversation below.
PayPal CEO and JUST Capital Co-Founder Discuss Why a Healthy Economy (and Democracy) Starts with Worker Financial Wellness
Differentiating Living Wage, Minimum Wage, and NDI
Resources
Over the coming months, we will be providing you with the tools and insights you need to make your business stronger and more resilient. Begin by downloading the assessment guide »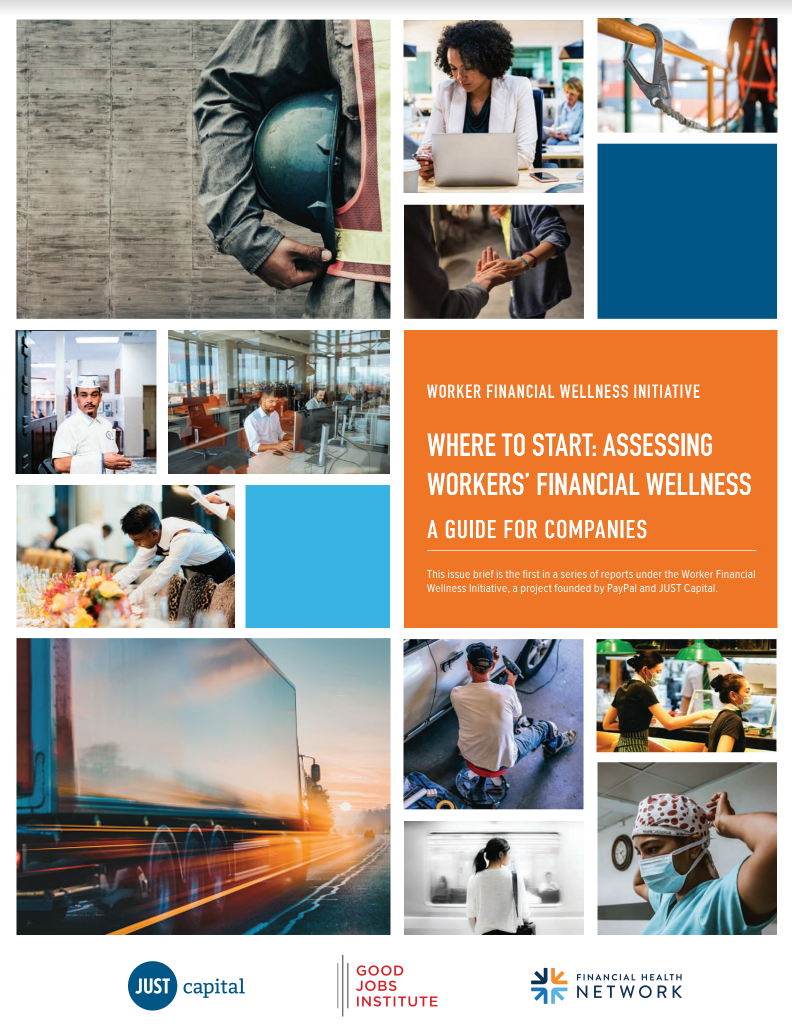 JUST chairman Paul Tudor Jones and PayPal CEO Dan Schulman wrote an editorial in CNN Business on why CEOs need to make sure employees aren't struggling to get by.
MIT Sloan professor and Good Jobs Institute founding president Zeynep Ton tells our editorial director, Rich Feloni, that the pandemic is the perfect time to invest in workers.
Financial Health Network founding CEO Jennifer Tescher tells Rich how rethinking the relationship between a company's leadership and workforce  to prioritize financial health has an interconnected business and moral imperative.
In the wake of Walmart being punished by Wall Street for raising wages, JUST CEO Martin Whittaker explains why it's a fallacy to think raising wages eliminates value. 
Our CMO Michelle Mullineaux uses Amazon's advertising blitz around the $15 minimum wage to explain why American workers need a living wage, not a minimum one.