JUST Capital and PayPal, in collaboration with the Financial Health Network and the Good Jobs Institute, have established The Worker Financial Wellness Initiative to make workers' financial security and health a C-suite and investor priority. The Initiative elevates the necessity of worker financial well-being as business leaders consider solutions to shape an equitable and inclusive recovery from the COVID-19 pandemic and take action to advance racial equity. Research shows that improving workers' financial wellness benefits not only workers themselves, but also business outcomes such as productivity, innovation, customer satisfaction, and employee turnover and engagement.
Join a Growing Community of Practice
On July 13 we announced the first cohort of companies joining the Initiative, including Chipotle, Chobani, Even, Prudential Financial, and Verizon. This first cohort represents approximately 260,000 American workers across a range of industries, and the past year has seen several additional companies join the Initiative, including Synchrony's announcement on April 7, 2022.
The expanded cohort brings the number of American workers represented by Initiative companies to more than 800,000. The program presents a unique opportunity to demonstrate what companies can accomplish when they come together with a shared goal of improving the financial health and resilience of workers across the nation.
JUST Capital, PayPal, the Financial Health Network, and the Good Jobs Institute know firsthand that taking steps to assess and improve workers' financial well-being is no easy task. That's why the organizations are providing a range of engagement and assistance opportunities to help companies no matter where they are on their journey. This includes hosting peer learning opportunities for C-Suite leaders; creating resources and events for HR and compensation professionals; providing direct assistance to companies on how to develop and deploy a Worker Financial Wellness Assessment, and use it to identify areas for improvement and immediate next steps; and public opportunities to celebrate corporate leadership.
Companies joining the Initiative commit to conducting a financial wellness assessment of their workforce to understand workers' financial vulnerability and identify opportunities to improve their resilience over the long-term. Specifically, these companies will complete at least one assessment within a 12-month period, such as an employer-provided benefits assessment, an employee survey, or a living wage assessment. Ultimately, these assessments – like the Initiative itself – aim to ensure that corporate leaders are aware of workers' financial wellbeing.
If you are interested in learning more about or participating in the Initiative please click here to get in touch with us. 
Begin the exploration by downloading the assessment guide »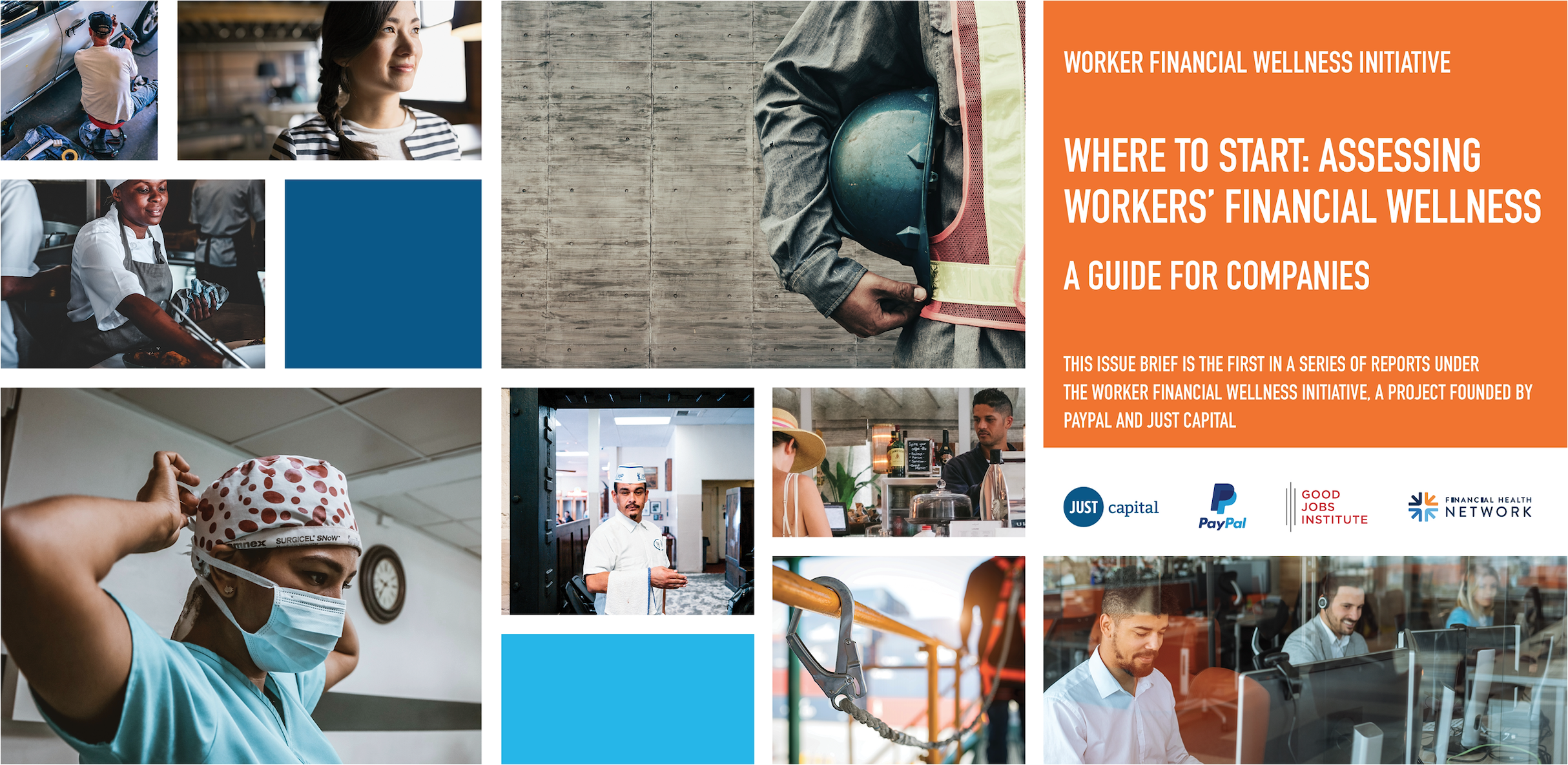 Read More In the Media
Business Insider: PayPal workers were struggling to make ends meet. CEO Dan Schulman vowed to change that.
Barron's: Why PayPal and Chobani Believe Financially Healthy Workers Are Key to a 'Strong Democracy'
Business Insider: Prudential just joined an initiative to analyze employee compensation and benefits. Here's why the insurance giant believes it's 'an opportunity to do better.'
CNN Editorial by JUST chairman Paul Tudor Jones and PayPal CEO Dan Schulman on why CEOs need to make sure employees aren't struggling to get by.
MIT Sloan professor and Good Jobs Institute founding president Zeynep Ton tells our editorial director, Rich Feloni, that the pandemic is the perfect time to invest in workers.
Financial Health Network founding CEO Jennifer Tescher tells Rich how rethinking the relationship between a company's leadership and workforce to prioritize financial health has an interconnected business and moral imperative.
In the wake of Walmart being punished by Wall Street for raising wages, JUST CEO Martin Whittaker explains why it's a fallacy to think raising wages eliminates value.
Our CMO Michelle Mullineaux uses Amazon's advertising blitz around the $15 minimum wage to explain why American workers need a living wage, not a minimum one.
Alison Omens and Amy Glasmeier of MIT take to Fortune to explain why "15$  an hour isn't enough: U.S. workers need a living wage." 
With the debate around minimum wage raises raging, Rich Feloni and Kelley-Frances Fenelon explore the history of the minimum wage, and the myriad of reasons why a living wage should be a business imperative for every corporation. 
Get Oriented
WATCH: Introductory Webinar
Experts from the Financial Health Network, Good Jobs Institute, JUST Capital, and PayPal  explain how companies can conduct an assessment of wages, benefits, and employees' overall financial health.  
WATCH: Explainer on Living Wage and Net Disposable Income
Experts from JUST, PayPal, and Good Jobs Institute unpack key themes relating to worker financial wellness, discuss trends around increasing wages, and connect the work to corporate America's commitment to advance racial equity in the workplace.

WATCH: Why a Healthy Economy Starts with Worker Financial Wellness
PayPal CEO Dan Schulman and JUST Capital chairman Paul Tudor Jones discuss why there has never been a better time to invest in your employees at the Forbes JUST 100 Summit.
WATCH: Chipotle, PayPal, and Prudential Financial Highlight Why Worker Financial Wellness Should Be a Post-Pandemic Priority for Corporate America
Chipotle, Prudential Financial, and PayPal share insights on how, and why, companies should prioritize worker financial wellness as they look to strengthen their operations, recruitment, and retention in a post-pandemic economy.
Thank You!
JUST Capital, the Financial Health Network, and the Good Jobs Institute are 501(c)(3) nonprofit organizations collectively working towards delivering a promise of a just economy for all Americans.The Worker Financial Wellness Initiative is made possible through the generous support of funders, including our corporate partners PayPal and Prudential Financial. Our sincere gratitude goes out to all of our funders and the organizations that are taking part in this critical and timely Initiative.