Companies Preparing for New SEC Climate Reporting Standards Should Look at Those Already Leading the Way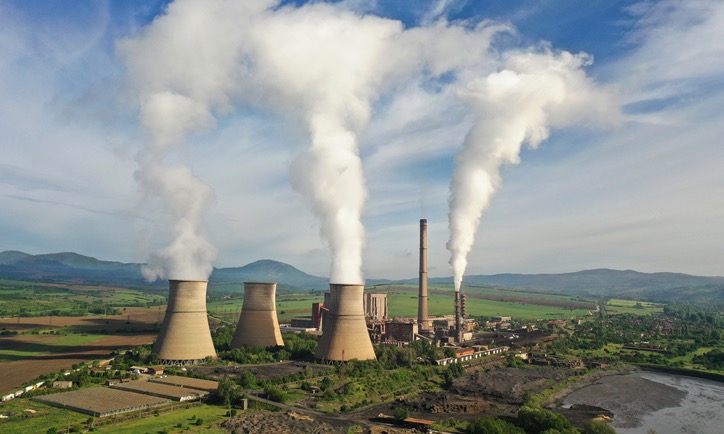 With March's SEC vote to propose new climate reporting standards, corporate America is set to soon face new, robust requirements in how they publicly disclose climate impact data – including Scope 1, 2, and 3 greenhouse gas (GHG) emissions. Currently, 57% of the companies JUST Capital ranks report their Scope 1 and 2 emissions, which include those that come from company-owned operations and those that come from purchased energy, respectively. This is a solid increase from the 42% of companies that did so in 2021, but corporate America still has a ways to go to catch up and be ready for these forthcoming disclosure requirements.
Last December, we looked at the 400 companies that disclosed emissions reduction targets in 2021 to identify the key elements that comprise a credible climate commitment. We identified four key criteria for how current companies meaningfully disclose their data, to serve as a guide for companies preparing for disclosure: these commitments are understandable, comprehensive, innovative, and achievable. These criteria overlap with the SEC's proposed disclosure framework, which would require companies to separately disclose key climate data on Scope 1, 2, and 3 emissions, along with details of publicly set climate goals.
Using these four criteria and the SEC's proposal as a backdrop, we then took a closer look at the companies leading our 2022 Rankings of America's Most JUST Companies when it comes to helping combat climate change. For this issue, comprising 2.2% of a company's Rankings score, we evaluate whether companies disclose their Scope 1 and 2 emissions and whether they disclose climate commitments (and which type). These top performers signal where the SEC's proposal aligns with our recommendations and represent some of the approaches that other companies can consider when preparing to disclose this increasingly important climate data.
Below, we broke down the four components of a comprehensive climate commitment, with the latest on which corporations can serve as models for their peers.
It's understandable
Currently, there is no standard approach on disclosing the details of a corporate climate commitment, but the SEC's new proposal calls for such standardization. While prioritizing the nuance of each company's business model and industry challenges, it is also important to create a plan that is understandable and transparent. Consistent reporting in registration statements and periodic reports like 10-K filings will standardize the data available on corporate climate commitments and allow for increased comparability across commitments. Ultimately making these complex and nuanced commitments more understandable for all stakeholders.
One area of challenge for companies is disclosing Scope 3 emissions – which represent emissions from the value chain – because they are dependent on suppliers and elements outside the company's direct control. While companies tend to shy away from disclosing Scope 3 emissions for this reason, they are a crucial element of understandable, transparent climate commitments and often a differentiating factor between deeming a commitment carbon neutral (carbon emissions are offset by carbon removal) or net-zero (this approach applied to all GHG).
S&P Global discloses three different emission reduction targets for each scope and illustrates the aspects of its operations that fall within each scope, along with a chart breaking down its current emissions and energy consumption since 2019, the company's baseline year. This approach both provides transparency, looking back over progress since S&P's baseline year, and makes its commitments understandable to all stakeholders.
As part of its climate commitments, Accenture explains the differences between the three scope categories and its progress on reaching Science-Based Targets within each scope, comparing its 2021 Scope 1, 2, and 3 emissions to those of its baseline year. Because suppliers significantly impact Accenture's Scope 3 emissions, the company plans to require that suppliers disclose their emissions and reduction targets. Accenture's reporting approach is both extensive and user-friendly, and the company's progress report, a publicly available monitoring mechanism, provides additional clarity on its emissions breakdown.
Both S&P Global and Accenture's net-zero plans are complex, but the transparency and the clarity of their commitments make them stand out from their industry peers.
It's comprehensive
Meeting a net-zero target requires companies to assess the emissions of their entire value chain – a hallmark of comprehensive climate commitments. All commitments from JUST's top performers on this issue address their Scope 3 emissions but how they tackle these emissions vary. Though on a longer timescale than Scope 1 and 2 disclosure, the SEC is also calling for the disclosure of Scope 3 emissions that are "material" to companies. Current disclosure is low on Scope 3 emissions, but some companies have already made the leap into obtaining detailed Scope 3 data and setting targets to address them.
As a financial institution, Moody's decision to set a net-zero target is heavily influenced by its portfolio companies, which contribute to the company's Scope 3 emissions. In addition to setting its own individualized reduction targets, Moody's is pushing for more disclosure and goal setting from its portfolio companies. Based on its own research, Moody's determined that financial institutions need clarity on portfolio company emissions and progress in order to address those emissions and quantify their own net-zero commitments. This two-fold approach of advancing the company's own sustainability commitments and pushing for progress in the industry overall shows that Moody's understands that committing to these targets does not exist in a vacuum. In order to reach its ambitious goals, Moody's needs comprehensive, intentional collaboration amongst industry partners.
Apple goes in depth on its plan to reduce emissions from products, a key contributor to the company's Scope 3 emissions. Apple's business is dependent on the sale of consumer electronics, which involves end-of-life treatment and processing, so its unique net-zero challenge is finding ways to combat these product-related emissions. Apple discloses its approach for product end-of-life treatment, which focuses on establishing circular supply chains through recycling and innovative technologies that dissemble recycled products to extract their valuable resources.
Both Biogen and S&P Global are targeting their Scope 3 emissions by directly engaging with their suppliers and employees. With 10 suppliers already committing to setting science-based targets by 2025, Biogen is choosing to tailor specific plans for its suppliers to ensure targets are met. Biogen also incentivizes employees to adopt emission reduction practices by offering benefit programs that cover the cost differential for adopting 100% renewable energy at home. S&P is following a similar approach and is working directly with suppliers to ensure 81% of its most emission-intensive suppliers have science-based targets set by 2025. S&P is also advocating for a "cultural change" within workplace practices to ensure the completion of its net-zero plan is not halted by employees retiring or other leadership shifts that may occur between now and 2040.
It's innovative
Among top performers, each climate commitment had innovative components that address the idiosyncrasies, limitations, and challenges of their given industry. This innovation is key and speaks to another SEC request, which calls for disclosure on "how the registrant intends to meet its climate-related targets or goals." It is a broad ask, but it is important to understand the nuance of each company's pathway to reducing emissions.
Biogen's net-zero plan, "Healthy Climate, Healthy Lives," is a two-tiered approach crafted to not only reduce emissions but also identify and mitigate the health implications that result from climate change, which tend to disproportionately harm vulnerable communities. Through its plan, Biogen is making advancements to electrify its vehicle fleet, expand sustainable packaging of its products, and set green chemistry targets to identify alternatives to fossil fuel-derived ingredients. Additionally, the company is partnering with MIT to create a model that shows the implications of climate actions on human health. This forward-thinking initiative aims to serve as a resource for scientists and policymakers to utilize when tackling decisions regarding the adverse health effects of climate change. Because its industry is interwoven with human health, Biogen's plan is specifically catered to look at climate action through a climate justice lens.
In looking at the global ties between digital finance and climate resilience, PayPal launched a climate task force, Digital Finance for Climate Resilience Framework for Action. The task force seeks to establish an inclusive, climate-neutral economy and, similar to Biogen, support the communities most impacted by climate change. Through the adoption of its own science-based strategies to mitigate emissions, PayPal identified that these practices on a larger scale will drive positive global environmental impact. By leveraging its knowledge of digital finance, PayPal is poised to achieve this.
As a technology company, HP focuses on the circularity of its products. By incorporating more sustainable materials into its products, becoming zero waste in its managed facilities, and joining partnerships to drive sustainable forestry practices, HP is engaging in a broad scope of initiatives to meet its Net-Zero target that make sense for its industry.
Etsy is focusing on a decarbonization plan for the parts of its value chain that are emissions-intensive. Despite having a business model dependent on independent sellers, Etsy is ensuring it can meet emission reduction goals by targeting transportation and logistics in its operations.
It's achievable
All net-zero plans made by these leading companies have been verified by the Science-Based Target Initiative (SBTi), ensuring that their strategies are achievable considering the capabilities of their organization. In addition to having externally verified targets, companies are setting and providing updates on their interim targets to show progress, both within direct operations and their supply chains. Interim targets are another aspect of commitments around which the new SEC proposal will call for disclosure – specifically the "scope of activities and emissions included in the target, the defined time horizon by which the target is intended to be achieved, and any interim targets."
Both Moody's and PayPal have set ambitious targets for their suppliers to meet by 2025, with Moody's setting the goal that 60% of suppliers have their own science-based target and PayPal aiming for 75% of their suppliers to do the same.
HP provides updates on its progress made in 2020 – broken down by Products and Services, Supply Chain, and Operations – to highlight how reductions in the different scope categories manifest in actual business practices. Meanwhile, Apple provides a historical breakdown of its carbon footprint and emissions projections through 2030 when the company aims to be carbon neutral.
Companies are also showing that these targets are achievable by reaching milestones in their other sustainability initiatives. Accenture has achieved ISO 14001 Environmental Management System certification globally, demonstrating that sustainability efforts are an organizational priority. Etsy shows a similar dedication by being the first e-commerce company to entirely offset carbon emissions from shipping back in 2019. Despite having met these targets, both companies are continuing to further their sustainability efforts and pushing for even more progress within their respective companies.
Preparing for a new standard
As more companies set climate commitments we will continue to analyze the credibility of their targets and advocate for commitments that fit the needs of business and limit global warming. With the SEC's proposed standardization of disclosure in place, this analysis will only become more possible, and stakeholders will be more readily able to invest in, buy from, and work for companies that have made curbing climate change a core business priority.