The Week in COVID Polling: A Roundup of the Latest Insights from Public Opinion Research
June 4, 2020
As we head into June, the country is starting to see a groundswell of reopening activity, with most states — and even America's largest cities – easing stay-at-home orders and partially lifting restrictions on public gatherings and businesses. While big business looks optimistically toward economic turnaround, the outlook of Americans is much more tempered.
In addition to our ongoing polling, which aims to understand what the public wants to see from corporate America during this time, we're rounding up the latest insights from public opinion research each week, to see how Americans are feeling over the course of this unprecedented time.
The air may be clearing enough to (temporarily) see a silver lining.
Wave 13 of the Harris Poll COVID-19-Tracker finds that a little over one in three respondents say the impacts on climate change and environmental efforts are a positive outcome from the pandemic.
Restrictions on mobility – particularly among the aviation industry – have resulted in a significant decrease in carbon emissions, but the fine print reveals that there is little confidence that this positive movement can be sustained as the economy begins to recover.
CEOs are bullish on economic recovery.
As we enter into month four of the pandemic, most signals are pointing toward a recession, caused in part by unprecedented job losses sustained since mid-March. The market, however, reflects a very different dynamic, with both the S&P and Dow inching their way back to pre-pandemic highs.
The markets may be a root cause for optimism among business executives, saysTMF Group, a global compliance and administrative consultancy. TMF surveyed 300 business leaders about their expectations for economic recovery, and found that three-quarters expect to recover from the recession within one year.
This optimism is tempered by president of the Minneapolis Federal Reserve, Neel Kashkari, who warns of the possibility of a W-shaped recovery, saying "The markets have no idea where the virus is going."
Even a vaccine may not be enough to compel Americans to return to normal.
Just because businesses are bullish about reopening doesn't mean Americans are rushing to get back to their pre-pandemic behaviors.
A Washington Post/ABC poll shows that 57% of Americans say trying to control the spread of the coronavirus is (still) most important right now, even if it comes at the expense of the economy.

A large majority (seven in 10) say they are worried about the possibility of a second wave of coronavirus infections in the fall.

An ABC/NORC poll from mid-May shows that just one in two Americans say they're open to getting a COVID-19 vaccine.

Among the 20% who say they wouldn't get vaccinated, seven in 10 say safety is their major hesitation.
May 28, 2020
This week, we're looking at how coronavirus is impacting American workers. Our COVID-19 Corporate Response Tracker has highlighted a number of steps companies are taking to protect the health and safety of their workforce – from whether they're providing PPE to essential workers to whether they're extending paid sick leave to hourly and frontline employees. And our own polling has revealed that most Americans expect companies to take these steps at a minimum. But for every company that endeavors to do right by its workforce, there are others that are falling short.
In addition to our ongoing polling, which aims to understand what the public wants to see from corporate America during this time, we're rounding up the latest insights from public opinion research each week, to see how Americans are feeling over the course of this unprecedented time – this week focusing on how the public views the impact of the pandemic on America's workforce.
Certain segments of American workers have little voice in matters as fundamental as their safety at work.
A May 14 survey from Data For Progress and the Omidyar Network shines a light on Americans' perception of power imbalance in the workplace, reporting that nearly seven in 10 likely voters believe workers have too little power over their own well-being.
73% back creating wage boards that would help set standards for industry-wide wages and conditions.
Workers and customers who contract coronavirus at business locations may face difficulty in claiming that a company is at fault.
Based on our analysis in our COVID-19 Corporate Response Tracker, 69% of America's largest employers have instituted policies and procedures that protect the health and safety of their workers. However, at the beginning of May, legislation was proposed to extend businesses' immunity from liability during the pandemic, making it harder to claim that a company is at fault for a worker's or customer's infection.
A survey of registered voters from Hart Research Associates has shown that there is broad bipartisan opposition to legislation that would give guaranteed immunity to companies from lawsuits in cases involving coronavirus infection, with 64% opposing the legislation.
Three in 5 respondents say if companies are immune to being held accountable for COVID-related illness, it is likely they would try to cut corners in protecting their workers and customers, thus resulting in more people getting sick.
We're still learning the full impact that coronavirus has had on job numbers.
The jobs report released in early May put a number on job losses over the past two months, but it does not paint a complete picture of the impact the pandemic has had on U.S. employment. The BLS Household Survey will be adding five questions to its monthly survey to better understand the employment impact but in the meantime, in late April and early May, Morning Consult got a head start on asking those same questions.
Coronavirus drives down labor force participation: 28% of the population not in the labor force (i.e., not working and not looking for work) said that the coronavirus prevented them from looking for work in the past four weeks. If they were added back into the labor force, the unemployment rate would be much higher.
Loss of income and hours more prevalent than layoffs: 45% of workers with jobs said that they are working fewer hours per week compared to the period before the coronavirus pandemic. For workers who are paid by the hour, a decrease in the hours worked per week translates into a loss of pay or income.
Finally, silly but spot-on as always, The Onion cites a new "poll" where 72% of Americans "would like things to go right for once."
May 20, 2020
This week, it's all about time horizons. Americans may be in the early stages of emerging from quarantine to rejoin society at large, but business leaders are still in the planning stages of how to safely and effectively get everyone back to work. The surveys rounded up below focus on how the C-suite is thinking about what a return to the workplace looks like.
In addition to our ongoing polling, which aims to understand what the public wants to see from corporate America during this time, we're rounding up the latest insights from public opinion research each week, to see how Americans are feeling over the course of this unprecedented time.
As the pandemic wears on, business leaders are becoming more conservative about a realistic time horizon for returning to normal.
The latest survey of CFOs from PriceWaterhouseCoopers and The Harris Poll finds that nearly 60% expect it will take their company at least three months to get back to business as usual once the virus recedes.
This is a substantial walkback from when the pandemic first hit in March, when 69% of finance leaders predicted they would be back to work in under a month.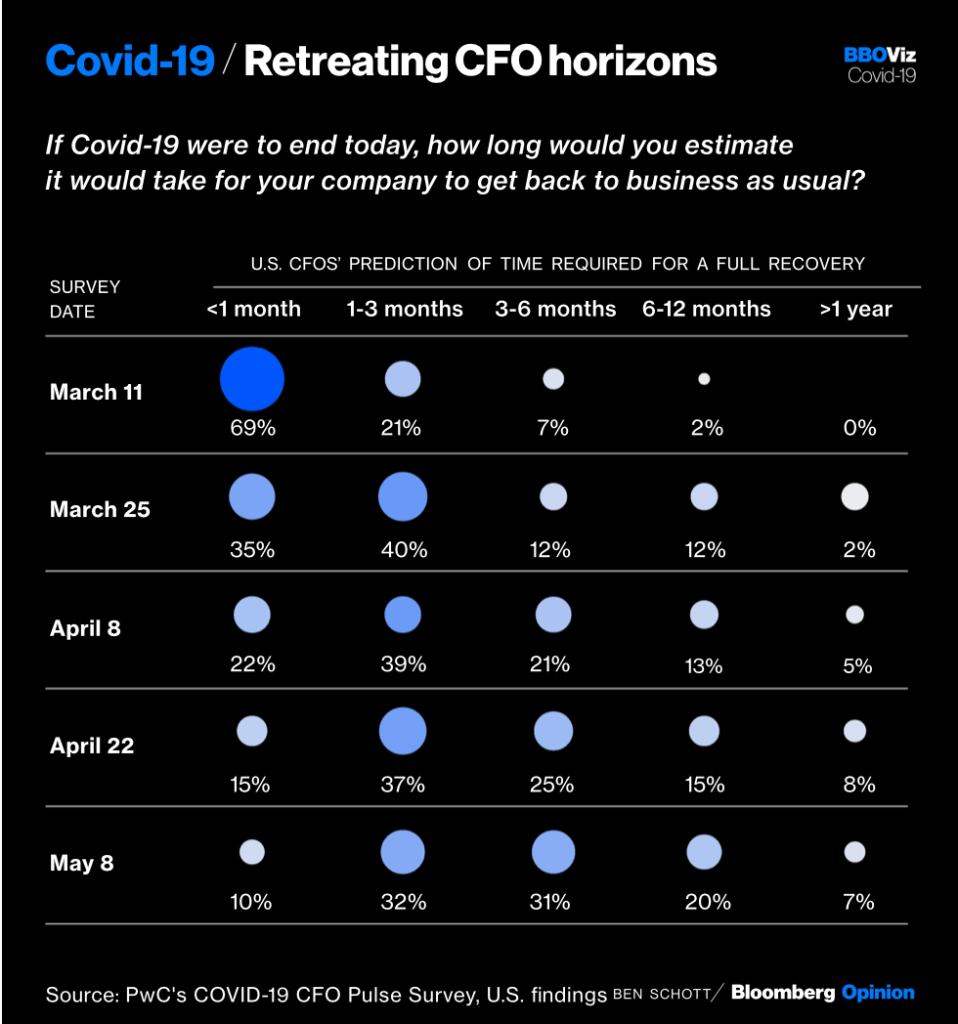 There is an upside to the changes organizations have had to make in the face of COVID-19 — a majority of finance leaders believe the pandemic has forced their companies to become more agile.

Over two-thirds (68%) report that moving quickly to adjust to the sharp drop in activity, and being able to function in a much more flexible work environment, has better equipped their companies for the long run.

For CFOs in consumer markets, 60% say they are very confident they can provide a safe working environment for employees, and 69% are very confident they can meet customers' safety expectations.

Consumer companies are implementing workplace safety measures, such as wearing masks and offering testing; making adjustments to promote physical distancing; and alternating work schedules to limit exposure.
These measures are important to consumers: nearly 40% of respondents in an early May survey of more than 1,600 consumers say they would shop in stores if these and other safety measures were in place.
A survey of Fortune 500 CEOs finds very similar feelings about the length and impact of the crisis.
CEOs believe it will be years before the effects of COVID-19 are purged from the U.S. economy. Nearly 60% say 2022 is the earliest realistic timeframe for economic activity returning to pre-pandemic levels; another 27% say it's more likely to be first quarter 2023.
Yet despite prolonged return to business as usual, 75% believe the crisis has forced their companies to accelerate their technological transformation.
Business decision makers (BDMs) are taking different approaches to opening depending on what part of the country they are located.
The latest COVID-19 Tracker from The Harris Poll finds that BDMs in the Northeast (which was arguably the hardest-hit area in the country) are taking the most cautious approach, with 40% planning to migrate to telework options even after stay-at-home are lifted, vs. only about a quarter of BDMs in the Midwest, South, and West.
May 12, 2020
This week – on the heels of last week's brutal jobs numbers from the BLS – the prospect of restarting our economy is moving from the theoretical to the practical, with several companies beginning to share guidelines and plans for reopening (see: Starbucks, Target, Huntington Ingalls). As we dip our toe back into our routine, some companies are reaping reputational benefits while Americans still feel wary of returning to the status quo. The question on everyone's mind seems to be "what will the future hold?" And the answer remains to be seen.
In addition to our ongoing polling, which aims to understand what the public wants to see from corporate America during this time, we're rounding up the latest insights from public opinion research each week, to see how Americans are feeling over the course of this unprecedented time.
Corporate reputation ratings trend upwards for pharma, health, and tech industries.
The Harris Poll has been monitoring industry reputation trends since the 2008 financial collapse. The latest release of their tracker reflects an upward trend in Americans feeling better about business across industries, even as we continue to navigate our way through the pandemic.
The pharmaceutical and health insurance industries enjoy the biggest gains, with both showing a positive reputation rise of 20 percentage points compared to where they were at the start of the pandemic.
The tech sector – which already enjoyed high ratings – has shown further increases in positive reputation, perhaps due to the introduction of innovative systems that will help contact tracing efforts.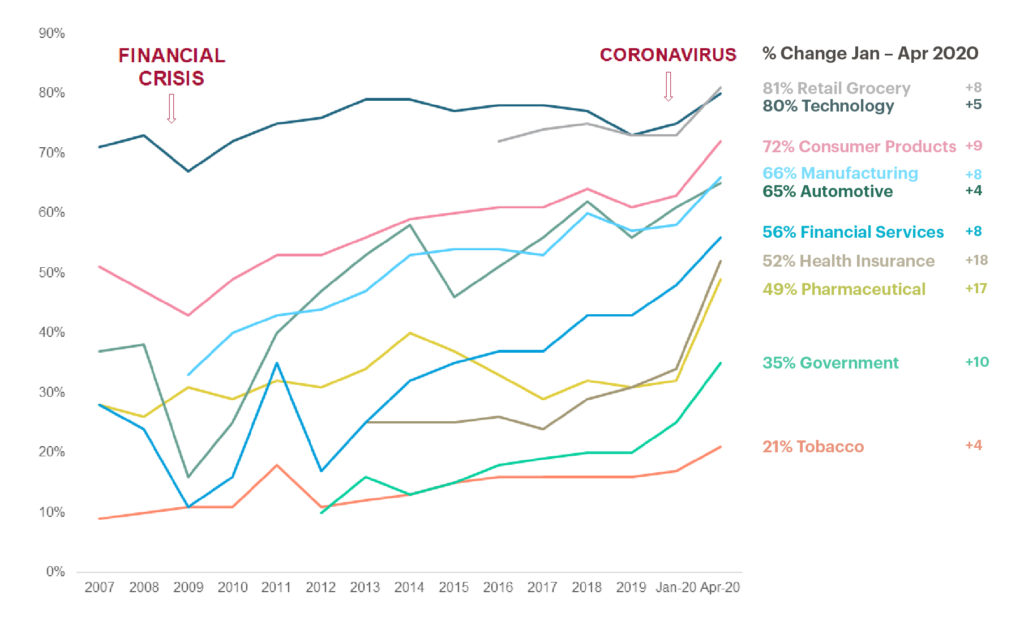 Even in the face of a dire jobs report, out-of-work Americans are bullish on their chances of being rehired.
The observations of Alexis de Toqueville in the early 19th century continue to be relevant today: Americans are more hopeful about the future than their peers in other wealthy nations. To wit: the BLS announced on Friday that in April, the U.S. shed a record 20.5 million jobs, the highest jobless level since the Great Depression, yet Americans remain optimistic about eventually getting rehired by the companies that laid them off.
A Washington Post/Ipsos poll shows that nearly 80% of those who have been laid off in the face of COVID-19 believe they will return to their jobs as they were pre-pandemic.
This finding is an interesting contrast to data from The Harris Poll's COVID-19 Tracker, which finds that at the beginning of May, a majority of Americans (55%) remain somewhat or very concerned about losing their jobs.
Back to the (coffee) grind.
This past week, Starbucks began the process of reopening 85% of its stores, setting guidelines and protocols for operating responsibly in the face of the pandemic. The success or failure of the reopening will depend upon peoples' willingness to risk infection to get their coffee fix; we continue to see in a variety of polls that most Americans are still uneasy about patronizing retail stores and restaurants.
A University of Maryland/Washington Post poll finds that 78% of Americans would be uncomfortable eating at a sit-down restaurant. What is more, people in states with looser restrictions report similar levels of discomfort as those in states with stricter rules.
A federal paid leave law can help Americans cope with COVID-related fallout – but few are aware of the program.
JUST Capital's bi-weekly polling shows that a consistent three in four Americans say that companies should prioritize a paid sick leave program of at least 14 days. For workers whose companies do not offer leave, they could take advantage of a federal paid leave program passed by Congress in March. Yet many Americans are unaware the benefit exists.
May 6, 2020
After seven weeks of quarantine, it's clear that America is suffering from a healthy dose of cabin fever. Even as we hit the 1 million mark for COVID-19 cases, curves are flattening. Coronavirus treatments seem encouraging. Good weather is starting to draw many out of their apartments and houses and into streets, parks, and a variety of public spaces. But are people ready to resume everyday life?
In addition to our ongoing polling, which aims to understand what the public wants to see from corporate America during this time, we're rounding up the latest insights from public opinion research each week, to see how Americans are feeling over the course of this unprecedented time.
If it seems like people are moving about more, they are.
Apple has been tracking mobility patterns of its user base and finds that after a steep decline in mid-March, driving and walking has been on the rise significantly over the past two weeks. On May 2, for example, driving activity was only 16% below baseline levels in the U.S. – at the end of March that percentage was closer to 60%.
Some abide by mask-wearing recommendations, others prefer to take their chances.
An interesting Morning Consult poll shows a high correlation between people who say they are concerned about climate change and their propensity to "always use" a mask in public: Climate-concerned adults are 24 percentage points more likely to always wear a mask in public spaces than those "unconcerned" with climate change.
According to experts, the discrepancy can be traced either to science skepticism or to personal autonomy concerns, or both.
Business leaders are planning how to return to work.
Even though the large majority of businesses are not yet up and running to the degree they were pre-COVID, business leaders are planning how they might orchestrate a safe return to the workplace.
A PwC poll shows that more than half of finance leaders at top companies expect to plan significant on-site changes to accommodate their workforce.

77% plan to change workplace safety measures and requirements.
65% plan to reconfigure work sites to promote physical distancing.
52% plan to change shifts and/or alternate crews to reduce exposure.
Institutional trust in business shows room for improvement.
The Spring update of the Edelman Trust Barometer shows that, amid the COVID-19 pandemic, government is the most trusted institution for the first time in 20 years of study. That finding is among 11 global countries – when looking at the U.S. specifically, institutional trust is flipped in favor of business (56%) over government (48%).
That said, the percentages of U.S. respondents who say businesses are performing "well or very well" across a number of metrics are relatively lackluster:

Just 42% agree that businesses are "meeting overall expectations for how they should be responding in this crisis."
Businesses score highest on "implementing safety measures to protect both workers and customers" at 46%.

These findings indicate that Americans perceive an overall mediocre response among U.S. businesses as we enter into the third month of the pandemic.
April 29, 2020
This week, state governments – mainly in the Southeast – began to lift business restrictions, prompting questions among Americans as to whether we're really ready to do so. Polls this week focused on how the public feels about the next steps in a return to "normal" – including what a post-COVID workplace might look like – and aimed to better understand the impacts on communities most affected by the pandemic, including Black Americans.
In addition to our ongoing polling, which aims to understand what the public wants to see from corporate America during this time, we're rounding up the latest insights from public opinion research each week, to see how Americans are feeling over the course of this unprecedented time.
Uncertainty = Discomfort
The state of the economy and our collective health continues to occupy the minds of Americans during the COVID-19 crisis, concerns which are compounded by an underlying uncertainty about the duration of the pandemic.
A McKinsey poll reveals that for 68%, "not knowing how long the situation will last" is their key concern.
Economic insecurity is a big contributing factor. The latest Axios-Ipsos Coronavirus Index finds that a strong majority (89%) are somewhat-to-extremely concerned about the U.S. economy collapsing during the outbreak.
States Open For Business At What Cost?
This week, the governors of Georgia, South Carolina, and Tennessee lifted business restrictions earlier than most states. Yet, as we saw in previous polling, the majority of Americans are concerned about a return to normal before the virus is under control. There is particular concern among African Americans, who are experiencing a higher rate of impact from the Coronavirus than the national average.
A Morning Consult Weekly Poll reflects that 12% of Black Americans say they know someone personally who has died from the coronavirus (vs. 8% nationally), and nearly one in four say "My local community has been badly affected by the COVID-19 pandemic" (vs. one in five nationally).
The Washington Post has a longer piece about how the virus is disproportionately impacting the African American community.
The New Normal
As curves flatten, businesses are starting to think about what it might look like on the other side of the pandemic. Keeping in place tactics that encourage social distancing will make Americans feel more welcome and at ease when it's time to return to life post-quarantine, at least until a vaccine is found.
The Harris Poll finds 62% want restaurants configured for social distancing, and 56% want maximum capacity limits to ensure six feet between diners.
Almost one in two want their place of work to hold meetings no larger than 10 people and advise that desks should be spaced six feet apart.
April 23, 2020
This week, a month into lockdown across the U.S., we saw a shift in the way many are thinking about COVID-19 and the future of work in America. Protests erupted as some states began to re-open their economies, sparking deeper discussion from business and market leaders – as well as average Americans – around what our "new normal" could look like.
JUST Capital has been polling the public over the last month to better understand what they expect from corporate America during the coronavirus crisis, and there have been many other polls to capture public sentiment in this time. We're rounding up some key insights from this work over the last week – showing us how Americans, beyond the highly publicized protests, are feeling today.
Protests Abound
This past weekend saw a number of small protests against the lockdown scattered throughout the U.S. But that doesn't mean that those voices of dissent speak for the country as a whole.
The Axios/Ipsos weekly tracker reveals that 74% of Americans say returning to their "normal, pre-coronavirus" life right now is a moderate to large risk.
Morning Consult's Daily Tracker additionally finds that nearly 70% of voters back keeping limits to public activities in place, even amid protests.
Bolstering both these findings, last week a Morning Consult/Politico poll shows that 64% of registered voters are more concerned about the public health impact of COVID-19 than its economic impact, with three in four saying it is more important for the government to address the spread of coronavirus over its impact on the economy.
The Return to Normal
As we enter week five of coronavirus lockdown, Americans are decreasingly optimistic that their lives will return to normal in the coming weeks – and some are skeptical around whether things will ever be "normal" again.
Ipsos/ABC News poll reveals that a majority (69%) of Americans do not expect to return to their daily routine until at least after July 1.
Per The Harris Poll COVID Tracker, almost one in three Americans are not confident about things "going back to normal" after the COVID19 crisis is resolved, and nearly a fifth (15%) say "things will never be the same, there will be a new normal in the future."
Stimulus Money
With the first round of stimulus money directed to businesses via the CARES Act, Americans have made known their expectations for how companies should be using those funds.
JUST Capital polling reveals that nearly 80% or more support various provisions of the bill, from limiting executive pay and bonuses to the prohibition of paying dividends to shareholders for a period of time after receiving funds.