We have some good news. The country is not as divided as you might think. In a year roiled by polarizing politics and social discord, we found there is a unity among Americans when it comes to how they want companies to behave and what a more just economy could look like.
The result is this year's Survey Report – From Insight to Action: JUST Capital's 2018 Survey Results & Roadmap for Corporate America – one of the most comprehensive bodies of public opinion research on corporate America ever compiled and utilized to measure companies.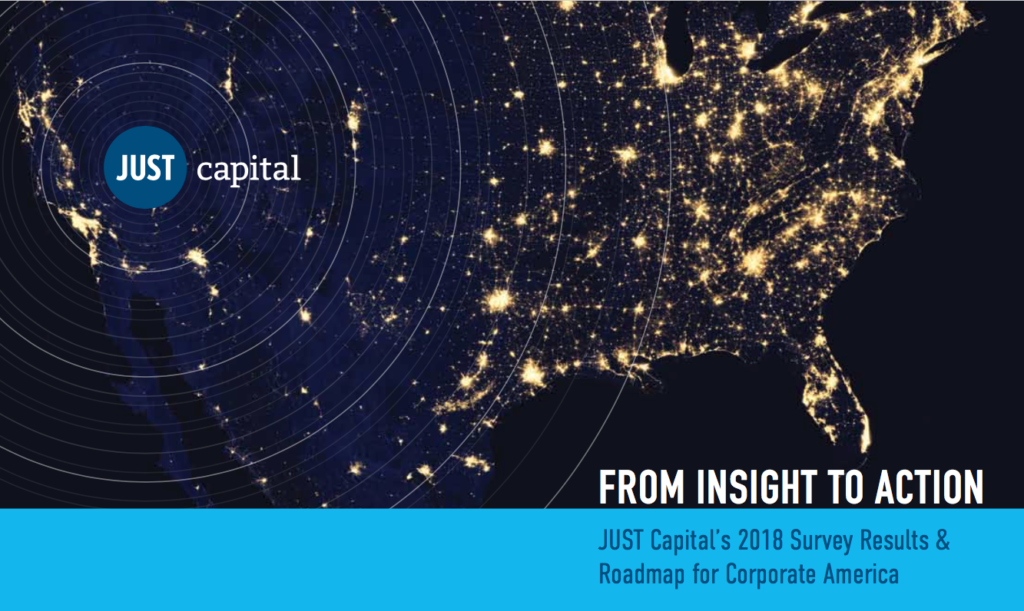 Each year, JUST Capital's survey research asks the American public to identify the issues that are most important in defining just business behavior today. The results power our rankings, our research, and our thematic analysis. They drive the tools and products we bring to market – like the JUST ETF – in order to incentivize more just corporate behavior. And they provide a detailed and timely benchmark of popular sentiment on key issues of the day.
In 2018, we surveyed more than 9,000 respondents representing a cross section of America today, bringing the total number of people taking part in our polling and survey work over the last four years to more than 81,000. We captured perspectives across generational and ideological divides, varying income and education levels, race, gender, and more.
Overall, Americans in 2018 have more positive Views on Business than we found in 2017 – what some might consider to be a cautious optimism. Americans believe that companies can be a force for greater good, and have the potential to play a crucial role in addressing social challenges in our country. Of the respondents we surveyed: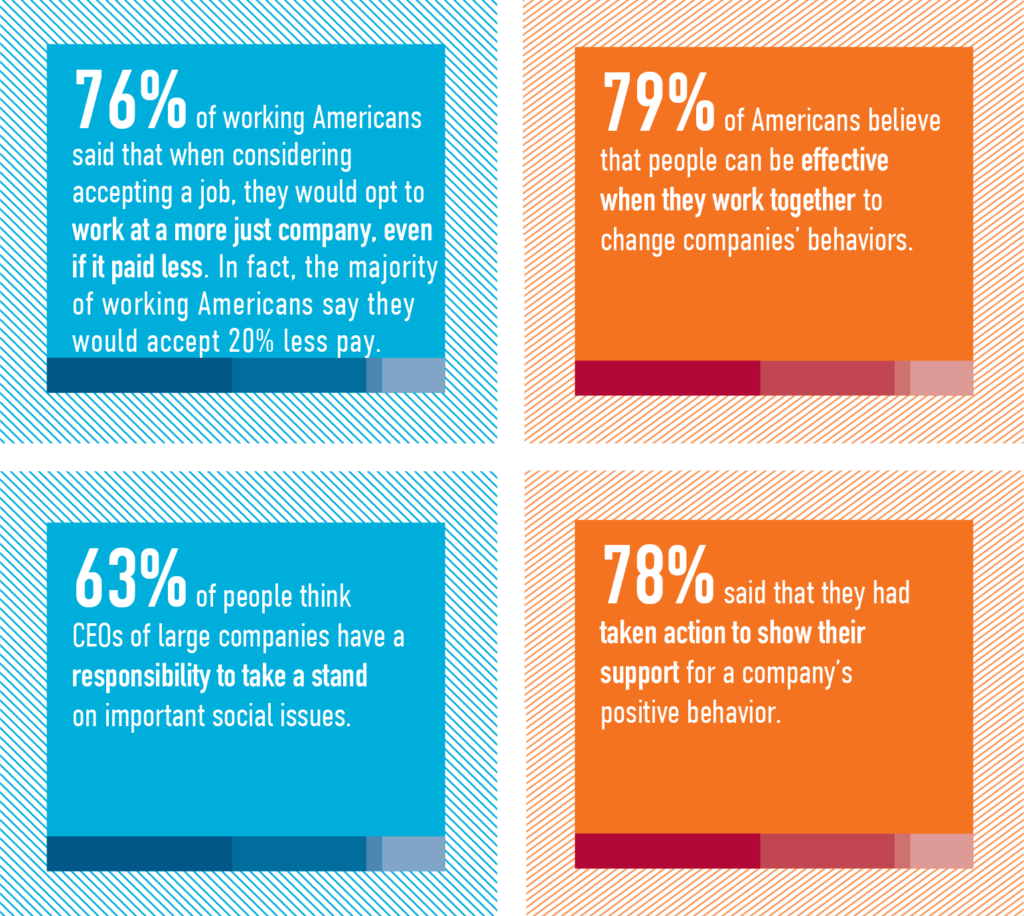 One of the distinguishing features of JUST Capital's survey work is that it provides companies with clear insight into what the American public values most – asking respondents to identify the business behaviors companies should prioritize to be more just, and then rate those priorities by importance. Americans came to the same conclusion that they did in last year's survey: across many demographics – high-income, low-income, men, women, millennials, boomers, Democrats, and Republicans – worker issues remain the most important aspect of just business behavior, making up 25% of our total ranking model. The other issues are: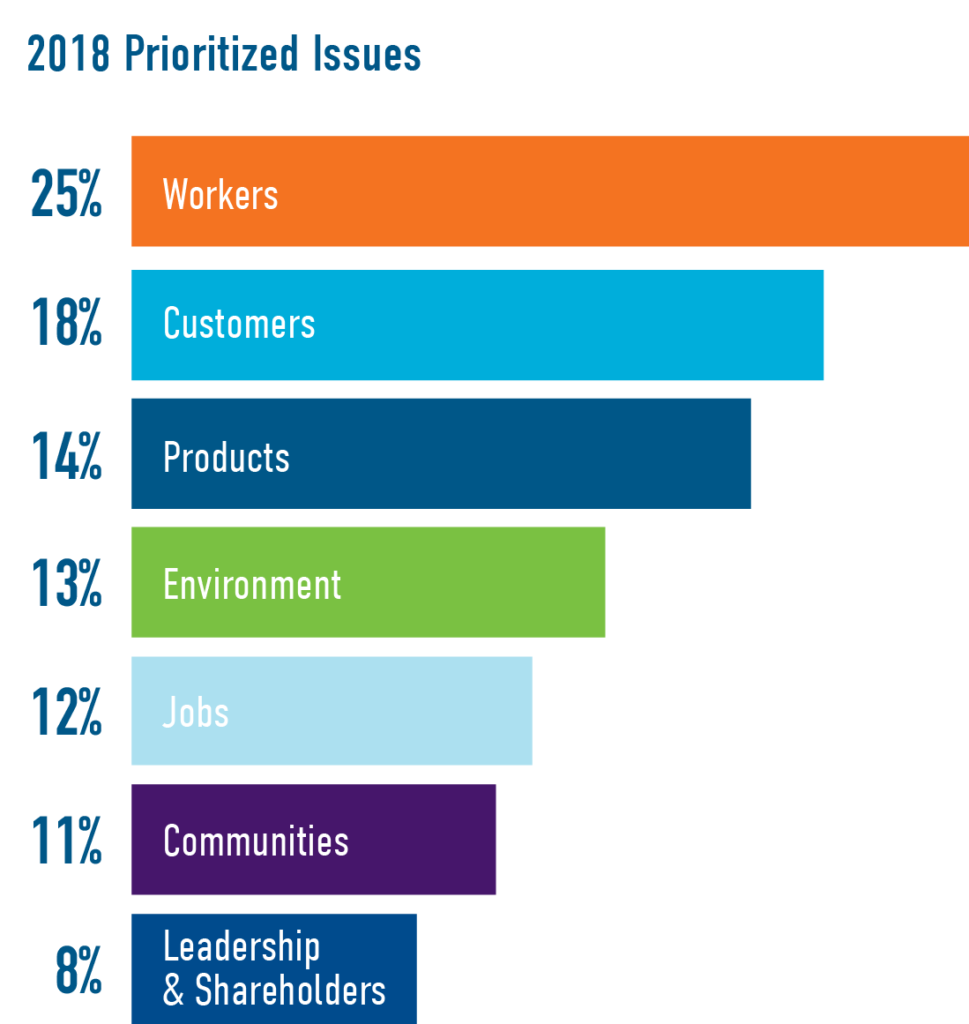 Taken together, these issues present an up-to-date and highly detailed Roadmap for Corporate America to help build a more just economy in America that better serves the broader interests of all stakeholders. We encourage companies to use the results of our survey to benchmark their own corporate practices – as a jumping off point for questions like: How do we stack up when it comes to issues most important to the American public? Where are we taking the lead on just business behavior? Where is there room for improvement? As part of this year's Report, we provide a new tool – the JUST Scorecard – to help companies align their business practices with the priorities of the American public.
On the eve of the midterm elections, Americans are awash in the polarizing politics of our time. The results of this Survey provide a glimmer of hope that we might be more aligned than politicians and pundits might think when it comes to issues of just business behavior. All of us – across political leanings, geographies, gender, race, and age – want to see a more just marketplace in America today. And what better place to start than with the voice of the American people themselves?