Today we are proud to release the 2021 Rankings of America's Most JUST Companies, featuring the Forbes JUST 100 and Industry Leader lists. Powered by our polling of the American public, the Rankings showcase the companies at the forefront of stakeholder-driven leadership, which takes on new importance as corporations continue to respond to the effects of the COVID-19 pandemic.
Out of the 928 companies ranked, Microsoft tops the list for the third year in a row, with NVIDIA, Apple, Intel, and Alphabet rounding out the top five. JPMorgan Chase and AT&T are new to the Top 10, joining Salesforce, Cisco, and Adobe. Overall, 38 companies are new to the JUST 100 this year. Target made one of the larger leaps, rising 86 rank positions, in part thanks to the strength of its response to COVID-19. You can explore the complete Rankings here and read the Forbes JUST 100 editorial feature online, as well as in the November print issue of Forbes, hitting newsstands next week.
In the face of a global pandemic, economic fallout, and national reckoning with racial injustice, the American public is demanding more from our corporate leaders than ever before, and JUST 100 leaders demonstrate that purpose and profit can go hand in hand by delivering value to all their stakeholders – workers, customers, communities, the environment, and shareholders.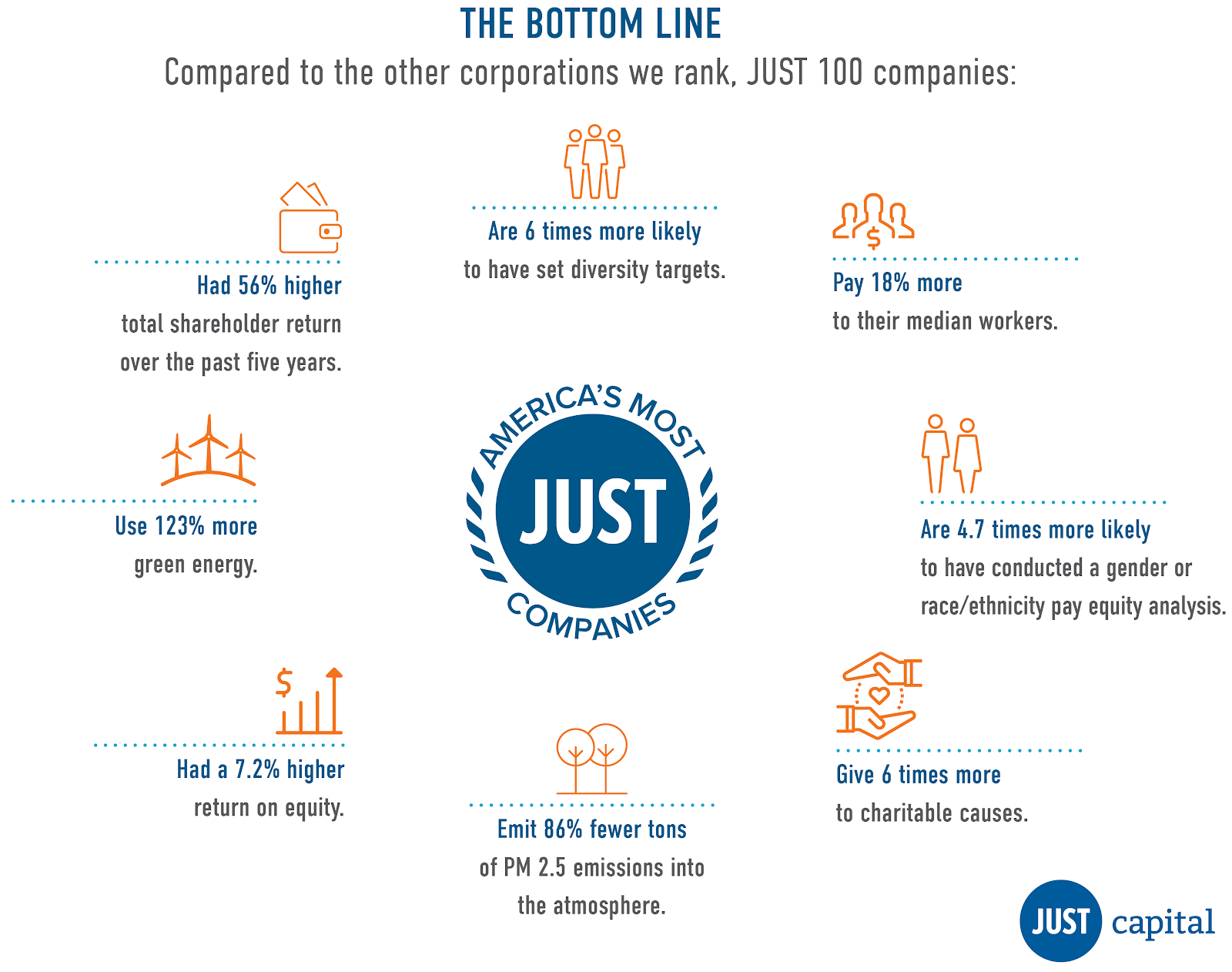 Through rigorous, objective analysis, the JUST Rankings evaluate how the largest public U.S. corporations perform on the issues that matter most to the American public. This year, we tracked, analyzed, and ranked 928 companies from the Russell 1000, covering 19 Issues and 339 unique data points. (Read our full methodology here.) "Pays workers a fair, livable wage" was the single most important stakeholder issue in this year's survey, and all five Worker issues – regarding pay, training, health, equity, and benefits – are among the top seven priorities of the public.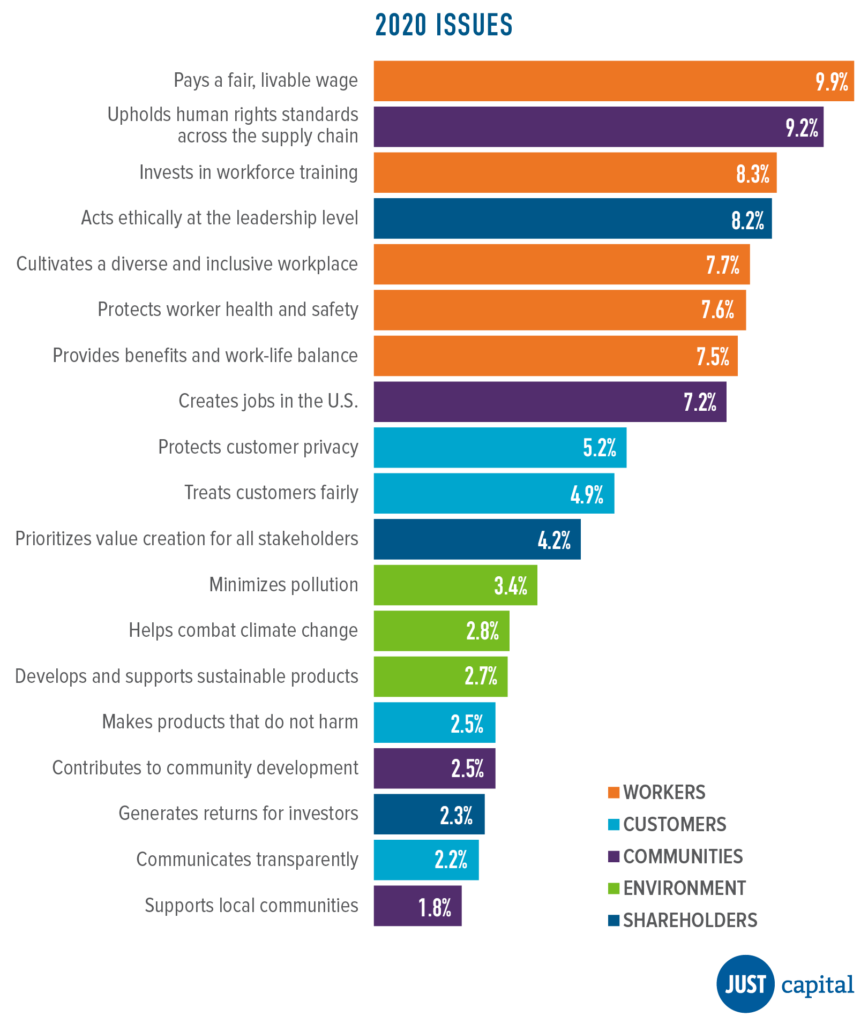 JUST's ranking methodology evolved this year to add an important component of just business behavior: the corporate response to the coronavirus pandemic, including 38 COVID-19-specific data points from our COVID-19 Corporate Response Tracker. Overall this year's Rankings analyze how a company:
Invests in Its Workers, totaling 41% of the model (a six percentage point increase from last year) – including paying a fair wage and a living wage, investing in worker training, and cultivating a diverse workplace, as well as 24 new COVID-19 data points related to augmented benefits, worker wages and financial assistance, job security, and onsite health and safety protocols.
Supports Communities, totaling 21% of the model (a three percentage point increase from last year) – including upholding human rights standards in the supply chain and creating jobs in the U.S., as well as four new COVID-19 data points related to charitable giving and in-kind donations during the pandemic.
Respects Its Customers, totaling 15% of the model (a nine percentage point decrease from last year) – including protecting customer privacy, treating customers fairly, and making products that do not harm, as well as eight new COVID-19 data points that assess special customer accommodations and shifts in companies' production, distribution, and logistical efforts to meet pandemic-related needs nationwide.
Delivers Value to Its Shareholders, totaling 15% of the model (a four percentage point increase from last year) – including acting ethically and with integrity at the leadership level, prioritizing value creation for all stakeholders, and generating returns, as well as two new COVID-19 data points around pay cuts for CEOs and other executive officers.
Reduces Its Environmental Impact, totaling 9% of the model (a three percentage point decrease from last year)  – including minimizing pollution, helping to combat climate change, and developing sustainable products.
We believe that independent and unbiased data, tools, and insights can drive accountability and incentivize action. Please explore this year's Rankings to learn more about how the largest public U.S. companies measure up when it comes to serving their stakeholders and creating an economy that works for all Americans. You can explore company scores by industry, stakeholder, issue, or even individual metrics.

Finally, we hope you'll join us for the Forbes JUST 100 Virtual Summit, where America's Most JUST CEO, Microsoft's Satya Nadella, will share leadership insights in a fireside chat with JUST Board member Andrea Jung. He'll join other special guests, including MasterCard's vice chair Ann Cairns, General Catalyst's Ken Chenault, Merck CEO Ken Frazier, JUST chairman Paul Tudor Jones II, Intel board member Risa Lavizzo-Mourey, PayPal CEO Dan Schulman, and Grammy award-winning artist, philanthropist, and entrepreneur Pharrell Williams.
Tune in live at 4:00PM ET today or watch it later on demand!