Chart of the Week: As We Prepare for a New Era of Policy Goals, Lowering Carbon Emissions Becomes Increasingly Important for Companies
Last week was quite the rollercoaster for stakeholder capitalism (and the U.S. political landscape). First, on Wednesday, the United States officially left the United Nations Framework Convention on Climate Change's Paris Agreement, further unraveling efforts to mitigate the climate crisis. Then, on Saturday, with Vice President Biden winning the 2020 presidential elections, this outlook changed completely. Biden vowed to rejoin the Paris Agreement and is aiming for net-zero emissions by 2050, joining a large group of countries, as shown in this graphic from Bloomberg Green: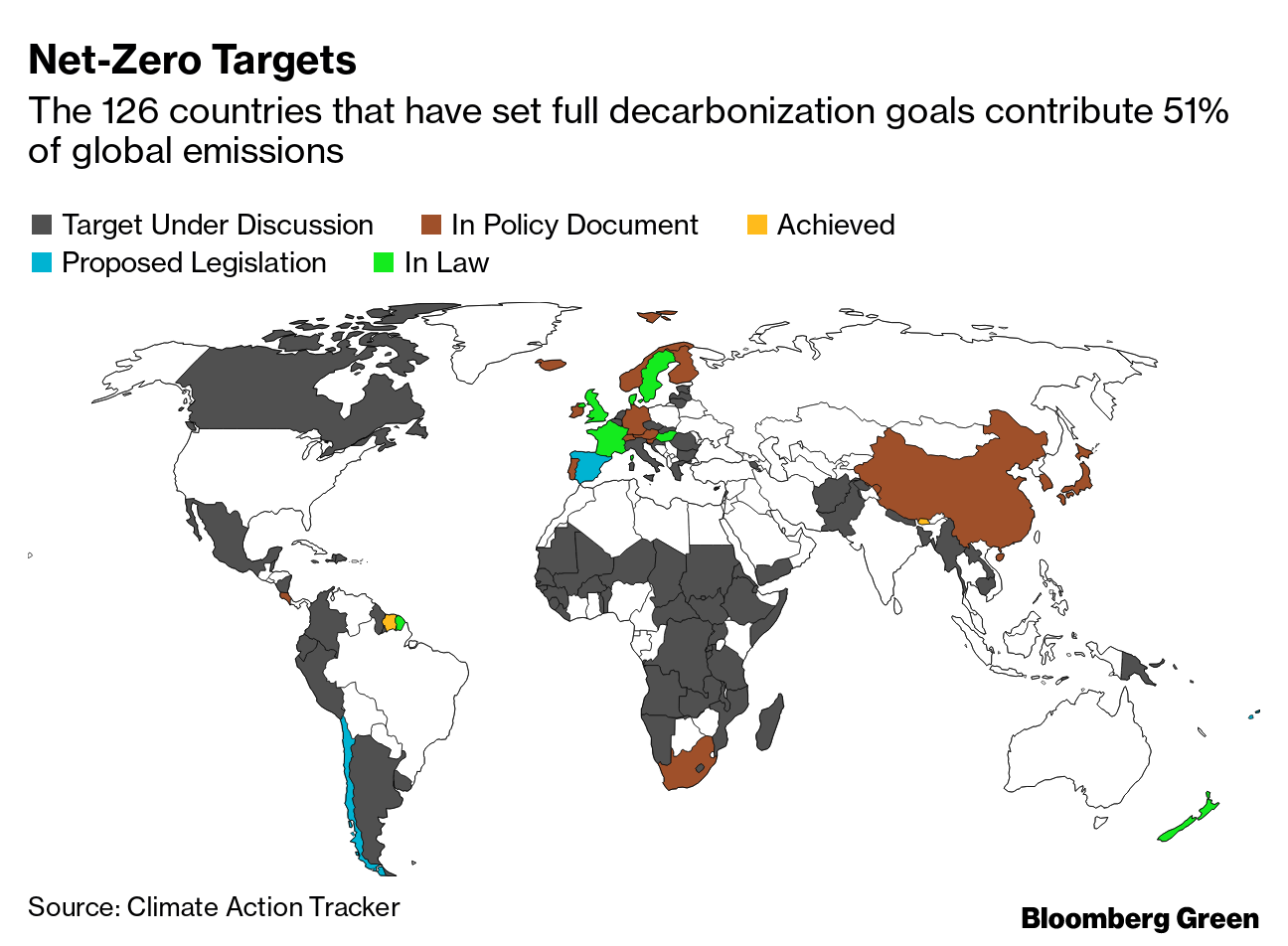 Source: Bloomberg Green
As a result, companies increasingly face the prospect of needing to incorporate carbon emissions and emission reductions when doing internal cost-benefit analysis for new projects. The impact of this varies across industries and companies. Some actors such as Walmart have already pledged to reduce their carbon emissions to net zero by 2040, ahead of the expected plan of president-elect Biden. Others will need to catch up and face an uphill battle against better positioned competitors.
Irrespective of the carbon policies of the new administration and the inherent carbon-related business risks, reducing a company's carbon emissions is a win-win for both the environment and its shareholders. As we have demonstrated in a previous Chart of the Week, companies with lower carbon emission intensity outperform their peers in the stock market. With the results of the presidential election in mind, we expect this effect to be even stronger in the future. As a result, action against climate change becomes increasingly important for companies.
If you are interested in supporting our mission, we are happy to discuss data needs, index licensing, and other ways we can partner. Please reach out to our Director of Business Development, Charlie Mahoney, at cmahoney@justcapital.com to discuss how we can create a more JUST economy together.
If you have questions concerning the underlying analysis, please reach out to our Senior Manager for Quantitative Research, Steffen Bixby, PhD, at sbixby@justcapital.com.