How Companies Can Curb the Rise of Workplace Burnout
Prioritizing Work-Life Balance through Flexible Hours, Day Care, and PTO
Work today is changing so quickly it can be dizzying. I have a poster made about 40 years ago that breaks out the 24 hour day – eight hours for work, eight hours for sleep, eight hours for leisure and family. Today, that concept is laughable. We're always available to our employers – responding to emails when we first wake up, when we're making dinner, during kids' bathtimes. In lower-income jobs, many have to work two or more jobs to keep up. And we're often struggling with childcare and building more time for our family and friends.
And as a result, we're increasingly experiencing workplace burnout – which the World Health Organization recently named as a syndrome and occupational phenomenon in its 11th International Classification of Diseases. 
Caused by long-term, unresolved, workplace stress, occupational burnout can lead to exhaustion, reduced professional efficiency, and serious illness. And with 11% of U.S. employees working 50 hours or more per week – and the psychological and physical problems faced by burned-out employees costing an estimated $125 to $190 billion per year in healthcare spending in the U.S. – the issue poses a serious problem in corporate America today.
The public agrees – and in our 2018 Survey, let us know that good benefits (including paid time off) and work-life balance (including flexible working hours and daycare services) must be top priorities for companies. Fostering worker well-being is essential to being a just company, and happier workers are in fact more productive, better able to support the companies they work for and bring their full selves to work.
With worker issues overall identified as a top priority by the public, we looked at how the largest, publicly traded U.S. companies measure up on nine key workplace policies that support employee well-being – including whether they disclose policies on flexible working hours, daycare services, and paid time off – with the hope of better understanding the state of corporate America today, and creating a playbook for how companies can improve. Here's what we found:
Flexible Working Hours
This week, Bill Gates proposed that, in order to attract the best talent, providing flexible work options is a necessity. And with up to 90% of the U.S. workforce saying they want to telework at least part time, it's clear Americans expect this benefit more and more. Especially valuable for working parents and caregivers, flexible working hours policies are disclosed by 45% of the companies we ranked in 2018. And they provided a win not only for employees, but for the bottom line as well: the companies offering flexible working hours had an ROE advantage 2 percentage points above their peers.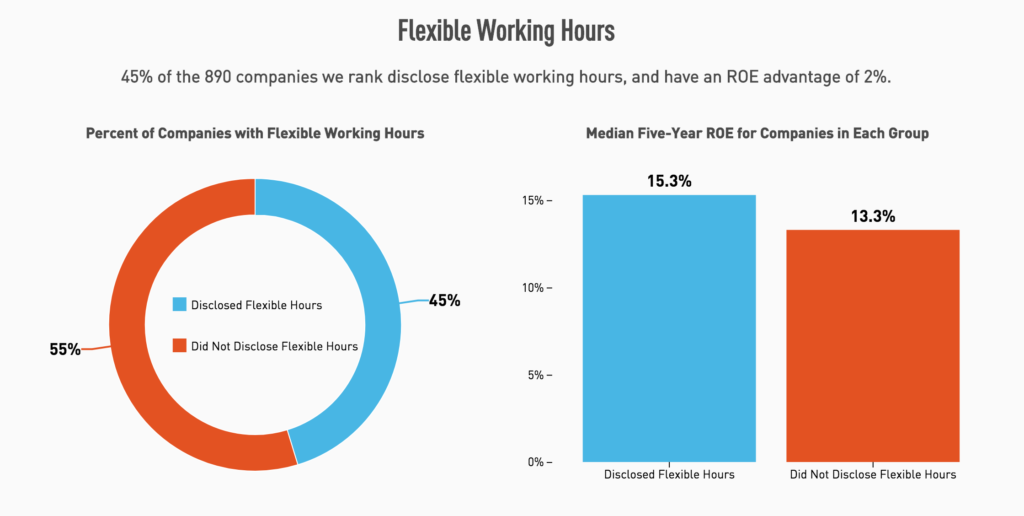 Day Care Services
Also of obvious value to working parents is the provision of day care services, which enable employees to balance the demands of their home life with the demands of their career, and more easily return to work after the birth of a child. We found that just 23% of companies disclose that they offer supplementary or backup day care services, but the win-win again can be clear: the companies that offer this benefit to employees had an ROE 2.5 percentage points higher than the companies that did not.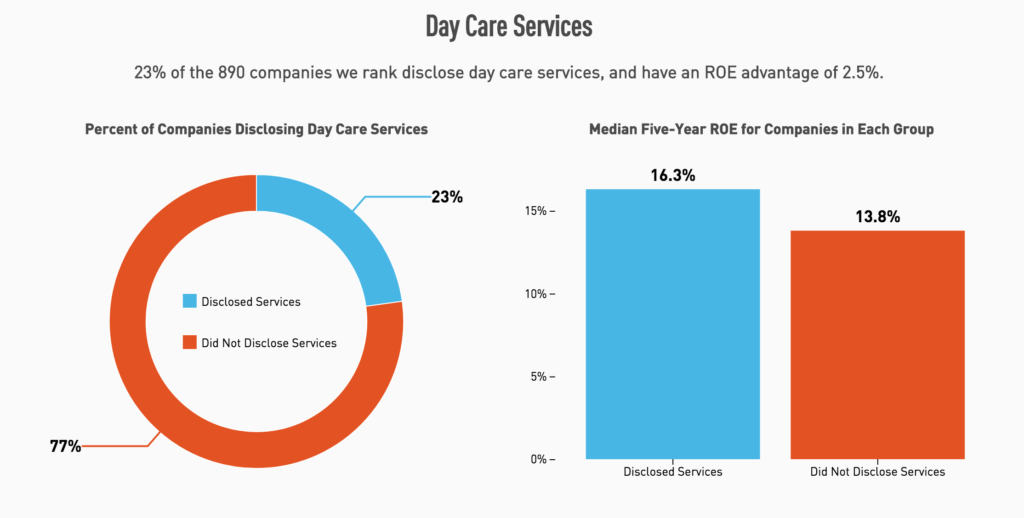 Paid Time Off
PTO as well provides an essential tool for employees to find balance as prioritize their personal needs, and while 85% of companies disclosed that they offer PTO, only 28% shared detailed information around their policies. This suggests that paid time off is quite standard in corporate America, but there seems to be a reticence to publish the specific benefits offered to employees. Of all the workplace policies we analyzed, this is the only one that did not correlate with an ROE advantage.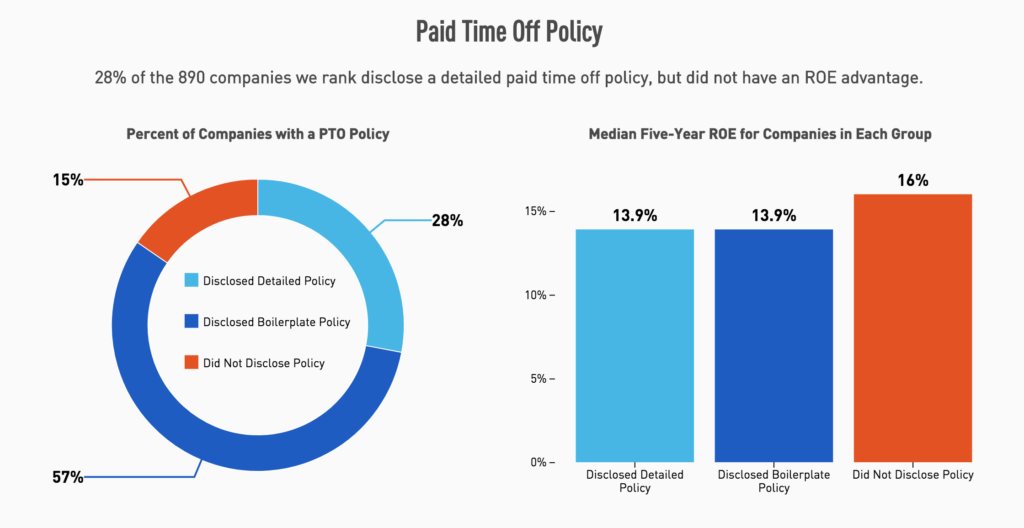 We often think of work-life balance as a focus primarily offered in the tech industry, but our research showed that companies across sectors are taking the lead. In Consumer/Diversified Finance, 60% credit card companies – like Capital One and Moody's – offer day care services, while 88% of Telecommunications companies – like AT&T and Verizon – provide flexible work options. Perhaps surprisingly, 33% of companies in the Restaurants & Leisure sector – including Starbucks and McDonald's – disclose the details of their paid time off policies, above the average disclosure of 28%.
Workplace burnout is a problem faced by employees across the country – and the impacts are most keenly felt by women and people of color, who typically have lower salaries and less decision-making power, alongside greater caregiving responsibilities and fewer resources. There's much work to be done in corporate America to create workplace cultures that both prevent and help manage burnout – and in strengthening core work-life balance policies, companies can help curb the impacts affecting Americans today.
To explore the data and links to all the relevant policies at the 890 companies we analyze, visit the JUST Jobs Policy Tracker, and select any issue and industry from the pull-down menu.