From Climate Messaging to Concrete Achievement – Business Leaders Driving Action In Their Industries Share Insight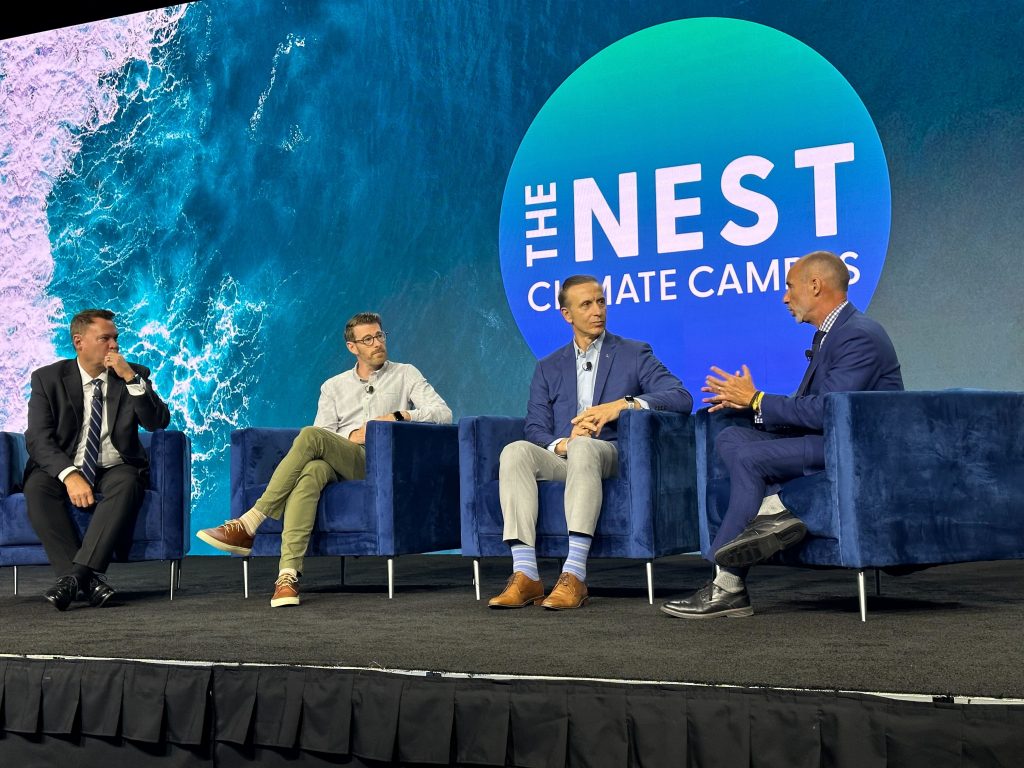 What does it actually take to drive major environmental action within a company or industry? What moves a company from making public commitments to executing scalable plans?
Those were key questions posited by JUST Capital CEO Martin Whittaker in a panel event at The Nest Climate Campus during Climate Week alongside three executives making real headway on environmental issues: namely, leaders from food safety and chemicals company Ecolab, building technology and energy solutions company Trane Technologies, and enterprise cloud applications provider Workday.
Workday ranks No. 1 in JUST Capital's Rankings of Russell 1000 companies leading on Environment. The company has achieved a Net-Zero carbon footprint and is committed to sticking to that by mitigating the company's entire carbon legacy and making progress on its verified 1.5-degree Net-Zero commitment. Workday's also enacting change in its supply chain by having 70% of its suppliers make science-based targets by 2026.
Trane Technologies ranks 2nd overall in its industry for its environmental action, including having a 2030 Net Positive Water commitment and pioneering the Gigaton Challenge, an initiative to reduce one billion metric tons of greenhouse gas emissions from its customer's carbon footprints by 2030.
And EcoLab ranks first in its industry as a leader driving climate innovation with a verified 1.5-Degree Science-Based Target that aims to halve the company's emissions by 2030 and achieve Net-Zero by 2050, among other environmental strategies.
The executives discussed a range of learnings from their work, including how to drive buy-in with different stakeholders like consumers and shareholders, aligning internally as a company on common goals, and ensuring your plans incorporate important factors like equity.
Lead with the Business Case to Refute Attacks on Climate Action
Emilio Tenuta, senior vice president and chief sustainability officer at Ecolab, kicked off the conversation by addressing the elephant in the room – the anti-ESG political rhetoric that's been seeping into boardrooms and investor meetings around the country.
"Climate action has become a polarizing topic with ESG and so on, which is unfortunate," he said. Tentua explained why there's so much polarizing rhetoric around environmental issues, and offered a clear strategy to address it.
"Part of the challenge is that when we hear organizations talking about their ESG leadership, they focus on 'it's the right thing to do,' which I think falls flat. I'll just throw it out there," he said. "I think we need to build on that. If it's not aligned with your business strategy, and will drive customer growth, and opportunities to drive innovation, and the ability to really demonstrate how this is the right thing to do, but more importantly, it drives results and performance in terms of your business, then I think we're going to continue to have this conversation."
In other words, companies only leading with the moral case will never be as effective as those leading with the business case.
"That's a big part of 'the why' really for us on climate action – it's core to our business strategy," the Ecolab exec said. "And we have a leadership commitment, that this is not only the right thing to do, but it's also good business for us, in terms of driving our business results."
Gather Internal Decision Makers, Set Concrete Goals, and Commit to a Plan
Scott Tew, vice president and sustainability and managing director at Trane Technologies, agreed that having support from a company's top echelons is critical to making progress on environmental issues.
"Our leadership team heard that 40% of the world's spent energy is related to heating and cooling buildings. It's a tremendous opportunity and a concern for our sector. Our leadership team began to grapple with what's our world here. If we believe the science, if we believe a company has to step forward, why not us?" Tew said.
After realizing the moral, and business opportunity, Tew said that Trane's leadership asked, "What would it take to move the needle?"
"In 2019, the leadership team made a bold commitment of a gigaton challenge, to reduce emissions of our products that we sell to customers by a billion metric tons by 2030. It was an all-in moment for the company," he said.
Having full commitment from the company's leadership around specific, measurable goals, was key. And investors loved the news, The Trane Technologies vice president said.
"Shareholders love it," Tew said. "We're linking emissions and revenue growth."
Don't Delay Making a Climate Plan and Incorporate Equity and Inclusion in Your Strategy
Erik Hansen, senior director of environmental sustainability at Workday, said that in driving buy-in from colleagues, executives, and shareholders, it's important to highlight the consumer demand for environmental action.
"Customers increasingly care about climate change, their footprint, their supply chain footprint. This is moving – from several years ago where this was sort of, like 'a nice to have' – to table stakes. Over the past 12 months or so, we're really seeing that ramp up," Hansen said.
The Workday senior director suggested that in addition to the market opportunity, there's significant benefit to avoiding reputational or regulatory damage.
"This conversation is only accelerating. Don't wait five years to get a temperature check on your emissions or your footprint. Start right now," he added.
In addition to setting specific goals, Hansen added that CEOs and leaders should incorporate equity into their environmental plans.
"We have to acknowledge that underrepresented communities are often the hardest hit with the effects of climate change – pollution, climate disasters. And so we can apply that lens of equity to the decisions that we're making, in terms of climate strategy? How do you do that with the lens of resiliency, climate equity, climate justice, other environmental outcomes beyond just carbon? Every company should be considering this lens," he said.
To unpack your company's environmental performance in the JUST's Rankings and gain insights into how to improve on core climate issues, please reach out to corpengage@justcapital.com.