The JUST Report: Walmart Helps Its Workers Live a Little Better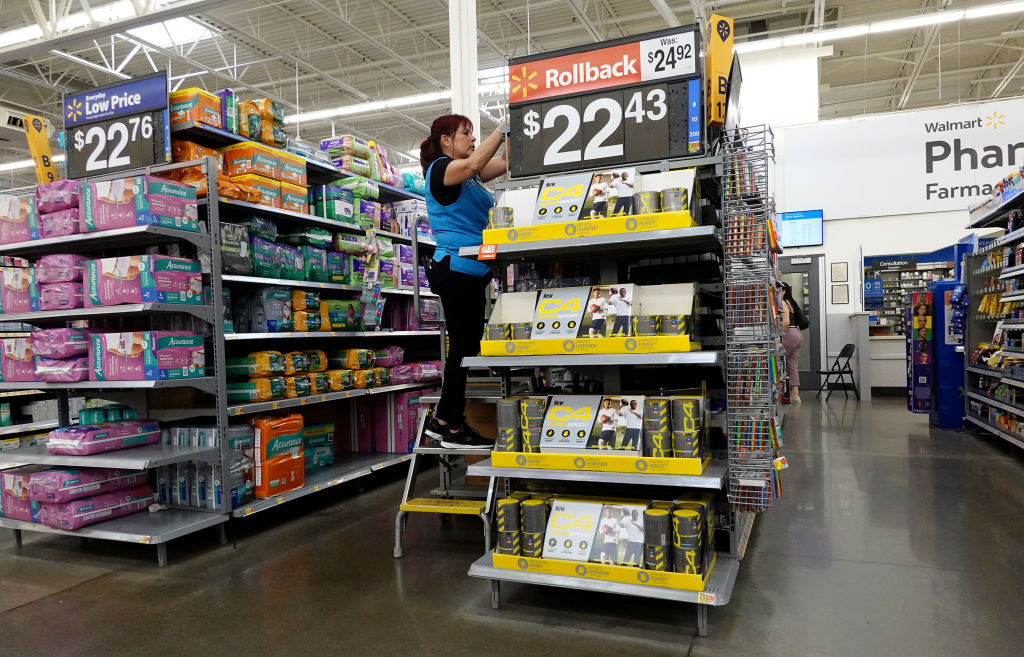 Walmart, a JUST 100 company for the second time, did a just thing this week. It announced it was raising its minimum wage to at least $14 an hour for all its store workers. That will bring its U.S. average hourly wage up to $17.50, and beginning in March that hourly wage range will rise to $14-19.
The move represents a roughly 17% jump in pay for the workers who stock shelves and look after customers, and is part of a wider package of investments the company is making in its workforce. This includes expanding their Associate-to-Driver Program, which helps associates become Walmart truck drivers (who earn up to $110,000 in their first year); creating more high paid roles at their auto care centers; and improving their college education program, where 100% of fees are company paid.
As my colleague Alison Omens points out in her article on the subject, Walmart has become a leader on good jobs. Here's some additional context.
Out of 40 retail sector companies, Walmart is one of only 11 (28%) that have publicly released a minimum wage paid to its U.S. workforce. The move brings Walmart's minimum wage to around the average for its industry but still below Costco ($17), Best Buy, Target, and Amazon (all $15). The new $17.50 average hourly wage is slightly more than the nationwide aggregate local living wage of $17.46 for one full-time worker with no children, but well below the aggregate family-sustaining local living wage, which is $24.16 for a family of two full-time workers and two children (according to MIT's Living Wage Calculator).
Of course, the only way to truly know how many of Walmart's workers actually fall above or below the local living wage threshold is to conduct a living wage assessment, based on where workers actually live, as we know from our Worker Financial Wellness Initiative.
Walmart's move is to be applauded. At a time when so many workers are worried about their jobs and struggling to cope with higher costs of living, about 340,000 people (roughly 21% of Walmart's workforce) will have a little more to help make ends meet.
Be well,
Martin
---
---
JUST 100 Stakeholder Performance Spotlight​​
This week we're profiling #44 in our 2023 Rankings of Americans Most JUST Companies – Walmart. The retailer is 2nd in its industry thanks in part to its leadership on worker and job creation issues. It has an extensive tuition assistance plan, an impressive 81% internal hire rate, and provides a comprehensive benefits package for its workforce, including 16 weeks of paid maternity leave, paid time off, and sick days.
Walmart demonstrates an ongoing commitment to diversity by publishing its EEO-1 workforce data. It also was an initial signatory of the "ban the box" initiative and launched hiring programs to assist formerly incarcerated individuals reenter the workforce. On environmental and climate issues, it has set a 1.5 Degree Science-Based Target and discloses across many Scope 3 categories of emissions, aligning with Project Gigaton and its commitment to reduce or avoid 1 billion metric tons of greenhouse gasses from the global value chain by 2030.
​​​​​​
Quote Of The Week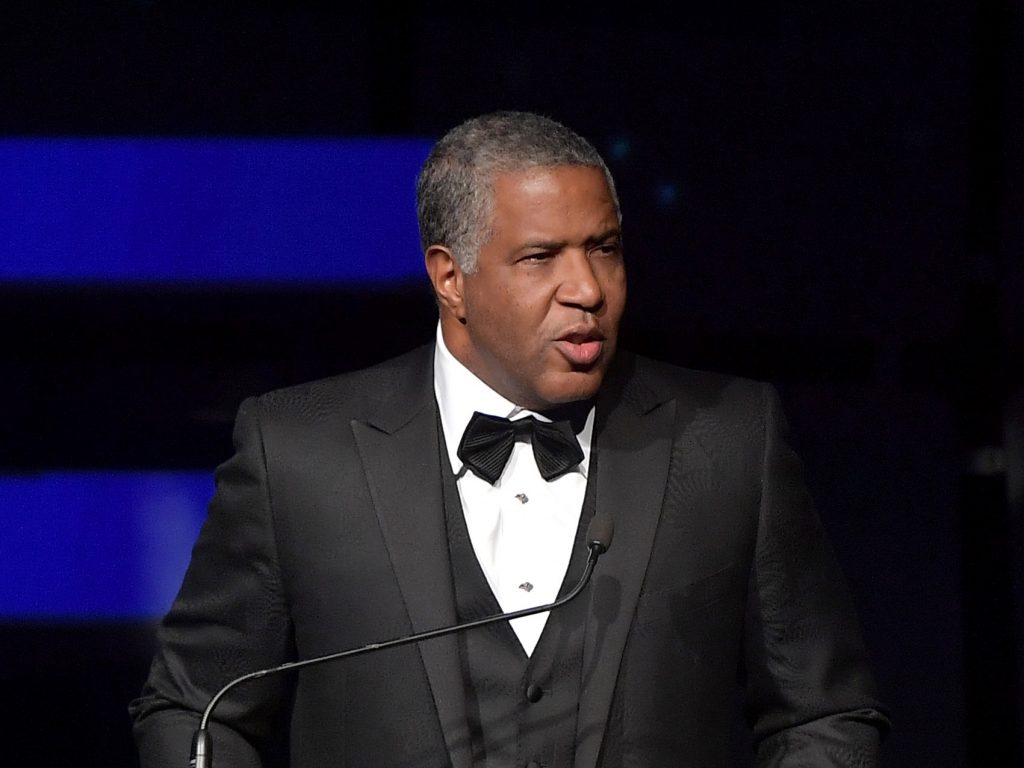 (Michael Loccisano/Getty Images)
"Increasing a sense of equity and opportunity among all workers decreases the risks to our investments, the economy, and the communities that make up our workforce and consumer base. Inclusionary business practices require intentionality, sustained effort, and collaboration."
Robert F. Smith, CEO of Vista Equity Partners, in a Fortune editorial where he makes the case for asset managers working to increase diversity within their industry.

Must-Reads of the Week
Gallup released its annual employee engagement survey and the news isn't great. Disengagement hit a 9-year high with 32% of employees engaged in their work in 2022, while 18% percent were actively disengaged. Women and younger workers experienced greater declines in engagement.
Are CEO pay norms shifting? Fortune reported Google CEO Sundar Pichai will take less pay this year, joining Apple's Tim Cook and JPMorgan Chase's Jamie Dimon in compensation reductions this year.
In the wake of layoffs across the tech sector, now totalling 120,000 workers, Fortune shared a guide on how to perform them responsibly and compares the compensation packages for companies like Alphabet, Meta, and Microsoft. Bloomberg reported how tech layoffs are adversely impacting diversity and inclusion departments.
Women Business Collaborative published a report on inclusion in the boardroom. In December 2022, public companies appointed 75 women to boards while overall diversity for the year ended on a downward trend.
State Street's CEO spoke to the Financial Times about ESG attacks and explained incorporating climate into corporate governance is a matter of value, not values, "For us it is not a political issue. It is nothing more than the proposition that climate needs to be incorporated into our investment risk framework."
Quartz wrote up a new ShareAction report that details and ranks how the largest European and U.S. asset managers voted on ESG shareholder proposals.
​​​
Chart of the Week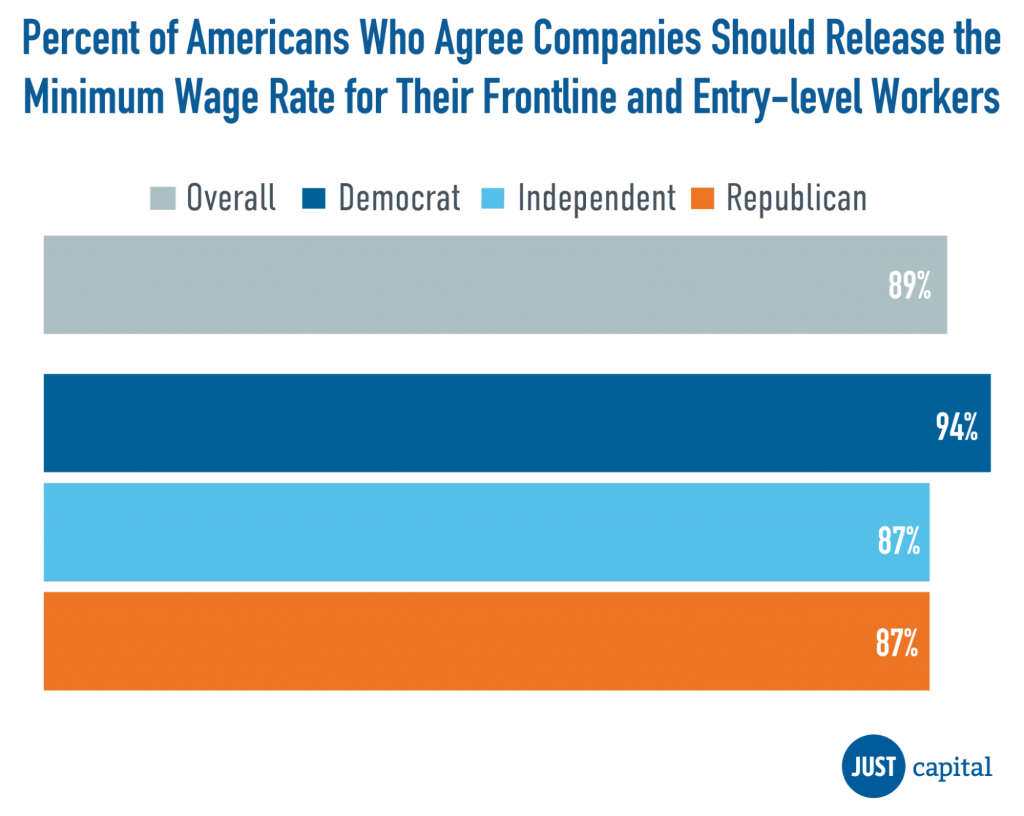 Our chart of the week demonstrates why more companies should follow Walmart's lead and disclose their minimum wage rates. Across every demographic group we survey, paying a fair, living wage remains the most important business today, and 89% of Americans favor the release of minimum wage rates for frontline and entry-level workers. Disclosures, however, remain low, with only 9% of Russell 1000 companies disclosing the exact value of the minimum wage paid to their U.S. workforce.