The JUST Report: Why Inflation is the Enemy of a JUST Economy
(Win McNamee/Getty Images)
Inflation is one of the more insidious enemies of a just economy. Fed chairman Jerome Powell said as much on Wednesday, when announcing the first rate hike since 2018.
Higher prices at the gas pump, in the grocery store, and over the pharmacy counter invariably hit the more economically vulnerable among us the hardest. And as Ford Foundation President Darren Walker noted on CNBC last week, low-income Americans have been struggling for the past few decades, whether it's been a low or high inflationary environment.
Companies committed to the wellbeing of their workers, their customers and the communities where they operate therefore have a key role to play right now.
Wages is a good place to start. As many of our followers know, we are tracking corporate performance on wages, including living wage and pay equity, closely. Here, the news is mixed. On the one hand, wage increases and growth appear to be continuing. Walmart, which raised its average hourly wage to $16 late last year, announced this week it would create 50,000 new jobsby the end of next month. Target, which recently announced starting wage increases to $15-24 an hour, has also highlighted its strong growth expectations.
On the other hand, as our chief strategy officer, Alison Omens, explained at a SXSW panel in Austin this week, over a million women have yet to return to the workforce from the beginning of the pandemic – for reasons that include extra burdens on working mothers – and progress on gender pay equity analysis has stalled (only 23% of the companies we track even share this information).
Walker framed the bigger picture perfectly. "Our democracy will be at risk if the average American worker does not have trust in their employers and in the economic system that is supposed to produce for them shared prosperity."
Be well,
Martin Whittaker
---
---
This Week in Stakeholder Capitalism
Amazon works with CarbonCure, a startup using hardware to add captured carbon dioxide to concrete at mixing facilities, to reduce the carbon impact of its newly constructed logistics hubs.
Citi starts to cover travel costs for workers seeking abortions as states limit access.
Starbucks CEO Kevin Johnson retires on April 4, and former CEO Howard Schultz will step in as interim chief executive.
Walmart seeks to hire 50,000 U.S. workers by the end of April. The retailer's starting wages are $12 to $30 per hour depending on role and location. Its average wage is around $16.40.
Wells Fargo approved fewer than half of Black homeowners' refinancing applications in 2020, the highest disparity among lending peers according to Bloomberg analysis.

What's Happening at JUST
Our latest look at gender pay gap analyses was featured in Bloomberg on Equal Pay Day and our SXSW panel on "Supporting Working Women in the Pandemic" featuring our chief strategy officer, Alison Omens, was highlighted in Fortune's Broadsheet by moderator Emma Hinchliffe. For additional insights, check out the latest from Alison here.
If you didn't have time to read last week's JUST Interview, watch the conversation with Cyrus Taraporevala, CEO of State Street, and Benjamin Colton, the firm's head of asset stewardship, where they discuss energy markets, this year's proxy season, the future of ESG investing, and more. And next week, we'll release an exclusive bonus clip in The JUST Report available only to our newsletter subscribers.
Martin spoke with the Financial Times about the stakes for Disney in getting the conversation right when it comes to weighing in on social and political issues. And our recent survey analysis on ESG disclosure was featured in CNN Business.


The Forum
(CNBC)
"There is no doubt that inflation has a bigger impact on lower income workers. But if we take a step back, even in the low-inflation environment of the last 15 years, workers overall have lost ground. … The headline can't be, to average working Americans, that in a low-inflation environment, you lose, and in a high-inflation environment, you lose. "
"We hired a couple of 100,000 people before the holidays, which is pretty amazing on any scale. If you go back to a couple years ago, we were pretty proactive in raising wages in our stores and in our supply chain as well, and I think we got ahead of some of what was coming. If you look at our average wage rates in stores, now we're over $16.40 per hour. Sam's Club is a little higher than that. Our supply chain will be over $20 an hour. So, I think we're in pretty good shape from that standpoint."
"People are going into the office every day and saying, 'This career doesn't feel right for me.' And workers are saying, 'I'm sick and tired of being sick and tired.'"
April Verrett, VP of SEIU, pointing out how "The Great Resignation" of white collar workers and the labor shortage among hourly workers are two sides of the same coin in a SXSW panel. 

Must-Reads of the Week
Payscale's 2022 pay gap report reveals how much women are paid compared to men by race, job level, age, education, industry, and occupation, and highlights both motherhood and age penalties. 
The White House announced several initiatives to curb pay inequities, the Department of Labor issued a report showing how overrepresentation in undervalued jobs disadvantaged women during the pandemic, and the EEOC issued new guidance warning that discrimination against caregivers, including mothers, may be unlawful. 
Reuters showcases a new report from As You Sow and the Sustainable Investments Institute that finds that ​​shareholders have filed a record 529 resolutions related to ESG issues this year, up 22% from the same point in 2021.
The Verge reports that more than 60 companies, including JUST 100 leaders like Google, Microsoft, PayPal, VMWare, Cisco, and Akamai are calling on the Texas governor to abandon recent legislation that defines gender-affirming medical treatments for transgender minors as "child abuse," saying discrimination is bad for business.
Fortune shares Yale School of Management's latest update to its list of companies leaving Russia detailing four new categorizations: withdrawing (150), suspending (178), reducing (74), and digging in (34). Axios explains how Russia's invasion of Ukraine is prompting CEOs to build their own mini-State Departments to help navigate complex geopolitical risks. 
Chart of the Week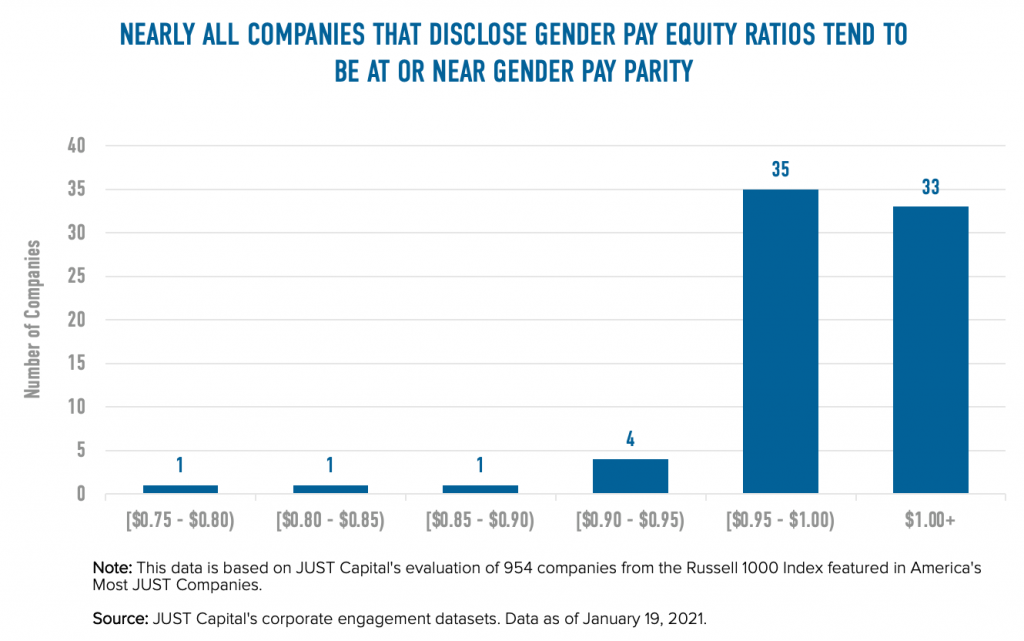 This chart comes from our latest gender pay equity analysis, and shows that while less than a quarter of companies are conducting and disclosing pay equity analyses, a large portion of those who disclose are already near-or-at parity, signaling companies aren't revealing this information until they have a good story to share. 
---
Get to Know JUST 
Andrea Jung
President and CEO, Grameen America
JUST Capital Board Member
Andrea Jung is President and CEO of Grameen America, a microfinance nonprofit organization which invests in women entrepreneurs across the U.S  to enable financial mobility and move women out of poverty. Grameen has invested over $2 billion dollars in more than 147,700 women. She is also a board member at Apple and Unilever. Hear from Andrea on how corporate America should be investing in women through the pandemic.