Why Altria, Meta, and PG&E Received a 'Unique Event' Treatment in JUST's 2022 Rankings, Placing Them in the Bottom Quartile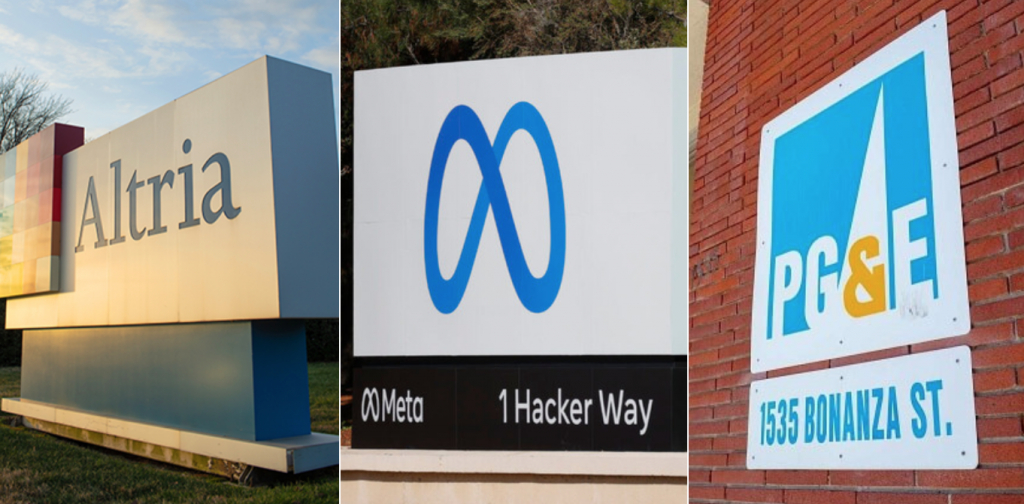 Throughout the year, JUST Capital considers whether there are unique events not captured by our data that should theoretically have an effect on a company's score and rank in our annual list of America's Most JUST Companies. We identify these events as those resulting from a company's actions or inactions that are: (1) considered material to JUST business behavior as defined by the public, (2) have the potential to affect a company's standing outside the normal architecture of our ranking process, and (3) are often sudden, extreme, or unusual in nature.
After conducting research into each potential unique event, the team determines which companies will receive a unique event treatment and what the treatment will be, based on the severity and egregiousness of the event. The methodology involves a formal process of monitoring media coverage related to companies under consideration, as well as consultation with the public, independent specialists, and other neutral third parties.
In 2021, JUST Capital invoked the unique events protocol in three cases.
The first case applies to Altria (MO), a manufacturer and seller of cigarettes, machine-made large cigars and pipe tobacco, smokeless tobacco products, and wine in the U.S. We assigned a substantial penalty to companies in the Industry Classification Benchmark (ICB) Tobacco Subsector, following results from our 2016-2019 survey research. Our survey research has consistently revealed that most Americans believe that companies that make and market tobacco products are extremely harmful and less just than other companies we track. Survey respondents also expressed that tobacco-producing companies should be in the bottom quartile of JUST Capital's Rankings. As the only tobacco company in our universe in 2022, we have placed Altria in the bottom quartile of the Rankings, at 712 of 954 companies.
The second case applies to Meta Platforms (FB), a social media conglomerate with billions of active users worldwide that owns Facebook, Instagram, WhatsApp, and Oculus, among other products. Last year, we placed Meta (formerly Facebook, Inc.) Under Review as new information was coming to light about its involvement in the spread of misinformation, hate speech, and other discriminatory and incendiary content on its platforms. This year, given the growing evidence and internal documentation that suggests that the company was aware of these issues but failed to address them, we have placed Meta in the bottom quartile of our Rankings, at 712 of 954 companies.
The final case applies to Pacific Gas and Electric (PCG). In addition to the utility company's 2019 bankruptcy proceedings connected to its wildfire liabilities in California, the state determined in 2021 that PG&E's continued negligence sparked or contributed to extreme regional wildfires that resulted in human deaths, widespread destruction of property, and endangerment of local communities. Accordingly, JUST Capital has placed Pacific Gas and Electric in the bottom quartile of our Rankings, at 712 of 954 companies.