Over the course of the coronavirus crisis, we've seen dozens of CEOs and executive leaders take temporary pay cuts in an effort to curb costs, and as a show of good faith to employees and other stakeholders weathering the impacts of the pandemic – though some pay cuts are already being rolled back. And while cutting CEO pay has been criticized by many as a symbolic act, our recent Survey – which looks at what Americans want from corporate America throughout the COVID-19 crisis – found that 70% of respondents believe that CEO pay cuts can be a significant means of cutting costs and could help prevent layoffs.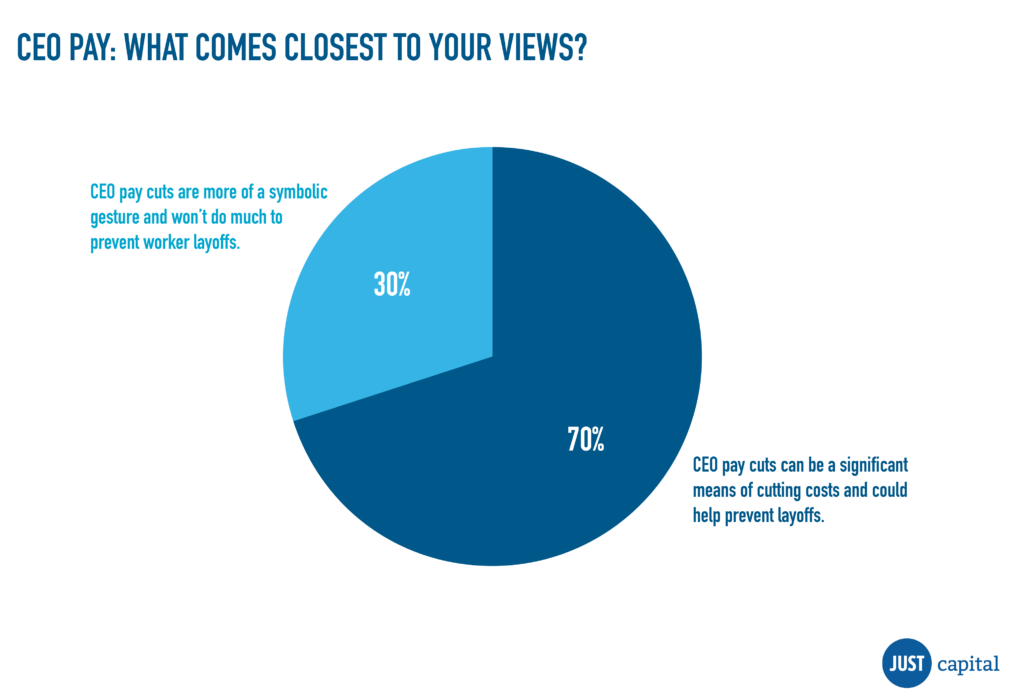 Executive pay has faced considerable blowback in recent years, with rising inequality shining a light on the stark discrepancies in pay between CEOs and their workers (since 1978, CEO compensation grew 940% while typical worker wages rose just 12% in that same timeframe). It's a natural target for cost cutting during the crisis, but it's also complicated by the fact that CEO compensation packages are largely comprised of stock awards. And while leaders may be taking a hit to their salaries, they only account for 8% to 10% of their total pay. Equity awards, which fluctuate with the market and make up the majority of CEO compensation, have been mostly untouched during the crisis, but some are on the rise.
As part of our COVID-19 Corporate Response Tracker – which analyses the actions taken by America's 300 largest employers in response to COVID-19 – we found that 28% of companies had announced a pay cut for leadership over the last several months, including CEOs, other C-suite executives, or board members.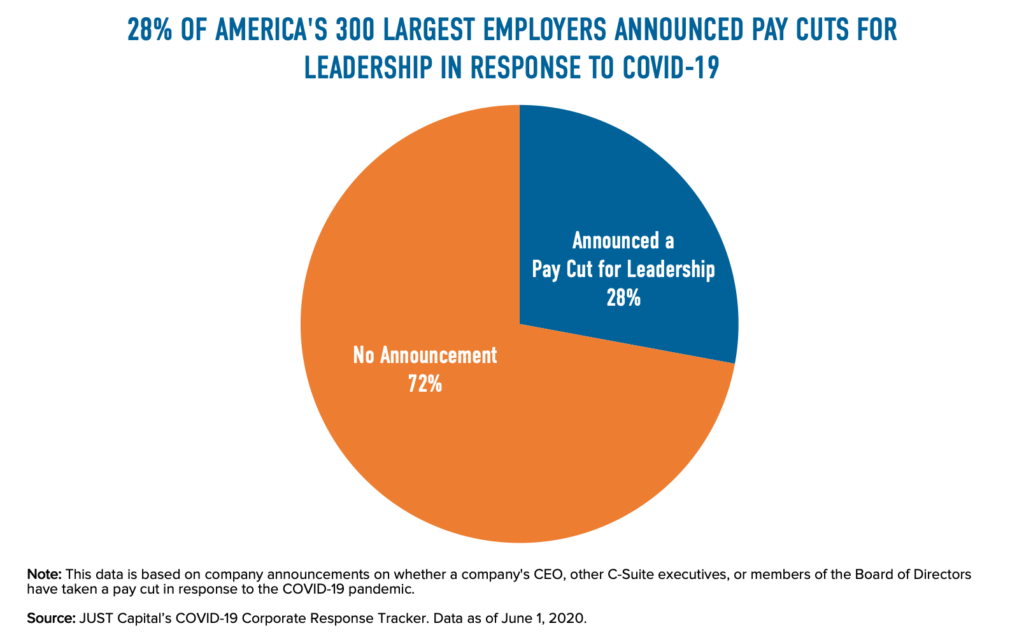 This is down from one-third of companies in the 100 largest employers, which we unpacked in our initial look at this issue last month – suggesting that perhaps these pay cuts are less common for companies that are smaller in size or have less of a customer-facing brand presence.
It's important to note too that not all pay cuts are created equal, with duration and amount of reduction varying widely. Marriott's CEO, for example, is taking a 100% salary cut for the rest of the year while Best Buy's CEO is taking a 50% salary cut through September and Under Armour's CEO is taking a 25% cut for "the duration of the crisis."
Delve into our Corporate Response Tracker for details around companies that have announced executive pay cuts – for CEOs, C-suite executives, and board members – during the crisis: