We are capitalists who believe in the power of business to be a force multiplier for the greater good. At $21.6 trillion, the U.S. private sector is about four and a half times the size of government and 44 and a half times the size of private philanthropy. Building a more just economy that better serves society's needs is essential to addressing our most pressing challenges at scale and building true prosperity for all.
To do this, we have to think differently about how we define and measure business success; how we allocate and invest capital; and how we create lasting value for all society's stakeholders, including consumers, workers, communities at home and around the world, the planet, shareholders, and of course, corporations themselves.
JUST Capital is the only independent nonprofit that tracks, analyzes, and engages with large corporations and their investors on how they perform on the public's priorities. We focus on the biggest corporations because of their impact and influence on society. But our research, Rankings, indexes, and data-driven tools empower all market participants to help build a more just economy. We are neutral, non-political and data-driven – an honest broker working to move the vision of a better, more just society from rhetoric to reality.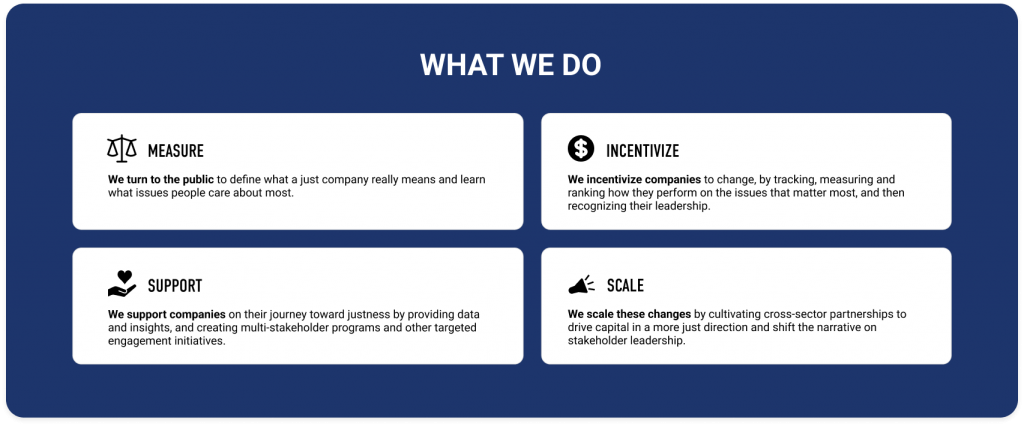 What We Do
Our strategy is simple.
We turn to the public to define what a just company really means and learn what issues people care about most.
We incentivize companies to change, by tracking, measuring and ranking how they perform on the issues that matter most, and then recognizing their leadership.
We support companies on their journey toward justness by providing data and insights, and creating multi-stakeholder programs and other targeted engagement initiatives.
We scale these changes by cultivating cross-sector partnerships to drive capital in a more just direction and shift the narrative on stakeholder leadership.
Measuring The Public's Priorities
We've surveyed more than 160,000 Americans since 2015 – fully representative of the U.S. adult population – to identify what issues matter most when it comes to just business behavior. And year over year, the polling shows Americans are consistent, clear, and united across political, economic, and demographic groups about what they want companies to focus on – and that's workers, wages, and jobs.


Incentivizing Improved Performance
Each year, we used those JUST engages with hundreds of major U.S. employers each year – 350 representing 14 million workers in 2022 alone.
A majority of Russell 1000 companies surveyed in 2022 agreed that "JUST Capital's Rankings and data review process helped inform and/or prompt implementation of new policies, practices, or new public disclosures on the issues we cover."
Companies want to understand their performance and learn from our analysis at a detailed level. In 2022 we had 56 detailed Rankings debrief conversations walking through specific data and drivers of performance.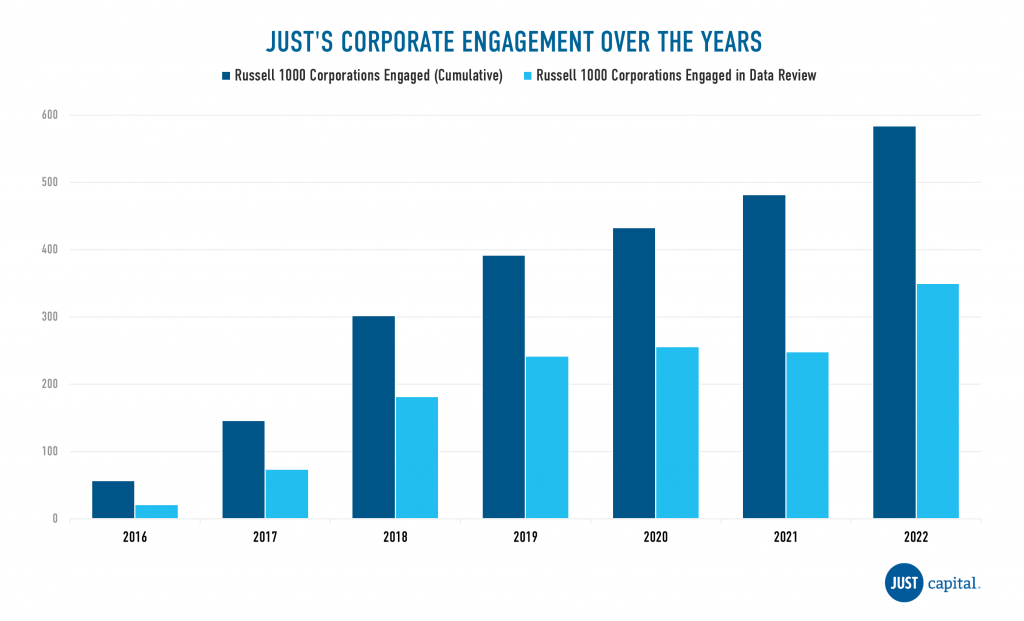 We can see the results of our mission in action – and the momentum growing for stakeholder capitalism – by tracking changes in disclosure and performance among the Russell 1000 companies we analyze. The JUST 100, the leading companies in our Rankings, outperform their peers. Compared to the rest of the Russell 1000, the 2023 JUST 100 had a 4.5% higher profit margin, 2.3% higher return on equity, and paid 5 times more in dividends.
In addition, companies in the 2023 JUST 100, on average:
Created 12,318 more jobs in the U.S. from 2017 to 2021.
Pay 8.6 percentage points more of their workers a family-sustaining wage (72%).
Are 2.8 times more likely to have conducted a pay-gap analysis, and 6.5 times more likely to disclose pay gap analysis results.
Recorded 42% fewer workplace incidents.
Offer 2 more weeks of paid parental leave for primary caregivers and 1 more week of paid leave for secondary caregivers.
Are 2.9 times more likely to disclose workforce data by race, ethnicity, and gender.
Provide 9 more hours of career development training per employee.
Are 5.9 times more likely to have conducted a human rights impact assessment.
Are 7 times more likely to disclose contributions to educational programs and/or funding for Historically Black Colleges and Universities.
Are 4.5 times more likely to disclose the amount spent on diverse suppliers.
Donated 2.5 times more in charitable giving.
Emitted 42% less metric tons of CO2 per revenue dollar.
Are 95% more likely to tie ESG performance to executive compensation.
Driving Capital
We consistently see that just leadership is good for business and good for investors. JUST's data supports 11 different financial products with over $400 million in assets under influence and has 19 data license agreements, up from 6 in 2019.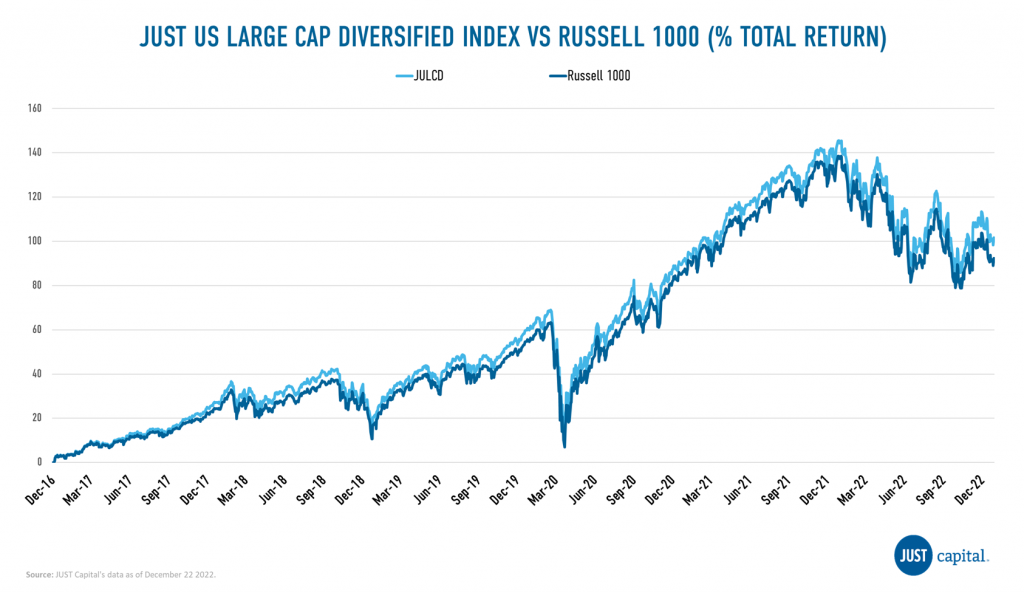 Our flagship index, the JUST U.S. Large Cap Diversified Index (JULCD), tracks the top 50% of Russell 1000 companies we rank by industry and has outperformed the R1000 by 9.3% since inception.
Our JUST 100 Index (JUONE) that tracks the top 100 ranked companies outperformed the Russell 1000 by 13.3% since inception.
The top 10% of companies in our Rankings outperformed the bottom 10% by almost 57.8% since 1/1/18.
And a worker-focused index tracking companies that scored in the top 10 percent across all of our worker issues outperformed the Russell 1000 Index in 2022 by 9.72%.
Supporting Corporate Change
Stakeholder capitalism will only thrive if more of us make a commitment to consider all stakeholders in our decisions on how we run our companies, where we work, where we invest, and what we buy. Join us in creating a more just economy:
Our JUST Jobs program – which includes the Worker Financial Wellness Initiative, Corporate Racial Equity Alliance, and a Paid Leave Business Cohort – provides assessments, resources, and communities of practice to help corporate leaders take action and create value for their most important stakeholder – their workers.
Launched in 2020, the Worker Financial Wellness Initiative is:
Elevating the importance of worker financial wellness: One million – or 1 out of every 176 American workers – are represented through the 13 companies participating in the Initiative, including 700,000 frontline workers.
Improving financial wellness for American families: Five participating companies increased wages – benefiting over 250,000 workers.
Supporting companies to better understand and meet the needs of their workforce: 92% of participating companies completed at least one financial wellness assessment of their workforces after joining the Initiative.
Our work with the Corporate Racial Equity Alliance provides a roadmap for major companies to follow through on their diversity, equity, and inclusion (DEI) commitments through resources like the CEO Blueprint for Racial Equity.
As Target continues to build on our 15 years of progress in creating a diverse workforce, and setting diversity and inclusion goals for our team and business, the CEO Blueprint served as a valuable resource for informing our Racial Equity Action and Change (REACH) committee's efforts and commitments. Through the CEO Blueprint's insights and guidance, we can collectively help accelerate opportunity and equity across our workforces and the communities we serve to drive for change that is good for all.

Amanda Nusz, Senior Vice President of Corporate Responsibility and President of the Target Foundation, Target
Scaling Change Through Collaboration
Aligning corporate practices with the American public's priorities calls for cross-sector collaborations. Our multi-stakeholder partnerships with key players in business, finance, academia, media, and policy help us to accelerate changes in just corporate behavior at the widest scale.
In 2022, we grew our partnerships with foundations, investors, academic and research institutions, nonprofits, and media outlets, including:
6 new foundation partners, including the Bill & Melinda Gates Foundation, W.K. Kellogg Foundation, and Schultz Family Foundation.
3 new investor partners, including JPMorgan, Two Sigma, and Voloridge.
1 new media partner, CNBC.
Shifting The Narrative
Through our powerful media partnership with CNBC we are expanding our reach and influence with the top business and financial leaders in America. Across broadcast, digital, and events platforms we are redefining business leadership and inspiring companies to take action.
Over 1,000 cumulative press hits – up by 227% from 2017.
14,000+ subscribers to The JUST Report, our weekly round-up of stakeholder capitalism news and insights – a 1,378% increase since 2018.
1.7 million website pageviews in 2022 – an over 611% increase since 2017.
We are developing ways for companies to support our work and demonstrate their alignment with our mission. In 2022, nine companies supported our work either as program partners or corporate sponsors.
Program Partners: PayPal, Prudential, MetLife Foundation
Corporate Sponsors: Nasdaq, Pepsico, Intel, Illumina, AtlantaLife, LordAbbett
Please Join Us
JUST Capital is well-positioned to drive meaningful and measurable change to improve the lives of millions of American workers, but we need your support to accelerate our impact. To learn how you can get involved, please reach out and connect. We look forward to hearing from you!