In the months since coronavirus arrived in the U.S., frontline workers across the country have continued to show up for work every day – often faced with the tough decision of prioritizing their health or their income. Prior to the pandemic, 73% of Americans working in the private sector had access to some form of paid sick leave benefit, with even fewer in low-wage industries (45% of those in Accomodation and Food Services have access to paid sick leave while only 30% do among the lowest-paid workers). That means that when the pandemic started, many essential workers were expected to come to their jobs without the assurance that they could stay home without fear of losing income – and even their jobs – should they or a loved one become sick.
Returning to business as usual following the pandemic will only continue to leave workers in a vulnerable position. As we look ahead to the Great Reset following the COVID-19 crisis, companies have the opportunity to build better on a wide range of issues – from providing a fair wage to prioritizing health and safety – and paid sick leave is one critical area where companies can create a more just and equitable economy for all Americans.
According to our recent survey, fielded in collaboration with our partners at The Harris Poll, the public strongly believes that paid sick leave must be a priority, with 74% agreeing that companies should provide at least 14 days of paid sick leave to all workers.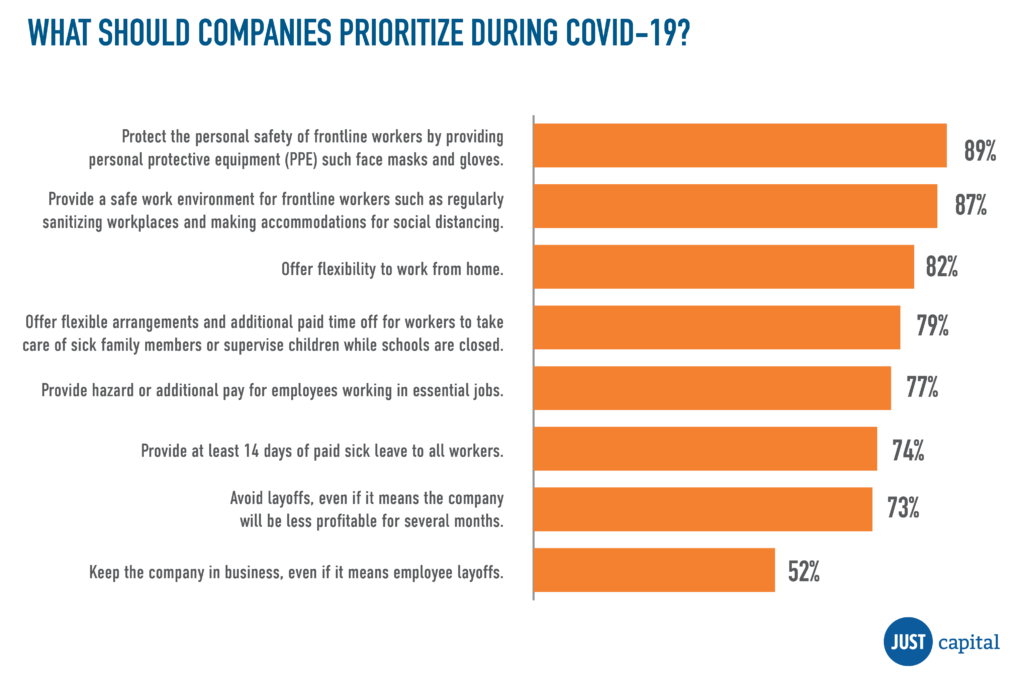 And while Congress' Families First Coronavirus Response Act has required employers to provide paid sick leave, many companies are exempted – including those with 500 or more employees, which represent more than half of the nation's workforce. Moreover, even eligible employees tend to be unfamiliar with the federal benefit and many business leaders aren't well-equipped to manage its complicated reimbursement-based process. Throughout the crisis, it has largely been up to corporate leaders to take action, with or without governmental support.
Many of those larger companies did step up to the plate on their own, announcing paid sick leave policies in the initial months of the COVID-19 crisis. According to our COVID-19 Corporate Response Tracker, 31% of America's 300 largest employers have announced a new or expanded paid sick leave policy to support workers during the pandemic – and many of these, like Walmart, Target, and UPS, employ significant workforces on the frontlines.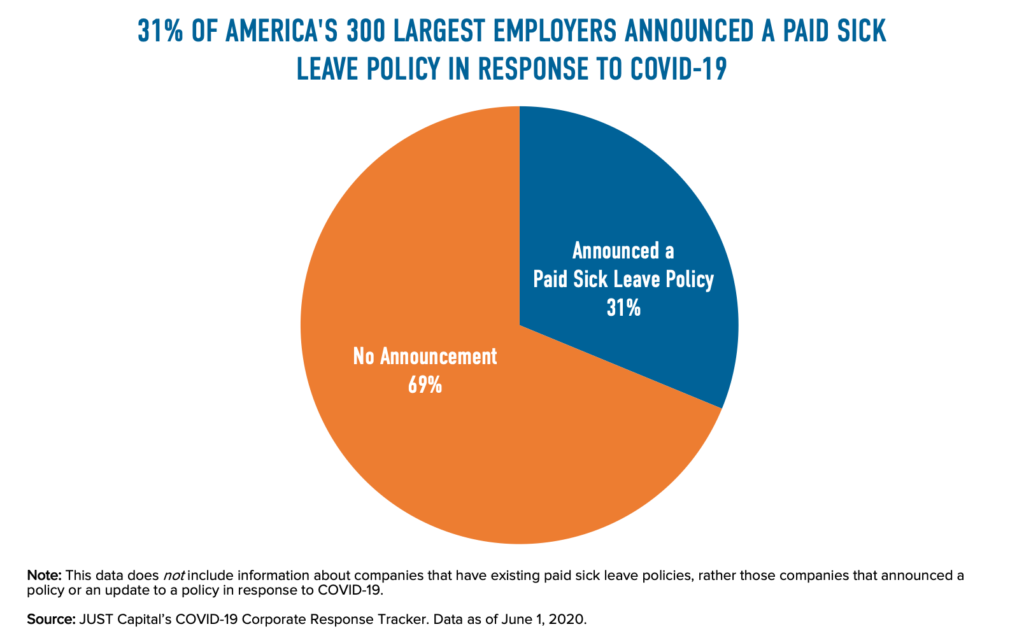 Of course, not each of these policies is the same, and they vary in terms of length, eligibility, and accessibility from company to company. We've seen that, in accordance with the recommendation from the CDC that individuals quarantine for 14 days if they've been exposed to the virus, companies on average offer about 13.3 days of paid sick leave. Of the companies we've evaluated, most offer between 10 and 14 days of sick leave.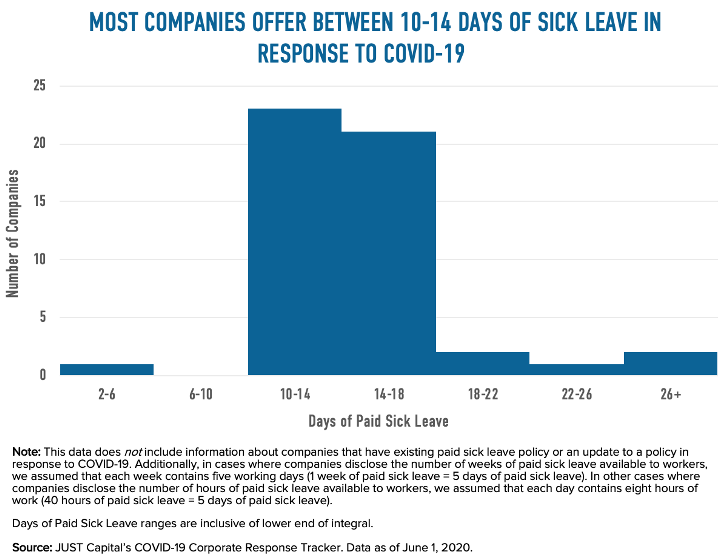 Also, when looking closely at the subset of companies that are offering a new or expanded policy around paid sick leave, we find that about a third (31% or 29 companies) have implemented some type of barrier to accessing this leave – such as requiring an official diagnosis, a positive test result, or quarantine mandate. For employees who cannot readily meet these stipulations, paid sick leave remains elusive.
Explore the full list of companies prioritizing health and safety for their workers here – including details on the type of policy, the duration of leave, whether wages will be replaced, and whether a diagnosis is required for access: