4 Ways Companies Have Improved Gender Diversity in the Workplace
In JUST Capital's 2015 Survey on corporate behavior, Americans told us that a just company treats all of its employees fairly, regardless of gender. Not only is gender equality what Americans say they want, but also the preponderance of evidence proving that eliminating gender bias is good for our economy grows every year. Yet why is it that we still have so few women in the C-suite and The Economist's Glass Ceiling Index ranks the U.S. 17th out of the 28 OECD countries in terms of how good it is to be a woman in the workplace?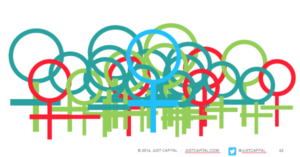 In a country built on a foundation of fairness and equal opportunity for all, the studies proving that gender bias exists in the U.S. should be cause for genuine self-reflection. It seems that good intentions and knowledge alone aren't enough to change how we behave. So what does work? What have successful companies done to move the needle on these issues? Below are some effective strategies that companies have applied.
Recognize that there may be a problem: Everyone – regardless of gender or ethnicity – is subject to the consequences of bias. But acknowledging its effects, suggests Victoria L. Brescoll, Associate Professor of Organizational Behavior at Yale University, can be uncomfortable: "We like to think of ourselves as really fair and unbiased," said Brescoll in an interview in Fast Company. "So when these things come out it's surprising to us. There's a certain amount of denial: 'Oh, it's not me. It doesn't happen to me.'"
Conduct research to challenge assumptions: Even if it's unclear that gender bias exists, companies that are willing to objectively analyze their practices are more likely to improve. For example, to break down perceptions of bias in certain practices, PwC Australia partnered with Melbourne University in conducting extensive surveys to uncover women's perceptions. By partnering with third-party researchers, PwC also extracted some of their own potential biases from the results.
Leverage transparency to motivate: In 2015, Deloitte and PwC were two among a handful of companies in the U.K. to voluntarily release data on staff compensation by gender. In a New York Times interview, PwC's head of diversity and inclusion Sarah Churchman noted that releasing the numbers, "created much more momentum internally" to address the problem. The voluntary releases came just ahead of a new law in the U.K. requiring that companies publicly report pay information by gender.
Tackle the problem from all angles: While training programs are a useful component of any anti-bias program, research suggests that a single-tactic strategy is not enough. In a well-known case study, Harvard Business School took an exhaustive approach to addressing a pernicious culture of bias that had defined the school before 2010. From installing scribes in classrooms and collecting data on classroom participation, to overhauling its social dynamics and engaging students in change, HBS's ongoing efforts appear to be paying off – more women are ranked at the top of their class than ever before.
At the end of the day, there is one common characteristic that underlies all successful efforts to eliminate bias: commitment. When Harvard Business School Dean, Nitin Nohria, publicly apologized to 600 alumni and guests about the school's historic treatment of women, he signaled to the world that HBS had set a new trajectory for its future: "The school owed you better, and I promise it will be better," Nohria said. "These ideas will only be quaint unless we work relentlessly to improve things."