Microsoft and Activision Are on Opposite Ends of JUST Capital's Rankings – The $70 Billion Acquisition Will Be an Interesting Test for Stakeholder Capitalism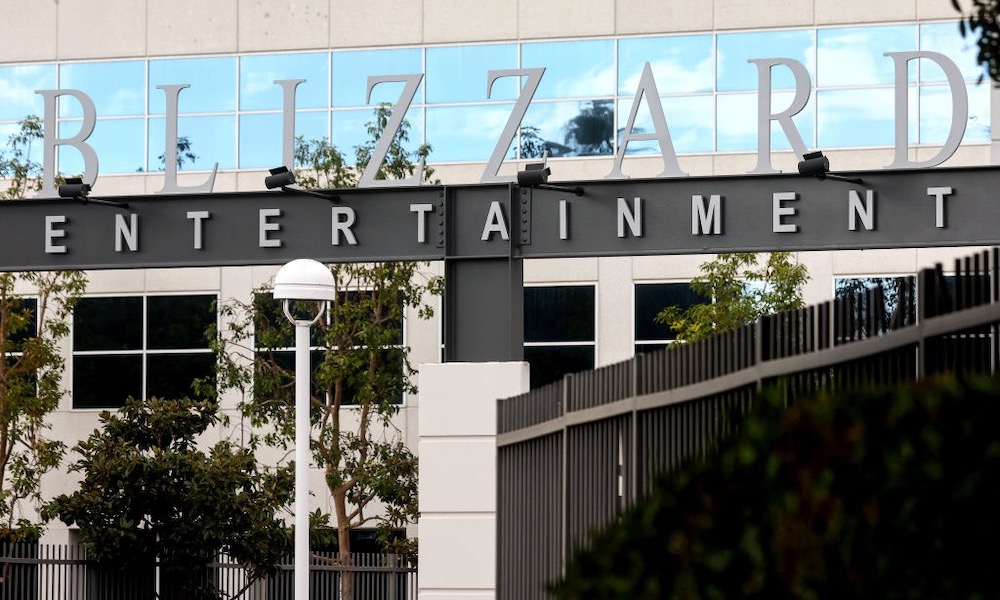 Microsoft (MSFT), announced Tuesday its plans to acquire the video game developer Activision Blizzard (ATVI) for nearly $70 billion. In our 2022 Rankings of America's Most JUST Companies, Microsoft ranks #3 overall (and was #1 for the last two years prior) whereas Activision ranks in the bottom decile of all 954 public companies we track.
Microsoft framed the deal as a step toward developing the "metaverse," and it also bolsters its standing against video game console rival Sony and other competitors. But Activision's recent struggles with employee allegations of widespread sexual harassment and discrimination may pose a challenge for the company's integration. How Microsoft applies its own best-in-class human capital policies and practices, as well as other stakeholder performance strategies, within its proposed acquisition will be an interesting test case and a possible source of incremental value creation for investors.
Here are a few highlights based on Microsoft and Activision's performance on stakeholder engagement and issues, based on the issues the American public prioritizes.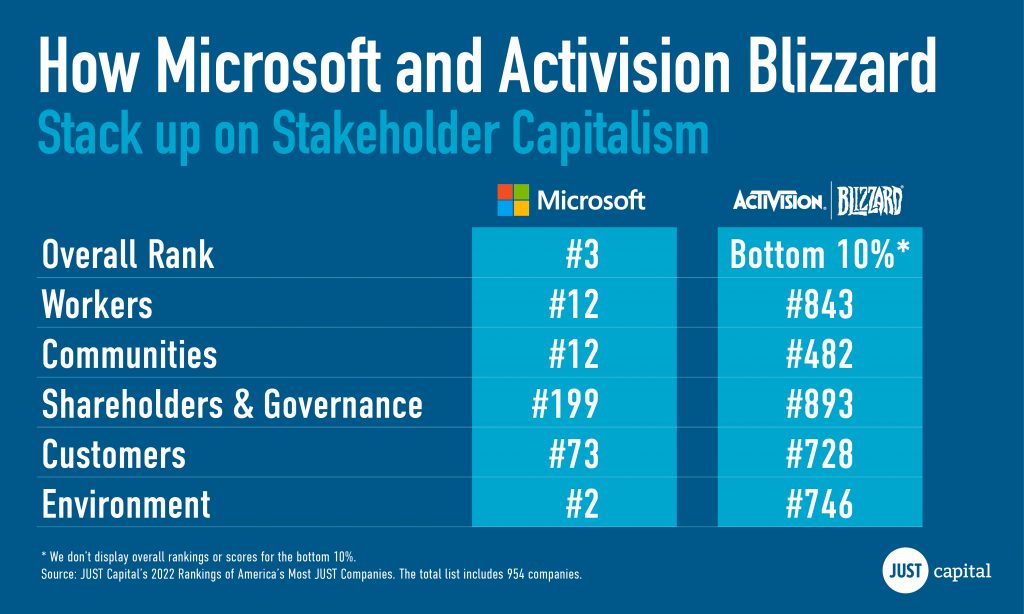 Workers
Microsoft ranks #2 in its industry and #12 overall for the Workers stakeholder. It supports workers' wellbeing with top performance in wages and offers a robust employee benefits package and work-life balance provisions. Based on modeled estimates developed at JUST, the company pays a high percentage of its workforce a living wage. MSFT is also committed to accelerating its diversity and inclusion journey with improved disclosure.
Meanwhile, Activision ranks poorly in the Workers stakeholder, specifically on the issues of diversity, equity, and inclusion and providing a living wage.
Communities
Microsoft ranks #1 in its industry for the Communities stakeholder and delivers outstanding performance on community development, also ranking #1 in its industry on this issue. It contributes to local communities through economic development and job creation programs. Microsoft's TechSpark program fosters economic growth by increasing broadband access, helping local organizations implement innovative technology, and addressing the digital skills gap to better prepare workers for the job market with the Leap apprenticeship program. It also engages experts and advocacy groups across other stakeholders through its feedback channels to ensure a continued positive community impact. Details of its engagement are disclosed publicly on its downloadable stakeholder report.
Activision is ranked as a poor performer on issues within the Communities stakeholder and does not contribute relatively much towards community development or local job creation. It lacks supplier diversity and community engagement programs and workforce development programs like apprenticeship opportunities.
Customers
Microsoft ranks #9 in its industry and #73 overall for the Customers stakeholder. It ranks highly on customer privacy and provides extensive disclosure of how customer data is utilized. Microsoft displays a deep commitment to prioritizing customer privacy and being transparent about implementing more rigorous customer privacy practices. Microsoft publishes an annual Privacy Report that includes any progress it has made within the year regarding customer privacy. It also provides users with a comprehensive privacy dashboard where users can review and delete the personal data collected on them.
Activision also ranks poorly on the Customers stakeholder and is in the bottom quintile for customer privacy issues. It lacks disclosure in key customer privacy metrics. Activision did not receive any credit for the following data points, while Microsoft did: user information disclosure, broad privacy policy scope, and customer and user security notifications.