Each issue is color-coded by the stakeholder it most impacts. While we reference the prioritization of several Issues in this report, please note that the relative importance between many of these Issues often varies by a fraction of a percentage point.
Below we take a look at several key Issues that either rose to the top or moved up significantly in 2021.
Pays a Fair, Living Wage (15.5%)

"Pays workers fairly and offers a living wage that covers the cost of basic needs at the local level."
This Issue has consistently remained one of the top three since JUST Capital began polling the public in 2015, and gained nearly six percentage points from last year. That three-quarters of Americans said that this Issue is more important this year than last is no surprise: Workers – particularly those in lower-wage sectors such as retail and hospitality – are walking off jobs at a record rate, often citing insufficient pay, as a primary driver.
Our omnibus polling fielded in July underscores the importance of fair pay to the American public: More than half of respondents (55%) said that in order to compete for workers in a challenging labor market, large companies should prioritize offering higher starting wages to hourly workers. A majority also indicated that higher starting wages (66%) and more comprehensive benefits (76%) should be long-term policy changes, rather than short-term hiring solutions.
Creates Jobs in the U.S. (13%)

"Creates jobs in the U.S. and provides employment opportunities for communities that need them."
This Issue rises to #2 in relative importance, up from #8 in 2020, and more than two-thirds say that creating jobs in the U.S. is more important than last year. The sharp focus on jobs makes sense considering the country lost over 20 million jobs in the early days of the coronavirus crisis. And despite the fact that the U.S. economy has reportedly recovered 80% of those jobs, there are still four million fewer jobs than there were before the pandemic.
Myriad surveys and reports show that frontline workers in particular are seeking higher quality jobs, especially in communities that have limited employment opportunities. From our 2021 Americans' Views on Business Survey, the percentage of Americans who say companies have a positive impact on the quality of U.S. jobs has fallen almost 20 percentage points – from 65% in 2018 to 48% in 2021, demonstrating that the public wants companies to focus on creating good quality jobs for American workers to regain trust.
Prioritizes Accountability to All Stakeholders (10.6%)

"The board of directors holds executives accountable to the interests of its workers, customers, communities, and the environment, as well as shareholders."
In 2021 this Issue more than doubles in priority, from 4.2% to 10.6%, and moves to #3 from #11. This is due in part to our refinement of the wording of the Issue this year to reflect prioritization of leadership accountability to stakeholders, beyond creating value for them. In our focus groups this year, we heard loud and clear that we've entered a new era of accountability where people want to make sure companies have moved beyond talking the talk and are walking the walk. In our polling from summer 2020, nearly nine in 10 Americans agreed that the COVID-19 crisis provided an opportunity for large companies to hit "reset" and focus on doing right by their stakeholders.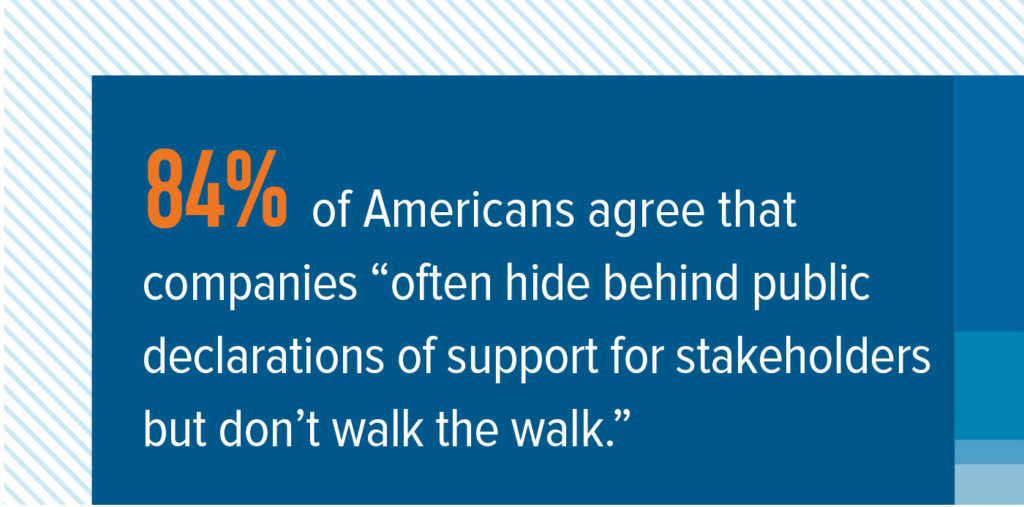 More recent polling shows companies are not moving quite fast enough. In our 2021 Americans' Views on Business Survey, 84% of Americans agreed that companies "often hide behind public declarations of support for stakeholders but don't walk the walk." Americans want companies to follow through on their stakeholder commitments and to be held accountable for prioritizing them.
Protects Worker Health & Safety (7.2%)

"Protects the health, safety, and well-being of workers beyond what is required by law."
The pandemic amplified the need for companies to enact measures to safeguard the health and safety of their workforces; in particular, those deemed essential and/or serving on frontlines, such as healthcare, retail, and factory workers. In 2021, this Issue continues to be critical to the public – with Protecting Worker Health & Safety moving up two places to the fourth most important issue. What's more, close to 70% of Americans say that this Issue is more important this year than last.
Yet, as the two-year anniversary of the COVID-19 outbreak draws near, the care and attention that companies paid workers during the height of the pandemic seems to be waning – especially for frontline workers who continue to fear for their health and/or face belligerent customers. Findings from our research fielded in March found that there remains serious disagreement between workers and employers about the state of workplace safety. Workers reported experiencing lower levels of health and safety protections than employers reported providing, and were nearly twice as likely (37%) as employers (19%) to report that their health and safety often takes a back seat to profits. The arrival of the ​​Omicron variant demonstrates how important this Issue will continue to be for employers in 2022 and beyond.
Acts Ethically at the Leadership Level (7.1%)

"Leadership acts ethically and with integrity and avoids wrongdoings."
Ethical Leadership rounds out the top five most important Issues this year. Last year, four in five Americans agreed the pandemic had exposed underlying structural problems in our society and opened their eyes to acceptable and unacceptable corporate behavior. They have become more attuned to what behaviors are right and wrong, and the public wants corporate leaders to take ownership when companies make mistakes, cause a crisis, or become embroiled in a controversy.
Our 2021 Views on Business Survey results show Americans are looking to leaders to get things on track: Currently only 22% say companies are headed in the right direction, versus 47% who say companies are headed in the wrong direction, and another 31% who say they don't know.
Provides Benefits & Work Life Balance (6.2%)

"Offers a quality benefits package and supports good work-life balance for all employees."
While this Issue has consistently ranked in the top 10 priorities year over year, the pandemic significantly changed how people think about the balance between life and work. The components that comprise this Issue – from health insurance to paid time off, paid sick leave, and paid parental leave, as well as remote work and child care – have been driving questions at the heart of the Great Reassessment. One prime example: The pandemic has sparked a child care crisis in our country. With kids schooled at home for the majority of this year and last, the pandemic accentuated the need for quality, affordable caregiving opportunities for working parents – and how the lack thereof has ripple effects across the workforce, particularly for working mothers.
Our August survey on caregiving showed that 41% of respondents had either personally experienced or know someone close to them who has missed work to provide child care for their families, and 36% said either they have, or they know someone who has left a job or switched to part-time work. Companies that listen to their workers and develop benefit offerings that meet their evolving needs will be better poised to win the race for talent as the tight labor market continues into 2022.
Cultivates a Diverse and Inclusive Workplace (6.2%)

"Cultivates a diverse and inclusive workplace with equal opportunity and pay without discrimination."
The issues of diversity, equity, and inclusivity (DEI) continue to be at the forefront of the minds of Americans when it comes to just business behavior. More than half (54%) of respondents say this Issue is more important than last year. Further, our Views on Business analysis shows that a majority (61%) agrees that companies are indeed making progress advancing DEI in the workplace.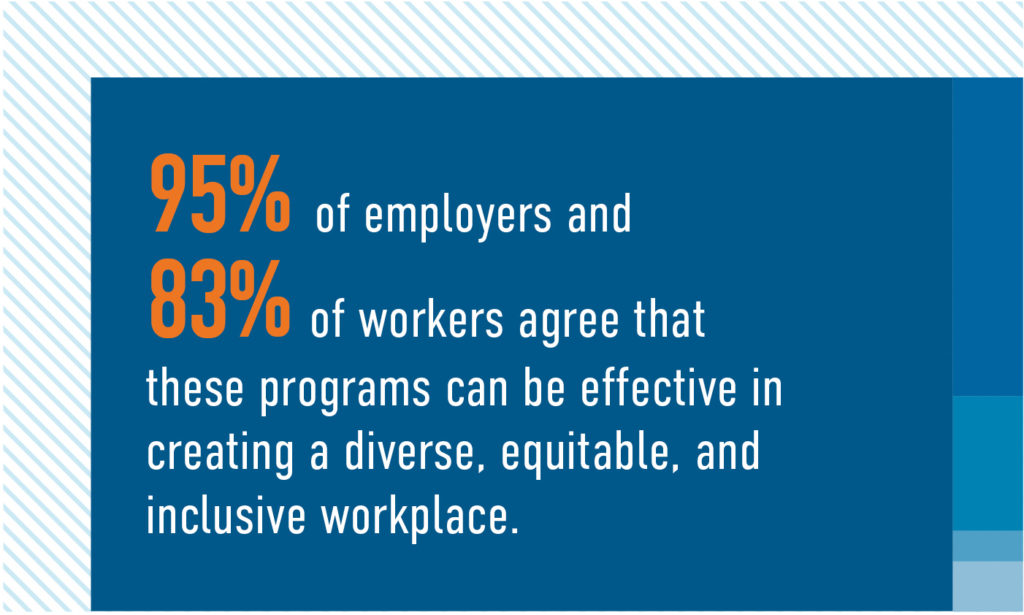 Our November survey of employers and workers in large companies shows that, a year into our nation's reckoning with racial injustice, most employers (94%) and workers (74%) say that their organization has made a commitment to advancing DEI in the workplace. However, there is also notable divergence in the two groups' perspectives on how far their companies have come, suggesting that increased accountability and action is still needed. Leaders should more actively seek out feedback from underrepresented groups to deepen and broaden the work.
Develops and Supports Sustainable Products (4.0%)

"Reduces the environmental impact of its products and services by using sustainable materials and renewable energy."
Although environmental issues comprise just 10% of our ranking model, a significant share of that number belongs to the sustainable products Issue, which has moved up six places to number eight in overall importance, from 14. In 2020, 38% said this Issue is more important than the previous year. In 2021 that percentage grew to 53%, demonstrating the public's growing interest in supporting renewable energy, low-carbon technology, products made from recyclable/recycled materials, and more.
In our Climate Week poll from September, roughly three-quarters of Americans said that companies that take the following steps can have a moderate-to-high impact on climate change: making changes to ensure all aspects of their business are environmentally sustainable (75%); using environmentally friendly materials (74%); and oil and gas companies leading the transition to clean energy and end fossil fuel production (73%).
Using the Public's Priorities as a Roadmap to Stakeholder Capitalism
A commitment to stakeholder capitalism represents a new North Star for business leaders today.
To provide further clarity around how to better balance stakeholder interests, we classify each Issue by the stakeholder it affects most, organizing the 20 Issues into five stakeholder groups: Workers, Customers, Communities, the Environment, and Shareholders & Governance. Specifically, we assign each of the 20 Issues to the one (and only one) stakeholder it most impacts. For example: "Leadership acts ethically and with integrity and avoids wrongdoings" is assigned to Shareholders & Governance, whereas "Makes products or offers services that benefit society" is assigned to the Customers stakeholder. The weight of each stakeholder group is calculated by summing all of its associated Issue weights.