Chart of the Week: America's Most JUST Companies Are Bouncing Back More Quickly During the Current Recession
In this edition of Chart of the Week, we evaluate the top performing companies from our 2020 Rankings across the 33 industries we cover to see how they have performed since the beginning of the year. These Industry Leaders stand head and shoulders above their sector peers for their efforts to prioritize the needs of all their stakeholders – and based on our analysis, we're seeing that they're also doing right by their shareholders as the current recession continues to unfold.
Grouping the Industry Leaders of each sector into an equally weighted and monthly rebalanced portfolio and comparing them to the overall market, we see that JUST Industry Leaders recover at a faster rate, returning -8.67% on a cumulative basis from 1/1/2020 through 4/30/2020, relative to the -17.43% performance of the average company we evaluate over the same period.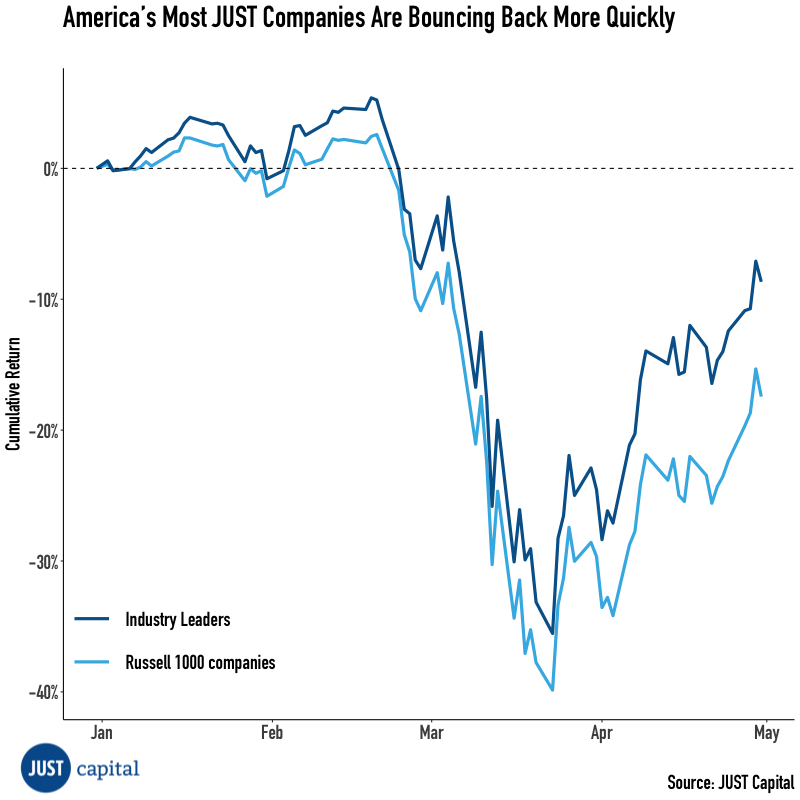 This is not surprising, as many industry leaders have emerged as strong leaders not only prior to, but during the coronavirus pandemic. Starbucks (#1 in Restaurants & Leisure) has implemented far-reaching policies to ensure the safety of its frontline workers, support their financial and mental health, and raise pay for by $3 per hour through the end of May. Verizon (#1 in Telecommunications) has stepped up as a community leader, committing over $55 million in relief efforts to nonprofits around the globe while extending customers' data coverage for 60 days even if they cannot pay. These companies, like many that stand out in our COVID-19 Corporate Response Tracker, are focused on the long term and emphasize care over cost.
This analysis illustrates our belief that the companies leading in their industries – that support the needs of all their stakeholders, and not just their shareholders – remain most resilient in the face of economic crisis. When we emerge from the pandemic, there will be a new benchmark for just corporate behavior, and companies that best supported their stakeholders throughout the crisis are likely to continue to outperform in the market as we move through and past the downturn.
We're continuing to analyze how companies are performing in the market, as well as for their stakeholders, throughout the COVID-19 crisis. Check out all our coverage here, and stay tuned for next week's chart.
If you are interested in supporting our mission, we are happy to discuss data needs, index licensing, and other ways we can partner. Please reach out to our Director of Business Development, Charlie Mahoney, at cmahoney@justcapital.com to discuss how we can create a more JUST economy together.
Disclaimer: Performance is for illustrative purposes only and does not represent the performance of any fund or index currently offered by JUST Capital or any of its partners. Results over a limited period may not be indicative of potential performance across a range of market conditions, and more concentrated portfolios may offer higher volatility than more diversified ones.