JUST Capital's New Data Scorecards Elevate ESG Metrics and Corporate Stakeholder Performance on CNBC
As part of our expansive partnership with CNBC, JUST Capital recently launched new ESG scorecards, providing the network with exclusive data points from JUST's Rankings to support CNBC's coverage and elevate ESG metrics alongside traditional financial metrics. The first collection of data points focus on Pay Equity Analysis, Workforce Diversity Disclosure, Board Diversity Disclosure, Climate Commitments, and Paid Parental Leave. Each of the data points connects to core mission outcomes for JUST that we will be tracking and reporting progress on moving forward. Currently, the highest policy or performance threshold for each data point across the Russell 1000 is as follows:
9% conduct pay equity analysis and disclose specific pay ratios.
11% disclose detailed workforce diversity data by race and gender (e.g. EEO-1).
52% report board diversity by gender and race/ethnicity.
7% have Science Based Target climate commitment aligning to 1.5°C.
8% offer at least 12 weeks of paid parental leave for both caregivers.
JUST will be focusing on these and select other data points over the coming months and years as part of a bigger push to demonstrate what leading performance on key issues looks like and how it connects to business performance. The scorecards will help companies better understand what they can do to advance the needs of their stakeholders and how they can work with JUST to do so.
Here's a collection of CNBC coverage from the last week showcasing the scorecards:
Davos 2022
A series of CNBC CEO interviews at the World Economic Forum Annual Meeting in Davos provided an ideal backdrop for JUST Capital's data to be featured during conversations around climate commitments, stakeholder capitalism, the economy, and more.
Intel
Intel CEO Pat Gelsinger joined Andrew Ross Sorkin to talk about the investments the company's making in its workforce and its approach to compensation. Sorkin brought up Intel's shareholders recently voting against the pay packages of Gelsinger and other Intel executives, with Gelsigner saying he thinks "boards and CEOs need to be sensitive and thoughtful" about the voting process as part of compensation decisions. Intel, as noted on the ESG scorecard, is a leader on pay transparency. It conducts pay gap analyses and discloses its pay ratios revealing it achieved both gender pay equity and race/ethnicity pay equity. Intel is also the only company we rank to disclose Component 2 of its EEO-1 Report, which details pay by intersectional demographic data category as well as by job-level.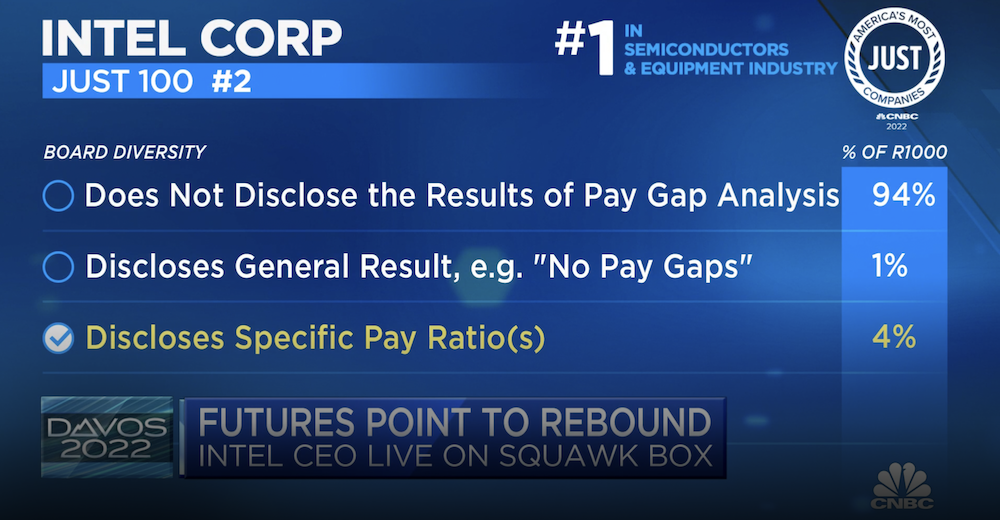 Salesforce
Salesforce CEO Marc Benioff sat down with Sara Eisen to discuss the company's focus on managing its own environmental impact and accelerating climate action across the tech industry. "When we run our company and when I advise other companies I'm not only advising them on how to navigate through difficult economic times, but I'm saying they need to go Net-Zero. Every company needs to go Net-Zero. We need to create a Net-Zero world," he said. Salesforce, as the ESG scorecard graphic illustrates, is one of 7% of Russell 1000 companies we rank that has set a Science-Based Target in line with a 1.5°C warming scenario. It's also already delivered net zero emissions across its value chain. Benioff also touched upon the company's work as a founding member of 1t.org and its recent investment through First Movers Coalition, both efforts aimed at accelerating carbon dioxide removal.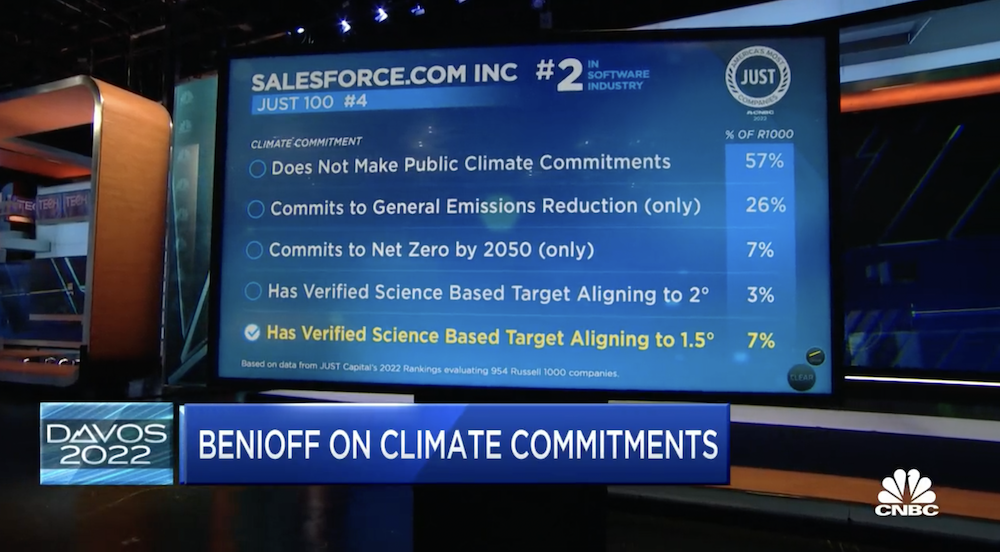 Bank of America
Bank of America CEO Brian Moynihan sat with Andrew Ross Sorkin for a wide-ranging interview to discuss ESG in a market downturn, why and when companies should take a stand on important social issues, and more. On the first Moynihan said, "The World Economic Forum and the International Business Council that I chair has had these metrics that we put out, 140 companies have signed on, 72 are in second year of disclosing, all those laid out bare if you are not making progress and people can see it, so whether it is women on boards, diversity overall, or progress on environmental commitments, I think people will stick to them because they've aligned capitalism to achieving the goals." And on social issues and purpose, Moynihan said, "We have 200,000 people and they represent every interest so we tend to take action when it means something to our team…There's going to be a lot of competing ideas – but the reality is we drive profits and purpose." Our Rankings data graphics remain a core value add to CNBC coverage of JUST 100 leaders like Bank of America to showcase where they're leading on stakeholder performance.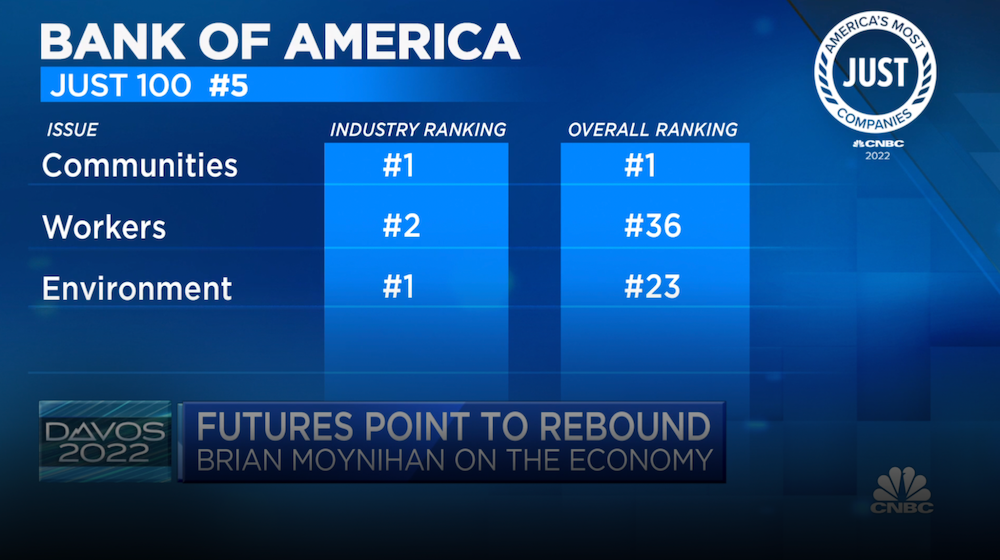 Tesla
When Elon Musk called ESG a "scam" in response to Tesla being dropped from S&P's flagship ESG index, CNBC integrated a rapid response JUST Climate Commitment scorecard into its reporting. The graphic shows, in stark contrast, that while Tesla is recognized as an environmental leader for its sustainable EV product, the company itself does not make any public climate commitments around Net-Zero or verified Science Based Targets to meet a 1.5°C or 2°C warming scenario. JUST CEO Martin Whittaker joined Andrew Ross Sorkin on Squawk Box the following day to talk about what Musk and Tesla could do to become an ESG leader.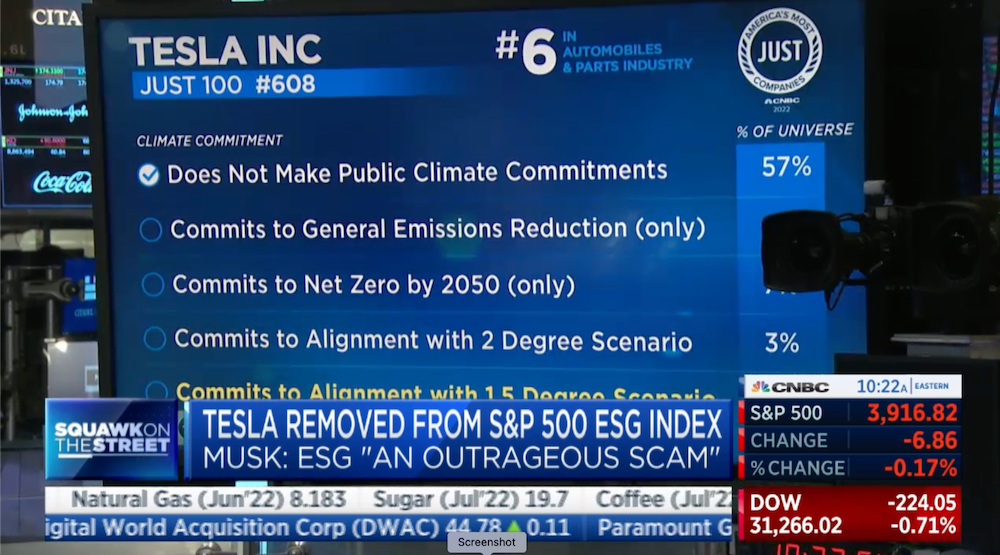 Stay tuned to CNBC programming to see additional JUST data featured and learn more about the ESG performance of the largest U.S. companies.