Watch JUST 100 CEOs Discuss Stakeholder Performance on CNBC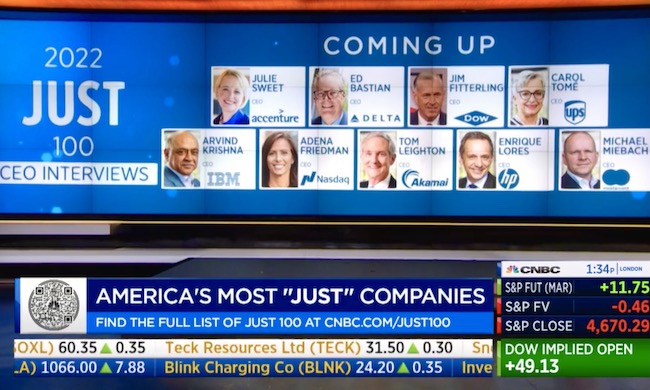 This week, we released our 2022 Rankings of America's Most JUST Companies in collaboration with CNBC. Leading the list is the JUST 100, a group of the 100 top-performing companies across industries. Executives from JUST 100 companies joined CNBC anchors throughout the week to discuss what's driving their top scores, and why embracing a stakeholder-oriented approach has built trust with employees, investors, and others, ultimately helping to generate greater value for their companies over the long term.
Below we've captured key insights from some of these conversations. You can tune into Squawk Box, Power Lunch, and Closing Bell to catch the remaining JUST 100 launch week interviews live, and find a full collection of coverage at CNBC's JUST 100 page.
Paul Tudor Jones and Accenture CEO Julie Sweet
JUST Capital co-founder Paul Tudor Jones and Accenture CEO Julie Sweet kicked off the conversations with Andrew Ross Sorkin on Squawk Box. Jones made the point that the companies in the JUST 100 are leading on the most important metrics to the American public, which are "generally pocketbook issues and work related," and that this a boon for their bottom lines. "You can't have a value proposition for investors and shareholders in the long run unless you're taking care of and providing a value proposition for the other stakeholders, employees, customers, communities, the planet," he said.
Jones raised that companies in the JUST 100 earn nearly 4.5% more and pay 19% more in dividends than the rest of the Russell 1000 and Sweet spoke to how Accenture's seen that growth firsthand. She noted that the company hired 50,000 people last quarter and has added $140 billion in market cap since the onset of the pandemic. "We are a talent magnet and we believe that that is very much related to the fact that people want to go to companies that create value, have the right pay equity, pay the right salaries, but also lead with values who have sustainability," Sweet said.
The company's proactive transparency on diversity, equity, and inclusion (DEI) metrics have also helped to boost recruitment, Sweet noted. She brought up that when Accenture first disclosed the demographic breakdown of its U.S. workforce in 2015 its "numbers weren't great," but that recruitment "improved in all of our diverse categories because transparency builds trust."
"Our core business strategy is to not only do this for our stakeholders but also for our clients and we believe that our results are intertwined completely with our commitment to being a just company and that's why these types of metrics are so important," she said.
Watch the full interview below.
Nasdaq CEO Adena Friedman
Friedman joined Andrew Ross Sorkin on Squawk Box to discuss Nasdaq's appearance in the JUST 100, and how it earned the number two spot in the capital markets field for its work prioritizing Shareholders & Governance. Friedman focused on the importance of disclosure to investors and the economy more broadly and how choosing to disclose DEI metrics at Nasdaq before the data was "better" helped to bolster employee engagement and recruitment.
"As we move ESG from this notion of 'let me get started in my ESG journey'…it's now a matter of tracking progress. We're moving into what I would say is the second phase of ESG, which is how quickly companies can move along and make a difference and have an impact. The only way we can measure that is if it's disclosed," Friedman said.
Watch the full interview below.
IBM CEO Arvind Krishna
Krishna joined Closing Bell's Sara Eisen to break down how IBM ranked first in the computer services industry. He raised that the company's ESG efforts have been a significant talent driver, comparing what applicants are looking for in an employer today to the premium that more consumers are willing to pay for sustainable products. Krishna also shared that IBM's focus on ESG hasn't come at a cost to its revenue growth and urged more business leaders to operate with this mindset for the benefit of all stakeholders, including shareholders.
"It's an 'and,' and an 'and.' It's not an 'instead of' or and it's not a 'putting these [ESG goals] ahead.' However, in order to get revenue growth, we have to be able to attract employees. In order to attract employees, we have to be perceived as just and equitable," he said. "DEI plays a role, it allows us to get more employees across all kinds of communities. We believe that actually being sustainable is not instead of profit. When we recycle, we use clean energy, and we use less energy, our energy bills go down. It's an 'and,' it's not an 'or.' And thinking about that way benefits everybody, including investors."
Watch the full interview below.
HP President and CEO Enrique Lores
Lores joined Sara Eisen on Closing Bell to discuss HP's number-two rank among computer services companies, and how it earned the number one spot for both Workers and the Environment in the industry. He raised that HP's commitment to DEI starts at the very top, and that the company "has one of the most diverse boards in America." This board, in turn, helps HP make better decisions and have better discussions, he said. Lores also spoke on the company's sustainability work, saying that it's work to manage environmental impact ties directly into its core business and has helped boost its bottom line.
"We think that more and more customers want to buy products from companies they trust, from companies that represent the values that they have. Clearly by using recyclable materials, both in our printers and in our PCs, we think we are doing the right thing, but also we are generating a competitive advantage," he said.
Watch the full interview below.
UPS CEO Carol Tomé
Tomé joined Becky Quick and Andrew Ross Sorkin on Squawk Box to talk about UPS' number two-rank in the transportation industry. She raised that UPS' dedication to serving all of its stakeholders has helped foster a strong sense of purpose among its workforce and stave off the effects of The Great Resignation for the company. UPS also ranked second among transportation companies for its Shareholders & Governance performance, and Tomé said that its shareholders have taken an increasing interest in the company's ESG efforts and disclosures.
"We're getting more questions coming from the investor group, and we welcome those questions because ESG has been important to us since our founding days 115 years ago," she said. "And we've declared that we'll be carbon neutral by 2050 so we're getting more questions as to 'well how are you going to do that?' So we've laid out a roadmap and we're talking about the investments that we're making and the return we expect to get on those investments."
Watch the full interview below.
Dow Chemical CEO Jim Fitterling
Fitterling joined Sara Eisen on Closing Bell to discuss how Dow Chemical's dedication to DEI and work to expand benefits during the pandemic helped it rank first in the chemicals industry overall and first in the sector for Workers. Fitterling said that the company's extended paternity leave, paid sick leave, and dependent care offerings. He also noted that Dow has closed its gender pay gap and ties compensation for its HR executives to DEI representation goals.
"We're working hard to try to make sure that women know that they have a place – and it is a good place for women to have a career – it is a safe environment, and to have the kind of flexibility and create the kind of culture that they want to be part of. And we're seeing improvements there," Fitterling said.
Watch the full interview below.
Delta CEO Ed Bastian
Bastian joined Andrew Ross Sorkin on Squawk Box to talk about Delta's number-one rank among transportation companies in the JUST 100. Bastian said that for Delta, which is ranked first for both Customers and Workers in the field, it's all about people. He noted that through the Great Resignation and the rising labor movement across the country, during which a push to unionize Delta has resurged, his top priority is to "take care of our people." It's that investment in Delta's workforce, Bastian said, that's allowed the company to grow and thrive.
"You don't get there…if you don't have happy employees. If you don't have employees that want to serve, that feel respected, feel trusted, feel backed up. And that's the proof in the pudding," he said.
Watch the full interview below.
Mastercard CEO Michael Miebach
Miebach joined Kelly Evans on Power Lunch to talk about how Mastercard earned its number two ranking among commercial support services companies broadly and in its performance on Workers. Miebach, who stepped into the CEO role in January 2021, discussed how Mastercard has listened to what its employees need in terms of workplace flexibility. The company is moving toward a hybrid model, he said, but is also offering incentives like "work four weeks from anywhere in the world" to give employees additional options.
"I think what is being recognized is really the close connection between a pretty clear strategy, consistent performance on one hand, and catering to the topics that really matter to all of our stakeholders, not just shareholders – inclusive growth, protecting the environment, and responsible use of technology," he said on the company's rank.
Watch the full interview below.
Akamai Co-Founder and CEO Tom Leighton
Akamai's Tom Leighton joined Kelly Evans on Power Lunch to discuss how the cloud services-provider earned its number three rank for Workers in the internet industry. Leighton shared that Akamai has led with flexibility for employees through the pandemic, providing extra paid time off for "wellness days" and allowing eligible employees to work remotely permanently.
"Lives have really been upended with the pandemic, and so we want to do everything we can to help our employees get through it successfully," he said. This flexibility and a commitment to DEI and workforce training have helped Akamai maintain strong retention and recruitment rates during the tight labor market, Leighton noted.
Watch the full interview below.