Highlights from Paul Tudor Jones' Discussion with 3 CEOs About the Future of Capitalism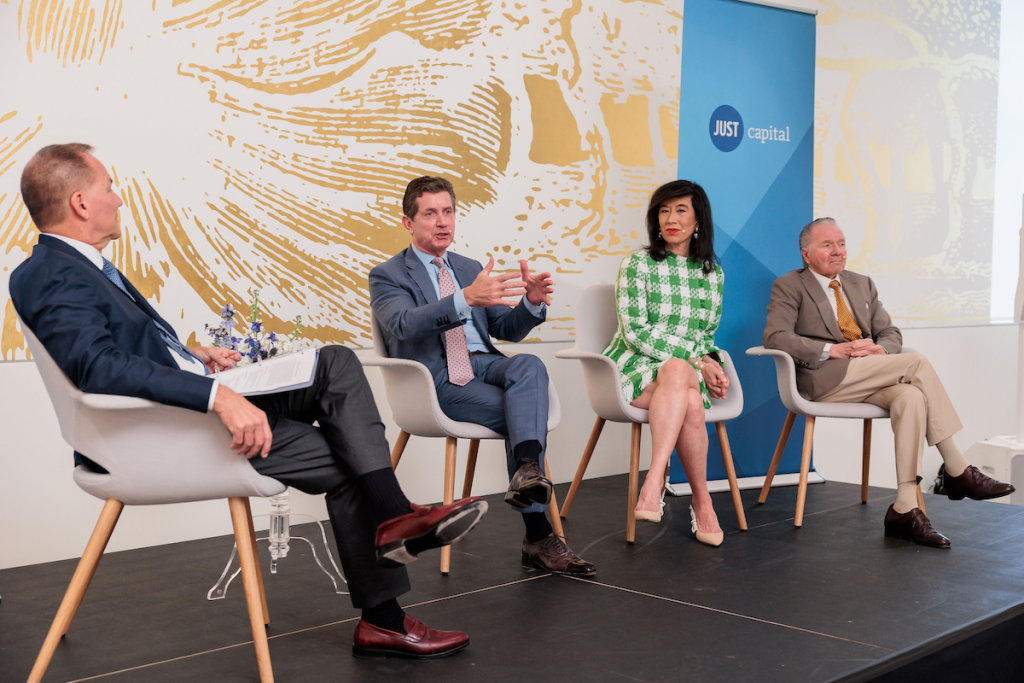 Each year, JUST Capital asks the American public about its views on the current state of business in the country, and which corporate issues matter most to them. This year, of a representative sample of over 3,000, 68% agreed with "Our current form of capitalism is not working for the average American," up a full 10% from last year.
With that statistic in mind, along with the increasingly heated debate over ESG (environmental, social, governance) investing and stakeholder capitalism, our co-founder and chairman, Paul Tudor Jones, convened earlier this month a gathering of business leaders held at the Norton Museum of Art in West Palm Beach, Florida.
For the morning's panel, Jones moderated a discussion with Alex Gorsky, former CEO and current chair of Johnson & Johnson, Andrea Jung, JUST board member and Grameen America CEO, and Thomas Peterffy, founder, former CEO, and current chair of Interactive Brokers. Gorsky sits on the boards of Apple, IBM, JPMorgan Chase, and New York Presbyterian Hospital, and Jung sits on the boards of Apple, Unilever, Rockefeller Capital Management, and Wayfair. Each brought a unique perspective: Gorsky helped lead the development of the Business Roundtable's statement on the purpose of a corporation in 2019, shifting the CEO group's stance away from shareholder primacy to an embrace of the stakeholder approach; Jung is dedicated to providing women entrepreneurs with capital and is especially concerned with matters of diversity, equity, and inclusion (DEI); and Peterffy, an ardent champion of free markets, filled the role of stakeholder capitalism skeptic.
But despite some disagreements over rhetoric, all endorsed the idea that a business' stakeholders are inextricably linked. They also agreed that capitalism today in the United States was not serving regular people as much as it could be, and that the private sector played the primary role in addressing this. "How capitalism responds in this new period is going to be very important," Gorsky said.
We've collected some key moments from the discussion below.
CEOs have a set of stakeholder obligations
Jones brought up the polling on Americans' views on capitalism, noting that he feared the welcoming of socialism in the country, which he believes will weaken it. He added, however, that he still appreciates the intensifying debate as a means of encouraging progress. Gorsky responded by pointing to the common rebuttal to the stakeholder champions, who are often painted as focused on progressive policy goals disconnected from business. "I think the concept of obligations and responsibilities to shareholders is really important to balance that conversation," he said.
Peterffy, who teased his fellow panelists by saying that the concept of stakeholder capitalism was "fake," indirectly endorsed it. "Of course we have to take care of people, otherwise the company doesn't get better," he said, and then explained that if they don't take care of their employees, then they will deliver worse service and products to their customers, and that in turn will hurt their shareholders. Peterffy may not be a fan of the stakeholder rhetoric, but he was echoing one of the theory's pioneers, Ed Freeman. As Freeman explained to us last year, "Even if all you care about is making money for shareholders, how are you going to do it? You're going to have great products and services for customers, suppliers who want to make you better, employees who want to be engaged in the company, and communities who want you or at least allow you to operate."
The panel also brought up the way CEOs are increasingly expected to speak out on current events. In our 2022 Views on Business Survey, we found that a majority of respondents agreed that "CEOs of large companies do have a responsibility to take a stand on important societal issues" – but that was split 81% liberal, 75% moderate, and 44% conservative. "When I became the CEO of a public company at Avon in 1999, the environment was so different," Jung said. But now, "the concept of a leader staying silent – and yes, it is extremely complicated – is impossible."
Jung explained that as CEOs navigate this challenge, they need to determine which position is best aligned with a company's purpose, thus serving its stakeholders.
Implementing ESG should be a careful balance of short- and long-term goals and actions
Peterffy's son William started Interactive Broker's ESG branch in 2019 and still chairs its ESG committee. And while Peterffy said he does not worry too much about endorsing or rejecting specific ESG metrics, he understands the appeal of ESG investing and believes "the environmental situation is a serious problem" and that investors and CEOs alike should be factoring in climate risk into their decisions.
Gorsky said that when considering these metrics, companies need to avoid ambitious goals set far into the future, which can be placating in the present but not proper North Stars. "Sometimes you've seen businesses confuse aspirational goals with realistic commitments that can be hit," he said. He also made clear that he is wary of regulators creating "one size fits all" ESG metrics, given the sheer amount of variety across America's public companies.
"It's this balance, too, of short-term and long-term," Jung said, noting that it wouldn't require government legislation for a company to assess whether it is offering equal pay for the same job regardless of demographics and respond accordingly.
Workers are central
Jones brought up that JUST's polling shows the public continually prioritizes worker issues, and that this year's top issue across gender, race, age, and even political ideology is yet again that a company "Pays a fair, living wage."
Jung endorsed the goal of the Worker Financial Wellness Initiative, which JUST cofounded with PayPal, the Good Jobs Institute, and Financial Health Network in 2020, saying that companies should undertake an assessment of whether their lowest paid workers are making a wage that allows them to provide for their families without struggling.
Peterffy took a broader stance, highlighting the word that kept coming up, "demand." As he put it, "If they demand it, we'll do it. I mean, we have to do everything to stay alive."
"Look, I think COVID was a big wakeup call for businesses in this area," Gorsky said, referring to the way the pandemic, along with the tight labor market in its recovery, shifted the power dynamic between labor and management. "Every board that we're sitting on," he said, referencing his fellow panelists, "has seen extraordinary pressure on wages." Even during this challenging moment of inflation, with uncertainty of whether or not a recession is on the horizon, "you're not going to be competitive unless you're responding" to what both prospective and current workers are seeking.
You can watch the full panel discussion here: