Reskilling America's Workforce for the Future of Work
Last week, Amazon announced that it would launch a massive new retraining program, committing $700 million over six years toward retraining about a third of its staff – from headquarters staff to warehouse workers – to transition to more high-tech jobs.  
Globally, companies spend over $200 billion annually on training programs, with about $141 billion of that coming from U.S. employers. Companies like JP Morgan Chase, AT&T, Walmart, and Accenture have all recently committed significant resources toward training initiatives. And we hope to continue to see more investments on this scale in the months and years to come. 
While economists and policy-makers continue to debate the jobs impact of automation and A.I., it is clear that many business leaders are moving forward with plans to retrain their workforces and are encouraging others to do the same. IBM CEO Ginni Rommety, for example, has spoken out in the media and before Congress about the training needs that coincide with the rise of A.I., stating "our challenge as a society isn't about A.I. replacing jobs—it's about people and skills."  
For decades employers have utilized training programs to meet their workforce needs. Yet, as structures of work continue to change, and new technologies emerge companies face a renewed responsibility to ensure their workforces have access to training throughout their careers. These changes are fueling businesses' adoption and expansion of long-standing training strategies, such as apprenticeships, across industries including the tech sector.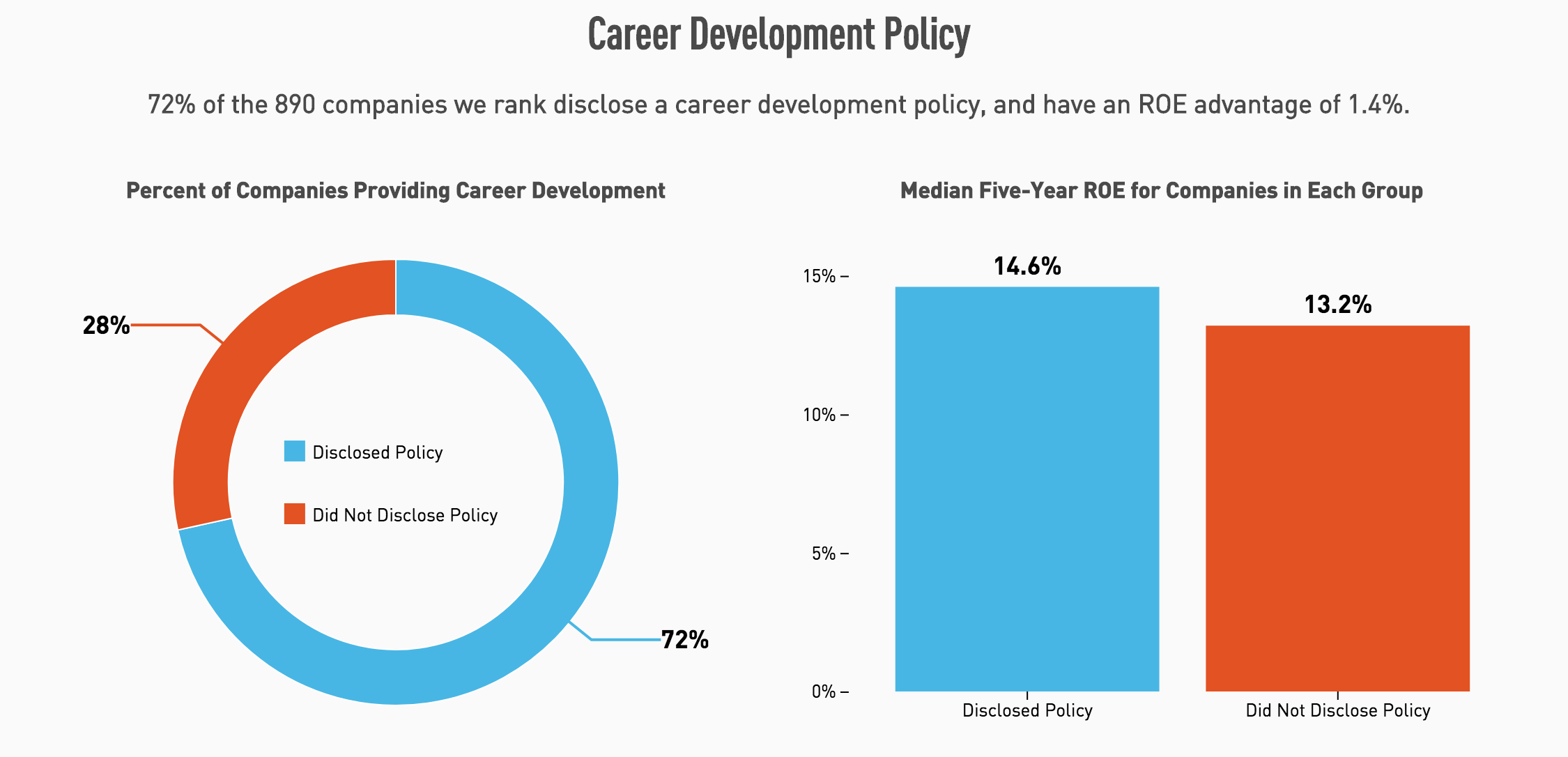 In our recent analysis of human capital disclosure at the largest, publicly traded U.S. companies – the Win-Win of JUST Jobs – we analyzed what companies disclosed on nine core worker policies, including career development and training. 
What we found is that 72% of companies disclosed that they offer career development – and what's more, those companies boast an ROE advantage 1.4 percentage points higher than their peers, showing that skills training is not just a win for workers, but a win for companies. 
While the benefits of training programs are clear, companies still face myriad challenges and stumbling blocks when implementing reskilling programs. It's difficult and costly for employers to map the skills of their current workers and identify what they need, and layoffs remain par for the course as training strategies are often not shared across all levels of a company. Training also can be lengthy and cumbersome for employees, and it's difficult for employers to measure the impact, not only against employee experience but company productivity and success in the market. 
Moreover, these types of training don't exist in a vacuum and must reinforce other just business practices like paying a living wage, as well as programs that support worker safety and well-being. While Amazon's retraining initiative signals an important investment for its low-wage workers, the company has continued to come under fire for its working conditions and pay practices. Just this week, Prime Day sparked a wave of demonstrations in Minnesota, New York, Seattle, San Francisco, as well as in Europe. 
In all of this, transparency is key. The more companies disclose their career development programs and investments, the better poised we are to help evaluate the impacts of these initiatives on the American workforce. In the coming year, we will continue to push for disclosure on this and other core worker policies, as we track how companies are responding to and preparing for the future of work. No matter what, as Rometty said, we must create "a culture of lifelong learning" – preparing workers for an ever-shifting technological landscape at work.
To explore the data and links to all the relevant career development policies at the 890 companies we analyze, track, and rank, visit the JUST Jobs Policy Tracker, and select "Career Development" from the pull down menu.