The JUST Report: Americans Not Divided on Addressing the CEO to Worker Pay Gap
(CNBC)
We released polling on Monday (featured on CNBC and in Reuters and in FT's Moral Money) showing an eye-popping 87% of Americans across all political, age, geographic, gender, and racial lines agree that the growing gap between CEO pay and median worker pay is a problem in this country today. 85% believe corporations should do more to provide a local living wage and 81% say they have a "responsibility" to addressing the basic financial security of lowest-paid workers. We began the Worker Financial Wellness Initiative to give companies a playbook for how to do this.
Beside the extraordinarily high levels of bipartisan agreement, there should be no surprises here. The average CEO-to-Median-Worker Pay Ratio in our universe was 235:1 as of 2020, up from 212:1 three years prior. Average CEO pay increased 31% over the last three years, while median worker pay increased only 11%. As Brookings Institution research shows, with inflation now above 8%, many of those worker gains have been wiped out. If we enter a recession, or suffer extended stagflation, inequality will only rise.
With such widespread support for investing in workers – both as a key business stakeholder and as a critical driver of profits and shareholder value – I can't help but wonder how those who label stakeholder capitalism as divisive see the issue. How, for example, would Vivek Ramaswamy's new anti-stakeholder fund (supported by Bill Ackman and Peter Thiel) view Starbucks'announcement that it will spend $1 billion on wage hikes and training, or Verizon's lifting of its minimum wage to $20/hr? Would the new American Free Enterprise Chamber of Commerce see Target CEO Brian Cornell's commitments to workers on wages as pro-growth or as "trending towards socialism"? Going further, where do they stand on companies including abortion coverage in their benefits plans, or creating LGBTQ+ worker groups?
As Fortune CEO Alan Murray states in his new book, "Tomorrow's Capitalist," stakeholder thinking isn't about hijacking capitalism for some liberal agenda. It's about building successful businesses that contribute to a healthy economy, which in turn leads to a healthier society. When it comes to workers and wages, it feels like we might all be on the same page.
Be well,
Martin
---
---
This Week in Stakeholder Capitalism
Activision Blizzard is being sued by five New York City pension funds for potentially underselling to Microsoft.
Apple moves millions of dollars into credit unions to help community members access low-interest loans.
Amazon partners with the National Immigration Forum to help refugee employees access support to obtain citizenship.
Google overhauls performance reviews, implementing changes that will result in increased salaries as it attempts to ease tensions around compensation.
Neiman Marcus Group expands its paid parental leave to 16 weeks and provides two additional weeks of paid family leave to care for any family member.
Tesla joins a growing list of companies that will help employees access abortion care in the wake of new restrictions passed at the state level, as well as fresh concerns that Roe v. Wade could be overturned next month.
What's Happening at JUST
This week we released our latest CEO-to-Median-Worker-Pay Ratio analysis and survey data,revealing broad bipartisan concern around rising CEO pay, income inequality, wage stagnation, and widening pay gaps, as well as support for solutions to turn the trends around. Explore related reporting from CNBC, Reuters, and Moral Money in the Financial Times.
Martin joined an Insider event alongside execs from Bank of America and Dow to discuss how companies can create broad-based economic prosperity. Read the highlights and watch the full recording. Martin also spoke with CNBC for its piece, "On Roe v. Wade, big companies already have a precedent for effective action."
CNBC also showcased three JUST companies leading on supporting women in the workplace on this Shep Smith segment exploring how women continue to be left behind even as the economy bounces back from the pandemic.
Our chief strategy officer Alison Omens recently delivered a keynote at WWD's Sustainability Forum on the theme of "Honesty Through Transparency: Rewriting the Consumer Narrative." Explore the highlights here.
On Wednesday, May 18th, JUST's director of corporate equity Ashley Marchand Orme will join Politico's Sustainability Summit to discuss "Targeting the S Factor." RSVP here to attend.
Last year we celebrated Deepak Chopra as Chairman Emeritus of JUST Capital and created the Deepak Chopra Scholars Fund in his honor. This fund engages the next generation of business leaders in creating a more just, equitable, and sustainable economy through a robust internship at JUST Capital. Over 10 weeks, these scholars help build the backbone of JUST Capital's research by collecting and analyzing data on how the largest, publicly traded U.S. companies are measuring up to the public's priorities. Please consider giving to the Deepak Chopra Scholars Fund to support this program!

The Forum
(Wikipedia)
"I think it's in your best interest to realize that it's not a left or right thing. It's not a Democrat or Republican thing. It's a workers' issue, and we're the ones that are suffering."
"Eliminating the right of women to make decisions about when and whether to have children would have very damaging effects on the economy and would set women back decades."
"In the meantime, though, what I've learned in four decades covering business, and a much shorter time practicing it, is that there is seldom only one answer to any problem, and only one path to a profitable outcome. If CEOs start to pay more attention to the social impact of their business decisions, it will matter at the margins. And in businesses of this size, those margins are large."
Alan Murray, CEO of Fortune Magazine, writing in his new book "Tomorrow's Capitalist"on the prospects of stakeholder capitalism. ​
Must-Reads of the Week
The Financial Times reports that BlackRock will vote against more climate resolutions this year, suggesting that the war in Ukraine has changed the calculus, along with an increasing number of overly prescriptive shareholder resolutions.
In the wake of the Roe v. Wade news, Fast Company features a helpful byline that unpacks the worker, business, and economic implications of the fall of Roe, and suggests a way forward for CEOs. Axios looks at the history of companies adding travel benefits to health plans for other issues, including Walmart, which pays for employees to travel to specific, highly regarded hospitals for certain surgeries in order to save costs.
The New York Times explores how – amidst the many supply chain crises of the past two years – America is now facing an unprecedented shortage of baby formula, and the harrowing impacts it is having.

Chart of the Week
The chart comes from our latest polling report exploring how Americans perceive​​ CEO and worker compensation, income inequality, wage stagnation, the rise of unionization, and other labor-related issues. The report shows wide bipartisan concern around widening pay gaps as well as solutions to reduce them. Specifically, 85% of Americans across all demographics agree thatAmerica's largest companies can help reduce income inequality by raising their minimum wage to a living wage.
---
Get to Know JUST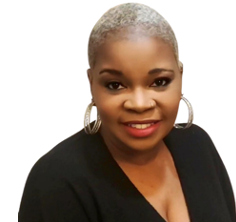 Rocki Howard
Chief People and Equity Officer, The Mom Project
JUST Capital Advisor
Rocki Howard is Chief People and Equity Officer at The Mom Project, which is committed to helping women remain active in the workforce at every stage of their journey. The Mom Project connects talented professionals with world class employers that understand that no one should have to choose between family and career.
Howard was recently featured in Bizwomen discussing how women returning to the workforce are reevaluating their career and employer priorities."Women are reassessing their roles in their families, communities, and companies, and they want different options, better treatment, and recognition for their work as mothers," she said. "As a result, companies must address long-standing social inequities around issues such as the gender pay gap, resume gaps, and how they assess qualifications for jobs."