The JUST Report: 'Critics of ESG Are as Wrong as a Frog in a Fire' Says PTJ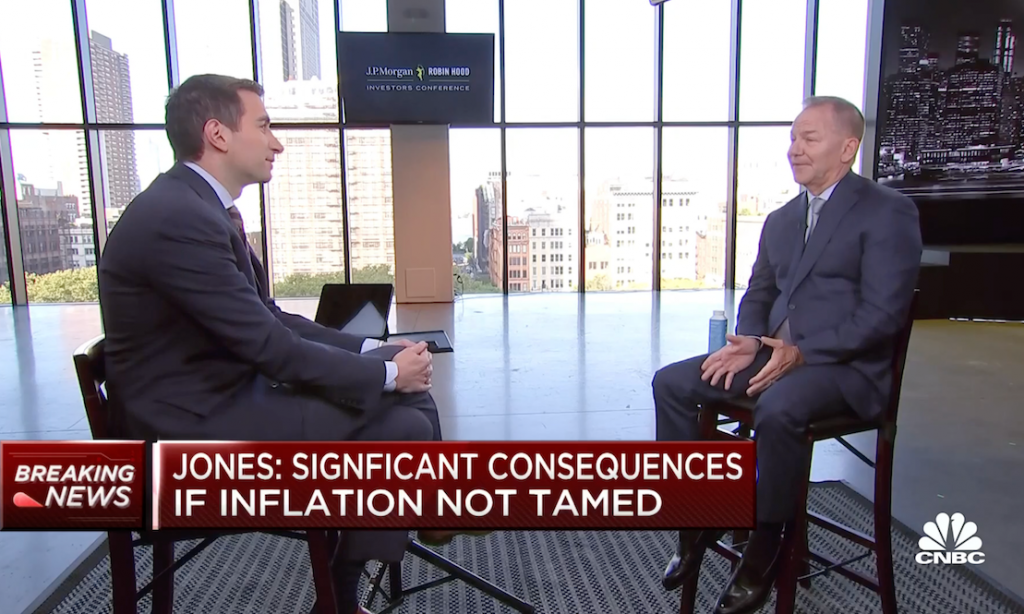 In his interview with Andrew Ross Sorkin on CNBC this week, our cofounder and chairman, Paul Tudor Jones, was pressed on the pushback against ESG. "I think critics of ESG are as wrong as a frog in a fire," he opined. "ESG has been so politicized it really is just to serve people's purposes, instead of looking at the facts."
We've written extensively in past newsletters about the challenges ESG faces, some of which are of its own making. But what facts is Paul referring to? Well, facts such as, from January 2018 to the end of September 2022, the top 10% of JUST ranked companies have outperformed the bottom 10% by 43% in the market; that they also have lower beta, lower leverage, higher profitability and higher dividend yields; that the JUST 100 has beaten the Russell 1000 benchmark by 6.7% since inception; and that companies that lead in our Workers category have also outperformed the R1000 by just over 6% YTD.
Paul also drew attention to the fact that ESG has not fully captured the importance of the "S," and that across "Democrats and Republicans, rich and poor, young and old, men and women – 85% of Americans agree that the most important metric for just corporate behavior is, 'Do you pay your workers a fair, and living wage?'"
He finished with this question: "I'm either chairman of the board, or I'm on the board, or I'm a stakeholder, [and] I've got two tombstones at the end of my life. One of them says, 'I made an elephant's bellyful of money for myself and my shareholders.' The other one is, 'I treated my employees, customers, my shareholders, my communities, and Mother Earth with respect.' Which one do you want?"
I think the answer is clear, too.
Be well,
Martin Whittaker
This Week in Stakeholder Capitalism
Amazon increased warehouse wages by $0.50-$1 per hour this week. Workers are pushing back on the raise, saying that it doesn't do justice to the current rate of inflation.
Apple will not offer new employee perks to those working in its one unionized store in Maryland. The move will likely inflame labor tensions as the technology sector grapples with large-scale unionization efforts.
General Electric cuts hundreds of jobs in its U.S. onshore wind workforce, emphasizing economic challenges faced by the renewable energy sector.
General Motors is launching a new business unit offering stationary battery packs, solar panels, electric vehicle chargers, and other energy-management products for homes and businesses.
United Airlines plans to introduce a fleet of electric planes, which will be used for flight routes 200 miles or less, by 2030.
What's Happening at JUST
JUST Board Member Abigail Disney joined CNBC's ESG Impact virtual summit, emphasizing the need to redefine corporate success with worker issues at the forefront, as indicated by our annual polling of the American public.
Martin spoke with Yahoo Finance at the Greenwich Economic Forum on the business case for investing in workers, particularly in today's labor market, sharing JUST analysis showing that leading companies for workers also proved most resilient through the pandemic.
Martin also spoke with the Financial Times' Andrew Edgecliffe-Johnson for a feature on how Walmart is meeting shifting expectations on stakeholder performance, "If you think about societal expectations on business to lead, then Walmart must lead."
JUST Events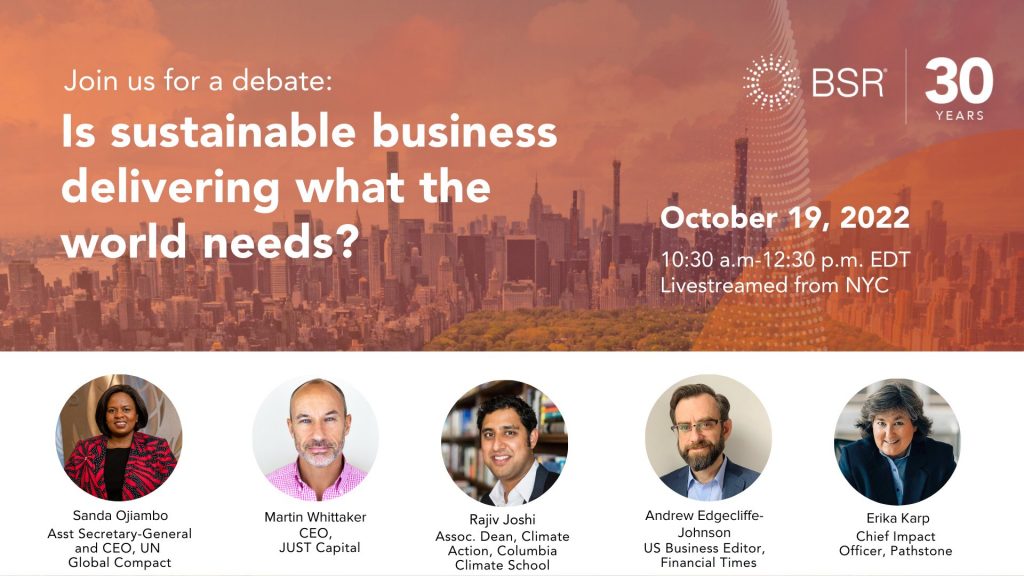 On October 19, Martin will join BSR's "The Future of Sustainable Business Is…," an event that will bring together sustainability leaders to share ideas and opinions, and debate how sustainable business must evolve to deliver on its promise. Register here to watch the livestream of next week's conversation.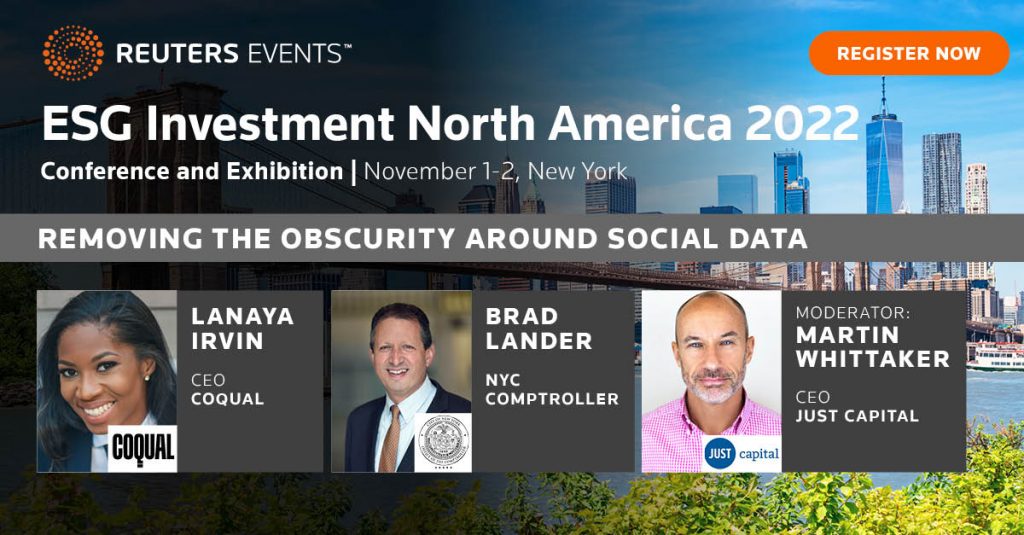 On November 2, Martin will join Reuters for its ESG Investment North America 2022 conference to discuss how best to quantify "S" issues like workforce diversity and financial security, and how to integrate these elements into investing strategy. Register here to attend this conversation and hear from senior leaders across the investment community.
The Forum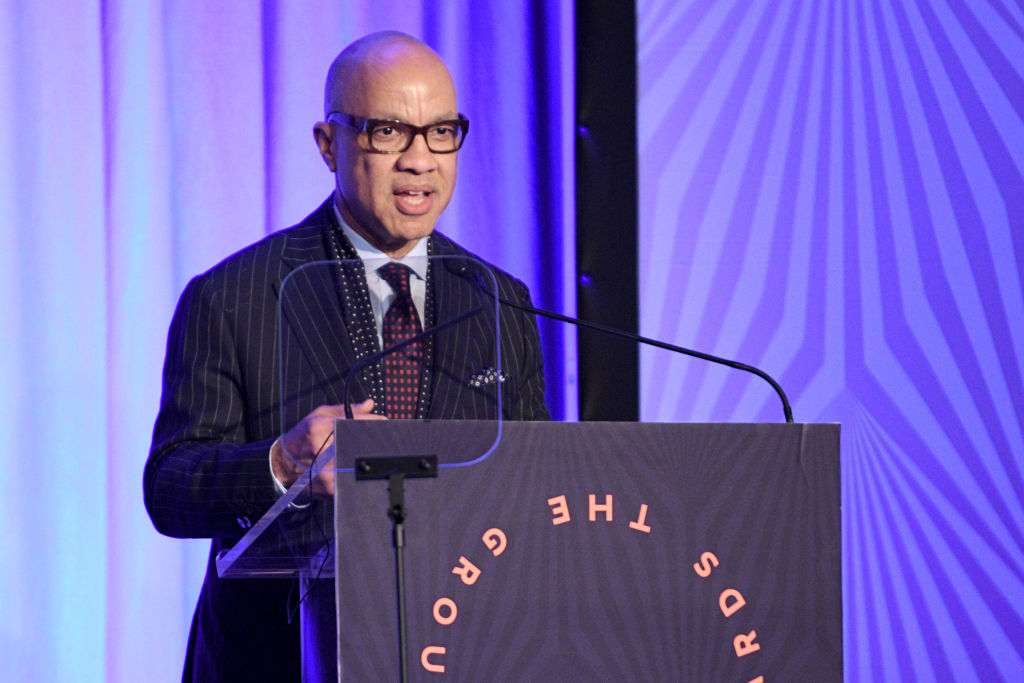 "It is not a dignified livelihood or existence in this country to work full time and still be poor, as we have millions of workers in this country who still rely on public assistance to be able to make ends meet. This is what it's about."
"The only thing different between women who have been on boards and those who haven't is strictly having had the opportunity. It has nothing to do with skill sets. There are so many women that are ready to be any one of a number of boards, and they just haven't gotten that call yet."
"​You can't count on a long line of job applicants to just show up whenever you post an opening. I think employers hadn't felt that so acutely in a long time."
Must-Reads of the Week
Fortune's CEO Daily covers the release of the American Opportunity Index, a new analysis from The Burning Glass Institute, Harvard Business School's Project on Managing the Future of Work, and the Schultz Family Foundation ranking the largest 250 U.S. employers on how they advance career and economic opportunity for workers. See which companies are leading the way and proving there's no one-size-fits-all approach to this work.
President Biden unveiled a proposal this week that would increase the number of workers classified as employees instead of independent contractors. The new classification could compel employers to offer benefits to more workers newly enfranchised under the expanded definition.
Axios reports on Larry Summers' calls for the World Bank to increase its lending limits to help combat climate change. Summers has compelled the global lender to think in the "trillions not the billions."
Carbon Market Watch published a new report that found Europe's biggest airlines are misleading consumers when it comes to carbon offset programs. The programs allow environmentally conscious passengers to purchase offsets to cover the harmful effects of their flights, but the quality of the offsets has been brought into question.
CNN says American manufacturing is back, with the pace of hiring at domestic factories hitting a decade high. The nearly 13 million workers employed in U.S. factories make up the industry's largest workforce since the Great Recession.
A new study published in the Strategic Management Journal found that medium-sized firms who appointed a Black chief executive saw a bump of 3.1% to their market capitalization a few days following the announcement. The Washington Post summarizes its findings.
Chart of the Week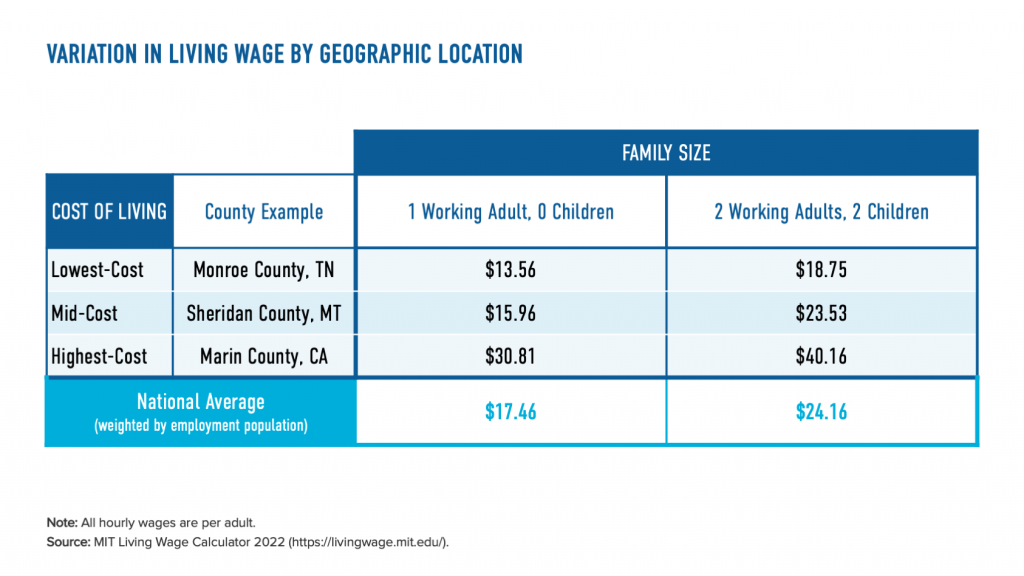 This week's chart comes from our recently released living explainer, showing how geographic location and family size affects how to calculate living wage rates. We teamed up with MIT's Amy Glasmeier to show how these, and other elements, factor into calculating a living wage and why it's a valuable benchmark for employers beyond market wage rates.
Get to Know JUST

Team JUST Capital: 2022 TCS New York City Marathon
We're excited to share that JUST Capital is an Official Charity Partner for the 2022 TCS New York City Marathon. Six supporters will be representing JUST in the race and running 26.2 miles on November 6. Over the coming weeks, we'll introduce each runner, share why they're running for JUST, and encourage support for their individual fundraising goals.
Today, we're hearing from our Senior Manager of Corporate Engagement, Lindsay Moreau. "As a longtime New Yorker, I'm excited to run my first ever marathon here in New York City! And I'm proud to represent JUST, our mission, and the work I do alongside my colleagues each day to support an economy that works for all Americans, and a corporate community that takes care of all of its stakeholders," she said.