A key part of JUST Capital's mission involves shifting expectations and social norms to deliver new outcomes. If you want to know what changing the narrative on stakeholder capitalism to create an economy that works for all Americans looks like in action, watch our own Paul Tudor Jones and PayPal CEO Dan Schulman on CNBC Squawk Box and in conversation in our first Quarterly JUST Call.
Both conversations were a brilliant exposition of why our mission is so timely and why we need new contexts like this to broaden views from both c-suite executives and investors around what performance metrics matter most in building an economy that grows the pie for everyone.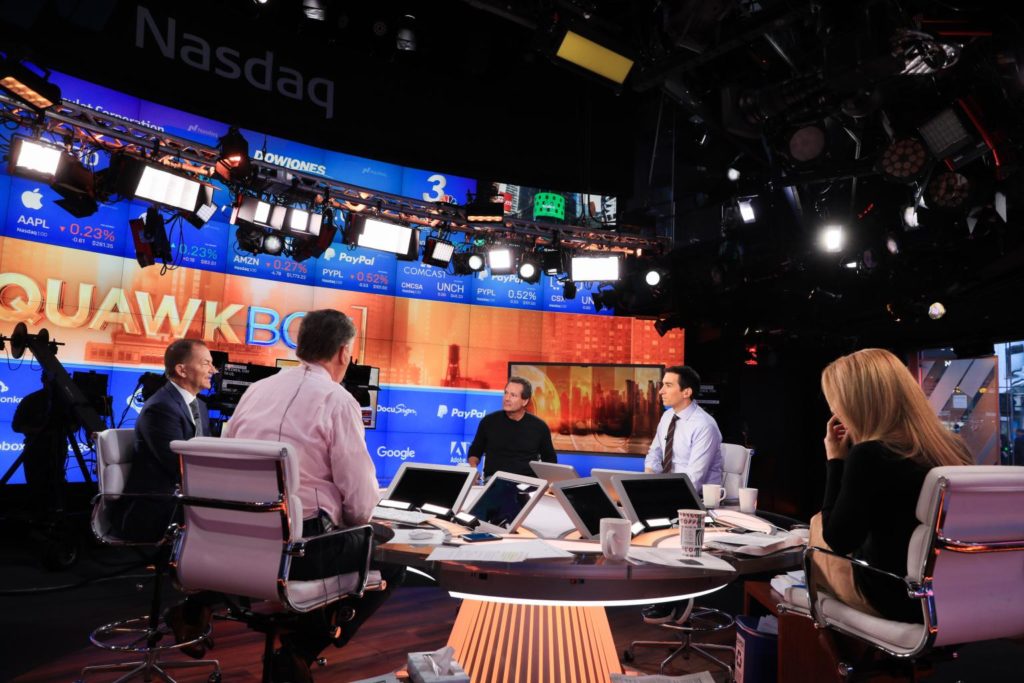 If you ever aspire to be a great company, the number one asset that every company has is its employees, and if they're inspired and passionate, they're going to serve customers better." – Dan Schulman
PayPal's work on helping their most financially distressed employees is an inspiring example of just business behavior in action, the impact it can have on people's lives, and the benefits that accrue to investors and all stakeholders. 
Over the last year, Schulman explained that the team performed a robust living wage audit for hourly workers and call center employees, by geography, and found 60% were struggling to make ends meet at the end of the month, with a mere net disposable income of 5-6%.
So PayPal made a commitment to do four things:
Jones summed it up perfectly : "Dan is the future of American capitalism and the world will be a hell of a lot better if we can get the rest of the private sector to embrace Dan Schulman's style of managing companies."
Watch the complete segment below – the crux of the conversation begins at 10:56:
Following SquawkBox, Jones and Schulman joined JUST Capital CEO Martin Whittaker and Managing Director of Programs and Strategic Engagement, Alison Omens, for the Quarterly JUST Call webcast featuring an interactive Q&A with investors. 
Here are the top five insights from the conversation: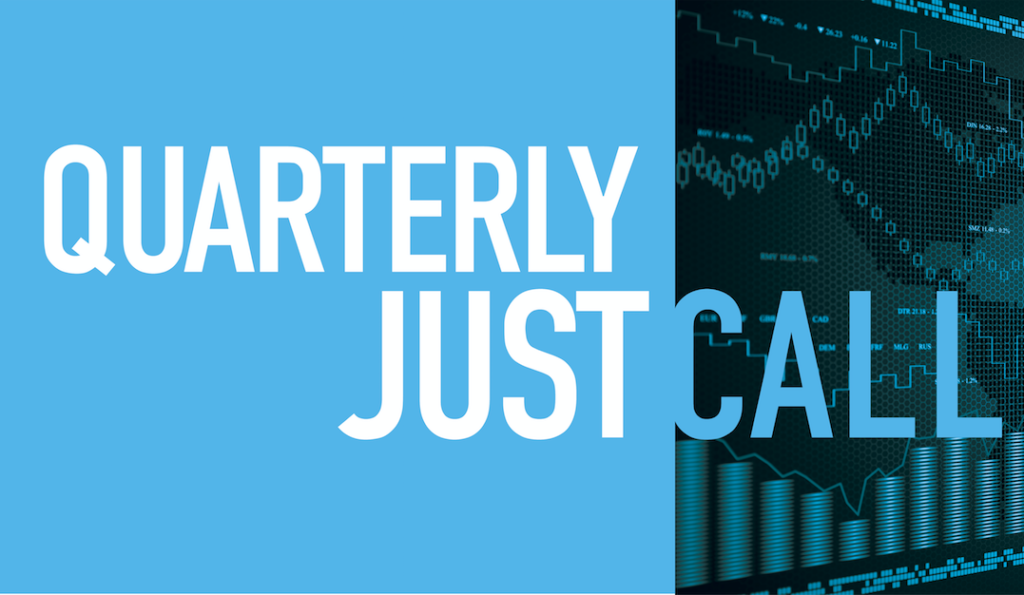 1. Valuing all stakeholders delivers value for shareholders.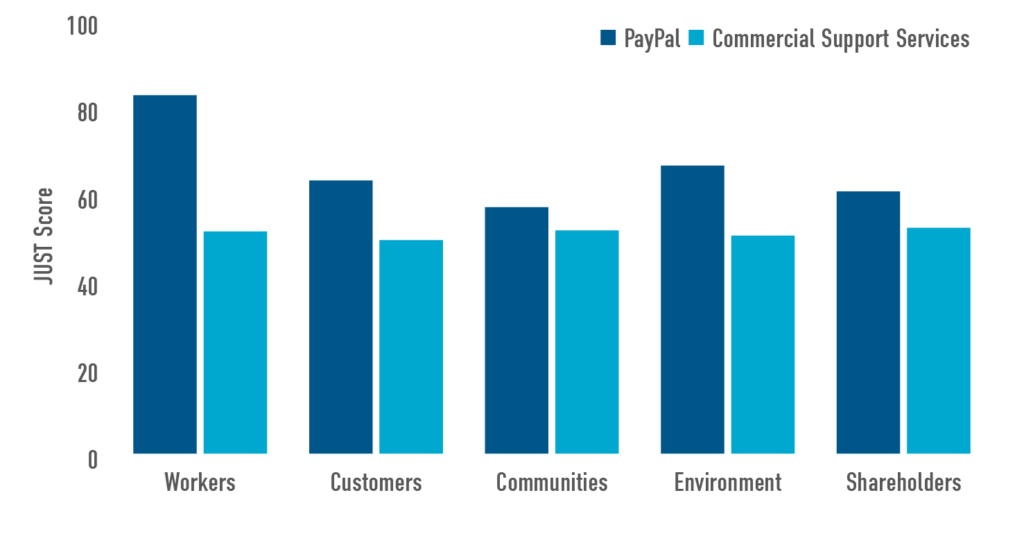 As you can see above, PayPal outperforms its peers across all the stakeholder dimensions we measure relating to worker, customer, community, environmental and shareholder issues. On what it means to run a stakeholder-driven company, Schulman shared that he believes "there is no incongruence between doing the right thing for multiple stakeholders – putting employees, maybe, first – and driving value for shareholders. Companies that embrace values like that deliver value."
2. Workers are a company's greatest asset, so treat them with respect.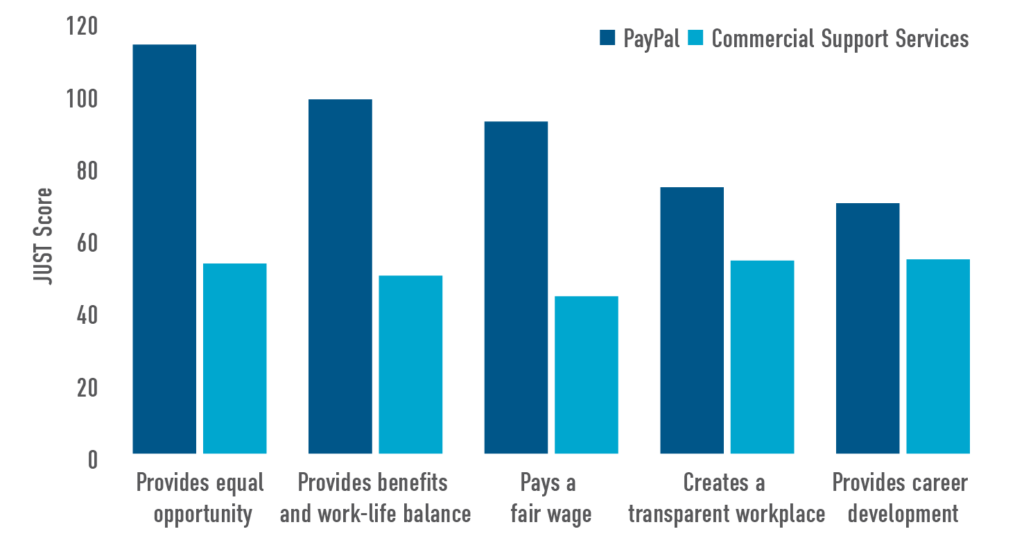 When it comes to workers, specifically, PayPal ranks first in its industry, and is one of the Top 10 companies overall – thanks in part to its leadership on issues ranging from diversity and inclusion to career development to outstanding benefits. 
Schulman discussed PayPal's focus on diversity and inclusion – saying that "the #1 asset a company has is the talent inside that company. It can take a good strategy and make it great. And so if you don't pay equally, how in the world are you going to attract women into your workforce? Minorities into your workforce? Because what you're implicitly saying is that you don't have respect for them. For me, paying equally is table stakes to attract the very best, diverse workforce inside PayPal…Every company should do this."
Dan also shared that he believes "Diversity is a fact but inclusion is a choice," explaining that if you want to be a diverse company, you basically need to make that part and parcel of your culture. "I'm really getting a little tired of this debate of why it's important, because one study after another shows that the more diverse a company is, the more powerful its results are. If you have a homogenous workforce, homogenous leadership, you think the same way. You don't have the same sorts of discussions. Our board of directors when I started was 10% diverse; it's 50% diverse today. PayPal is 58% diverse inside the company. Our leadership team is 52% diverse. Almost 40% of VPs and above are women."
3. Customers want to purchase from companies that stand for something.

In addition to its strong performance on worker issues, PayPal is a leader for Customers as well, well ahead of its industry peers when it comes to data privacy and customer service. On PayPal's customer base, Schulman noted that "consumers are voting with their pocketbooks" and "looking to purchase from companies that stand for something." What leads to these purchases, according to Schulman, is not only a good product, but strong employees who help create and share it. "You've got both better employees and the demand for customers. That one-two punch is what helps any company aspire to eventually be a great company. You have to have both."
4. Focus on the drivers of your outcomes, not just your outcomes.

Where the rubber hits the road, of course, is in shareholder return – and our ultimate goal in creating the JUST Quarterly Call is to spark conversation around how stakeholder capitalism can benefit all – including shareholders. PayPal – as with all other stakeholder categories, outperforms its peers in the areas of leadership and shareholder performance. Most notably, PayPal acts ethically and with integrity at the leadership level, follows laws and regulations, and finally – generates investment return. 
"Last quarter our revenues grew 19% and our adjusted earnings grew at 31%, and I understand why those are important outcomes," Schulman explained. "But what I always try to look at is: what are the drivers of those outcomes. If you just focus on outcomes, not the drivers of those outcomes, you miss the point." With happier, healthier, more productive and inspired employees, customer experience improves, ultimately driving shareholder return. 
This philosophy – where, when we focus on the needs of workers, customers, and other core stakeholders, everyone wins – is the one we aim to support and foster in today's economy, and it's what we heard from the American public, who want to see companies balance the needs of all that they serve – their workers, customers, communities, the environment, and their shareholders. And it's what's exemplified by companies like PayPal, and other leaders in the JUST 100. 
5. We need to shift mindsets to "upgrade" capitalism.

Looking ahead, Schulman emphasized, "Capitalism is the best system that I know. But like any great product in the world, there needs to be upgrades. You can have great software that goes out, but you're constantly upgrading it. What's the next form of capitalism?"
We look forward to answering that question – along with the leaders forging the way – and incentivizing markets to embrace the principles espoused by the Business Roundtable and the American public. In closing, Paul Tudor Jones shared that he believed 2019 would be a turning point for stakeholder capitalism. And with leaders like Dan Schulman at the helm of some of America's biggest businesses, he could very well be right.
Watch the full Quarterly JUST Call experience below and mark your calendars for the next call on December 13 with Akamai Technologies CEO Tom Leighton.