Over the past few months, JUST Capital has been producing a series of Quarterly JUST Calls – a new forum for CEOs to speak directly with investors about the ways in which they are creating value for all their stakeholders over the long term. We've sat down with PayPal CEO Dan Schulman to discuss his company's groundbreaking efforts to improve the financial stability of its workforce, as well as Akamai CEO Dr. Tom Leighton around how long-term investments – into areas like community growth and paid parental leave – are critical to making companies competitive in the market.
And last week, we were joined by HPE CEO Antonio Neri for our third Quarterly JUST Call – a rich discussion around the work that Neri and his company have done to improve the lives of employees, lead on climate and human rights issues throughout its supply chain, and advance the dialogue around stakeholder capitalism with HPE's shareholders and board. 
Between Neri's initial sit-down with Andrew Ross Sorkin on CNBC's Squawk Box and his in-depth conversation with JUST CEO Martin Whittaker and CMO Michelle Mullineaux on the Quarterly JUST Call webcast, he shared many powerful insights into the role businesses can play in creating a more just and equitable economy. 
Here are the top five takeaways from the conversation:
1. Shareholders DO want to talk about stakeholder performance.
In conversation on CNBC Squawk Box, Neri described recent discussions with his Board and shareholders, saying that stakeholder capitalism is "more and more at the top of the list of conversations that we have with shareholders. Environmental, Social, Governance – including inclusion, diversity, sustainability, and so forth – definitely are becoming way more important than ever before."
Check out Neri's full segment on CNBC here:
On the Quarterly JUST Call, Martin prodded this topic further, asking Neri whether this would have been the case five years ago. "Probably not," Antonio explained, going on to say that while HPE has been fortunate to work with more long-term based, value-oriented shareholders, he sees stakeholder issues becoming more relevant across the board. And as investors increasingly look to support companies with a clear purpose, the topic of stakeholder impact is becoming more front-and-center in conversations with shareholders.
2. A diverse company is a better company.
In his two years as CEO, Neri worked to reshape HPE's relationship with its employees by providing career development opportunities, prioritizing a healthy and safe workplace, and leading the way on diversity, equity, and inclusion.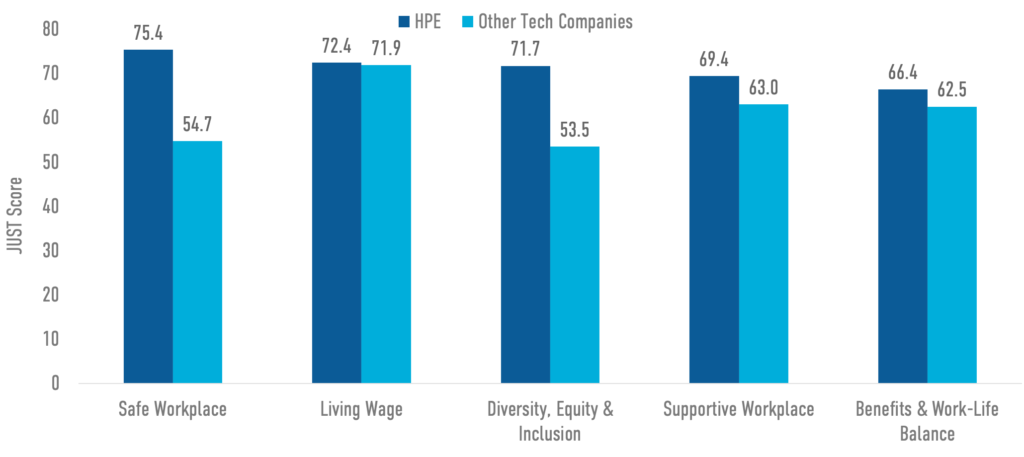 HPE is one of just 32 in the Russell 1000 – or 4% of those we rank – that publish details about the gender, ethnicity, and occupation of their workforce.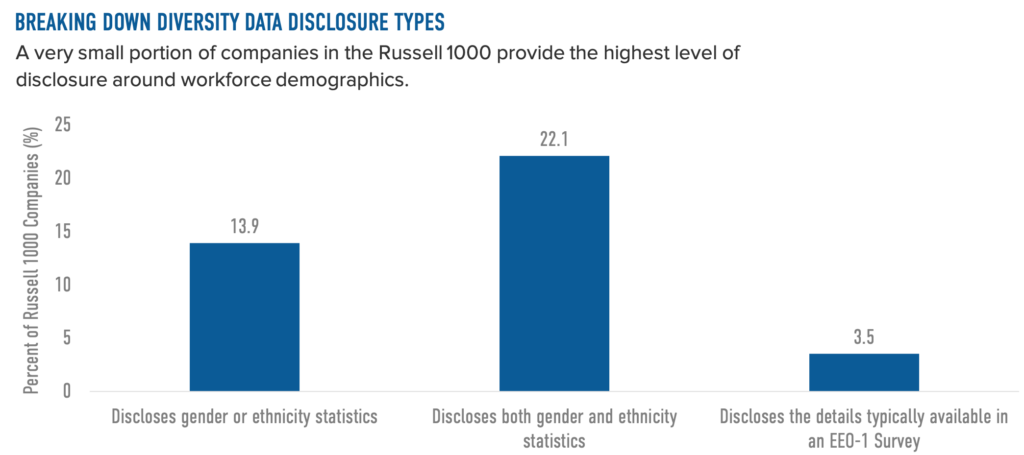 When it comes to diversity and inclusion, Neri emphasized, "Transparency is everything in my mind. For me, fundamentally, it's a baseline – it is where we are, and it's what we're doing to improve." 
Currently, five of HPE's 11 Board members are women, and the company reports that its workforce is 32% diverse. "I know we have more work to do around how we promote diversity," explained Neri. "When you have a diverse company, you are a better company. Diversity of thought, diversity of thinking, diversity of beliefs – they actually instill creativity and a different point of view. That's why we believe in this. And in the next two to three years, we're going to continue to make more progress."
3. Listening to employees can provide a tremendous return on investment.
In addition to prioritizing the diversity and inclusion of its workforce and board leadership, HPE is a leader when it comes to benefits and work-life balance – thanks to the efforts they've made to listen to their employees and prioritize their needs. HPE provides a very generous paid parental leave policy, and is one of only 12 in the Russell 1000 that offer more than six months of leave to employees.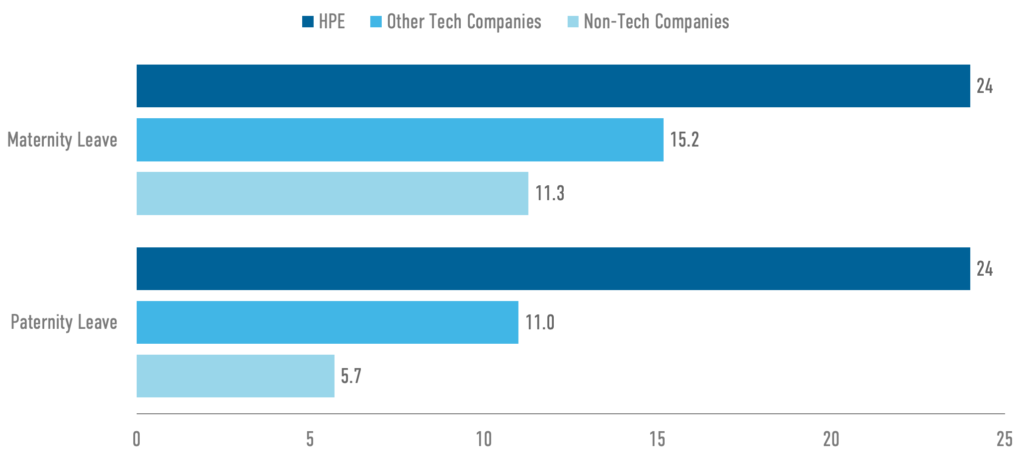 "We went through the process," Neri described, "to listen to our employees and learn what they value the most." With a young workforce in many areas of the company, a clear priority for employees was to start a family. 
Neri considered the impacts – personal and financial – of prioritizing this core benefit. "When we looked at the business case, this was the way to retain the best talent. When we looked at the financials, it was actually not that significant at all. And so for us, it was an incredible return on investment. Our attrition rate declined dramatically. And our employee engagement scores improved by 20 points. Today, it is 81. Two years ago, it was 61."
4. Climate needs to be a priority – internally and throughout the supply chain.
At Davos earlier this month, climate discussions crystallized as the dominant topic, with the world's business leaders largely aligning on the need for real change in the ways companies approach their environmental policies and targets. 
HPE has consistently been a leader on these issues. The top company in Computer Services in our Rankings when it comes to the Environment, HPE has set impressive targets and climate goals – including those around supply chain emissions reduction.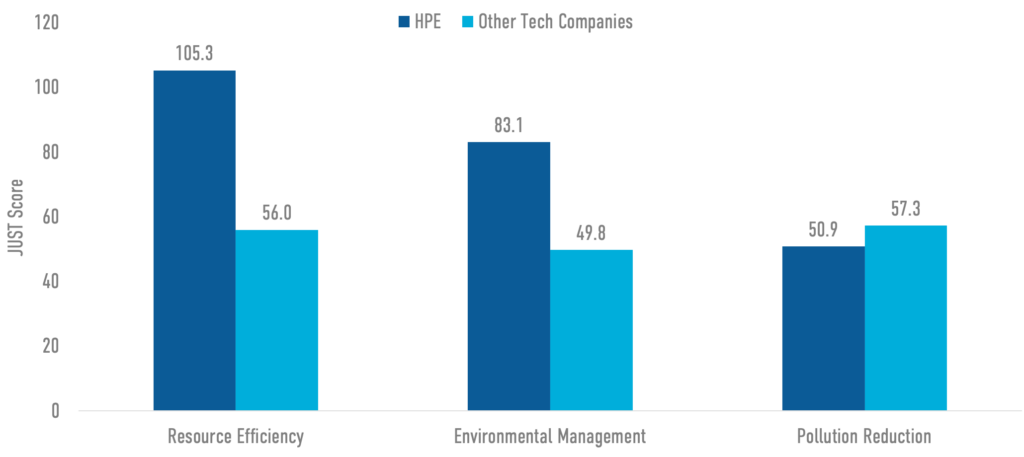 When asked what advice he might give to leaders trying to be at the vanguard of addressing climate change, Neri emphasized that companies should "Make it a priority. We are one of the 28 companies that signed onto the 1.5°C reduction target, so whether it's to cut greenhouse gas emissions, use renewable energy, or use carbon offset credits, these are things that all together make a huge difference."
To emphasize the urgency around the issue, Neri explained that today, 6% of the global energy consumption is used to power massive data centers – or the cloud. That could be 20% in the next five years if we don't dramatically rethink how we do things. 
HPE is leading new types of systems architecture that will scale into the future of what he calls a "mobile-first, cloud-first, data era." Our current architecture, he explained, was designed 70 years ago, and governed by Moore's Law where we packed more and more computing capacity into a smaller footprint. That's caused energy consumption to go up exponentially. "We need to make data the core of the architecture, and there are some amazing innovations that we are driving with our HPE labs that will do that, while solving these fundamental challenges around sustainability."
To be at the forefront of these efforts does come with its challenges. In holding its large supplier base to the same environmental standards and targets that it holds itself to as a company – an impressive and impactful effort – HPE opens itself up to more complicated reporting and tracking of those standards and targets. "With a very large supply base," Neri said, "we have to make sure they operate and act with the same mindset, with the same targets. And then make sure they deliver against those targets. So that is probably the biggest challenge because it takes an enormous amount of effort to make sure we have the right systems in place to measure everything."
5. Stakeholder value drives competitive advantage and shareholder returns. 
Neri shared that delivering stakeholder value is not only the right thing to do – it is also a strategic imperative for driving competitive advantage. "When we compete for business, whether it's through an RFP process, a request for pricing, or through another deal process, the requirements around sustainability and governance are being built into the core of that RFP," Neri said. He went on to explain that HPE's commitment to sustainability added a half a billion dollars in revenue last year. Two years ago that was closer to a couple hundred million dollars.  
"It's all about the people. So getting to the heart of that, inspiring them to do the right thing, with an uncompromising integrity, that's something that we are incredibly proud of. We would say, we win the right way. That's the only way to win."
HPE's focus on delivering value to all stakeholders over the long term is clearly delivering value to shareholders – its stock has doubled since its launch in 2015 and consistently outperforms the S&P 500.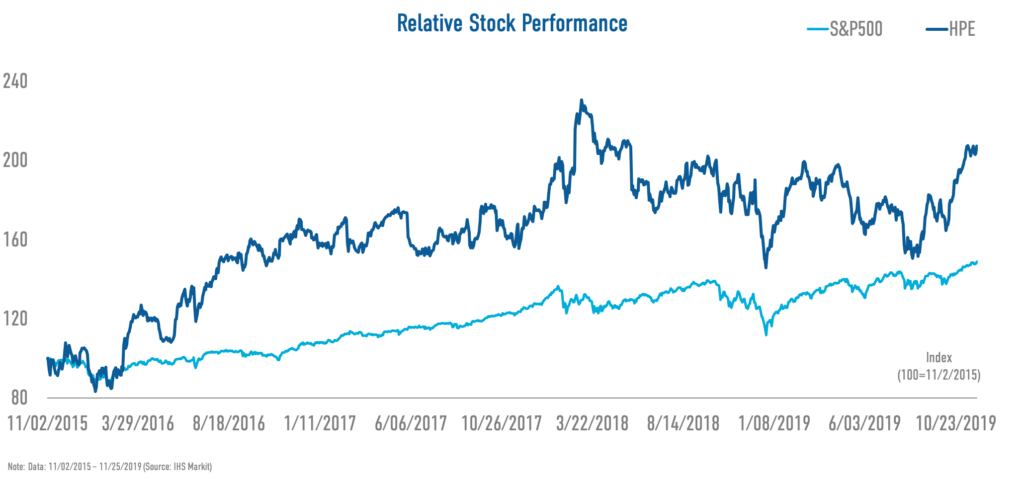 While skepticism remains in the stakeholder capitalism discourse around whether there are short-term financial trade-offs in creating long-term stakeholder value, Neri's view is that it's not a zero-sum game. "Obviously, we have to create value for our stakeholders, and shareholders are a component of that." Neri went on to explain that, with a clear vision and purpose – and an understanding of where his company is going, what they are prioritizing in the stakeholder economy, and why – he has been able to create value for all his stakeholders, including shareholders, suggesting that a focus on the long term helps make short-term gains more possible. 
"When I think about the long term, I'm incredibly optimistic," Neri said. "The data is exploding around us. And that data has tremendous value. How we help customers, gather the insights on the data faster, is the key here. And do it in an efficient way, with social responsibility in mind. And let's not forget the fact that this technology is being put to work to solve some of the biggest societal problems – like advancing healthcare or agriculture to solve some of the challenges around the food and nutrition, or whether it's solving Alzheimer and dementia, with some of the key institutes around the globe."
Watch the full Quarterly JUST Call experience below, and stay tuned for our next call – coming later this spring.