The imperative of the 21st century is to make capitalism work for more people. 
Over the last five years, JUST Capital has surveyed close to 100,000 Americans to find out what they want from corporate America today. What do they value? What issues would they like companies to prioritize? The response has been clear and consistent. Americans want corporations to stop prioritizing shareholders and instead put workers, customers, communities, and the environment at the heart of just business practices. 
The good news? 181 of the most influential CEOs agree that it's time. In August, the Business Roundtable released a new Statement on the Purpose of a Corporation rejecting 40 years of shareholder primacy to adopt a new framework that creates value for all stakeholders – including workers, customers, communities, the environment, and shareholders – "for the future success of our companies, our communities, and our country." 
This historic event reflects what business leaders, smart investors, and the American people have been telling JUST Capital for years: that doing right by workers, paying fair wages, investing in communities, fostering environmental stewardship, looking after customers, creating great jobs, and making products that benefit society is not only right, it's the best way to generate profit and serve shareholders.
So how do turn this new purpose into action? Step one is tracking, analyzing, and reporting on how companies are actually performing on the key issues across all the relevant stakeholder dimensions – and then incentivizing change through market incentives and rewards. 
So today, we're thrilled to announce our 2020 Rankings of America's Most JUST Companies, the only platform demonstrating which companies are leading the way on the issues that matter most in the stakeholder economy. 
For the second year in a row, Microsoft scores the top spot on the JUST 100 thanks to its particularly strong track record on how it serves its workers, communities, and the environment. 
While the Rankings were fairly consistent at the top, we had four new entrants to the Top 10: Apple, Salesforce, Anthem, and PayPal. Overall, 41 companies are new to the JUST 100 this year, including Etsy, JPMorgan Chase, BlackRock, and Starbucks. 
JUST 100 leaders demonstrate what good looks like by creating long-term value for all their stakeholders. Compared to their Russell 1000 peers, JUST 100 companies on average: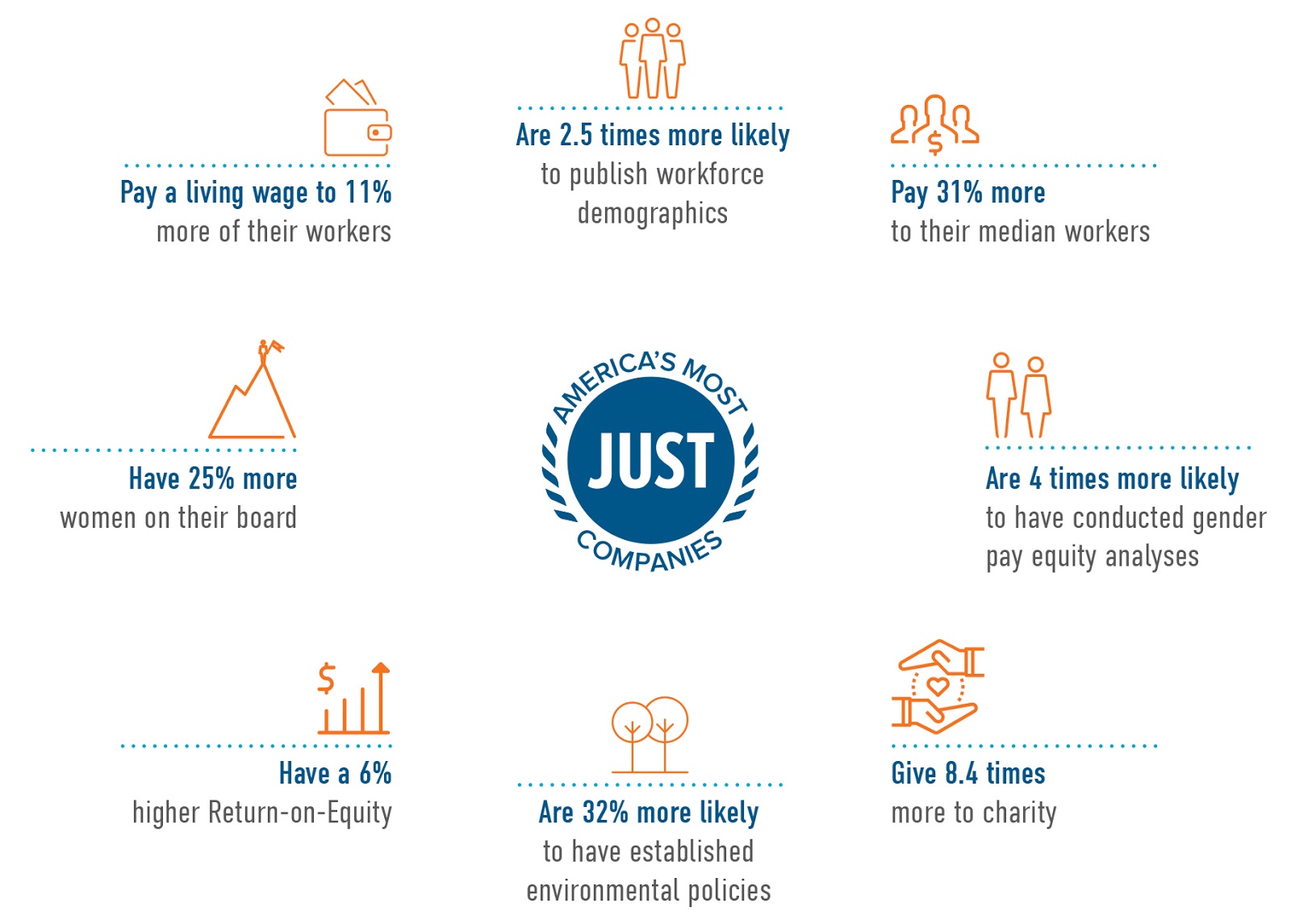 The JUST 100 is unpacked in depth by our media partner, Forbes – including details on the top companies for each stakeholder, an examination of our Rankings process, and profiles of Hershey, Intuit, Etsy, and more. Explore the full coverage here.
This year, we tracked, analyzed, and ranked 922 companies from the Russell 1000, across five stakeholder groups – including Workers, Customers, Communities, the Environment, and Shareholders – covering 29 Issues – like whether companies pay a living wage or protect the environment by going green, and over  400 data points – from paid parental leave to veteran hiring and supplier policies.