Overall, our analysis of the 100 largest public U.S. employers shows that 38% of companies have announced providing their workers with some type of financial assistance during the COVID-19 pandemic. Since JUST Capital began tracking disclosure around financial assistance in March, the number of companies that have announced some type of wage support for their workers has doubled.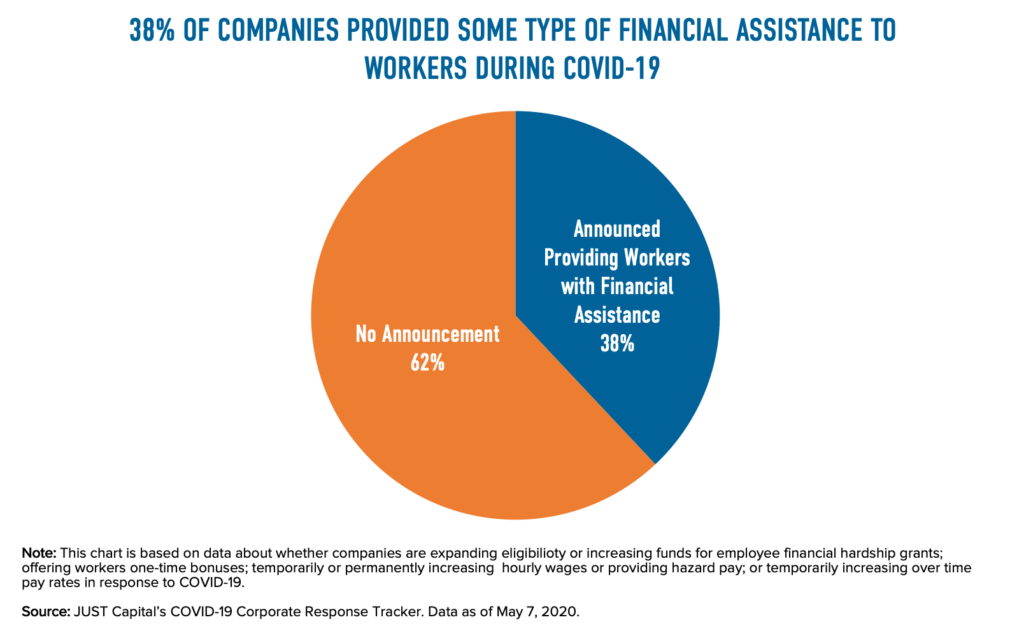 Types of Financial Assistance Offered During the Pandemic
This financial assistance comes in a variety of different forms.
20% provided frontline workers with a temporary hourly wage increase or hazard pay.
18% offered their employees, or a subset of them, a one-time cash bonus.
16% modified their employee financial hardship and grant programs.
3% offered a higher pay rate for overtime work – Amazon, Bank of America, and Home Depot.
Just one company, Charter Communications, is increasing wages permanently in response to the pandemic.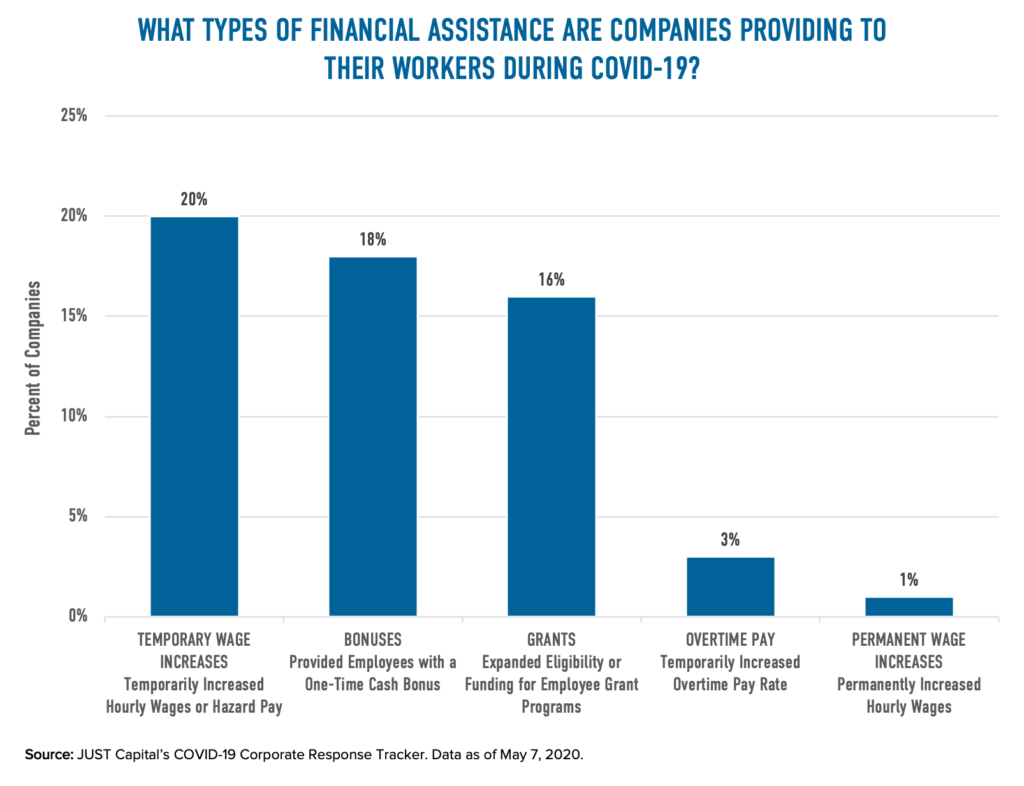 It's important to note that not all types of financial assistance are created equal. Hardship grants require employees to actively apply for assistance, and because these programs are needs-based and provide varying amounts of support, there is no guarantee that an employee will be awarded a grant or that the grant amount will be sufficient to help them meet their needs. For these reasons, grants are not a predictable source of wage support amidst the financial volatility experienced by many at this time.
Higher pay rates for overtime work come with some drawbacks, too. For non-exempt employees – those who are eligible for overtime pay – overtime work theoretically provides an opportunity to supplement usual earnings with more pay for more hours worked. But given the heightened health risks associated with long hours of frontline work during COVID-19, employees are implicitly asked to make a tradeoff between supplementing their earnings or staying healthy. What's more, there is no guarantee that workers will be given additional hours of work.
One-time bonuses and hourly wage increases do not come with the same unpredictability or trade-offs that accompany grants or higher overtime pay rates, but reward employees equitably for providing essential services during the pandemic.
Bonuses vs. Hourly Wage Increases
The natural next question is which – bonuses or hourly wage increases – should companies prioritize? To answer this, it is critical to understand just how much employees stand to make under each policy.
The amount given in bonuses varies significantly between companies. The lowest bonuses are $150, while at the other end of the spectrum (usually reserved for employees in management roles), payments go as high as $3,700. On average, however, companies offered full-time workers $500 and part-time workers $192 in one-time bonuses. When it comes to hourly wage increases, the average company added $2.11 to employees' hourly earnings.
At face value, bonuses appear to give a substantial amount of money to employees up front, which can help immediately curb the impact of emergency health-related expenses, among other financial burdens, during this time. Over the long run, however, the cumulative earnings from a bump in hourly wages surpass the amount transfered through a one-time bonus.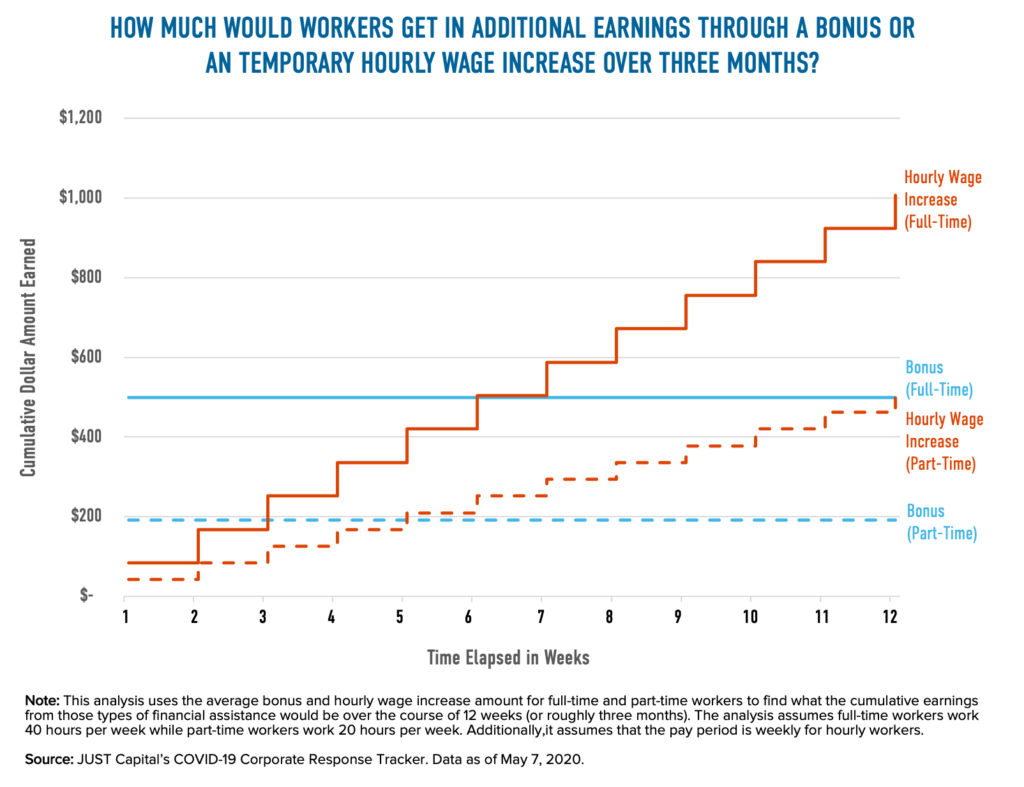 In looking at the impacts of the typical bonus and wage increase over 12 weeks, we see that average wage raises for part-time and full-time employees surpass their average bonus amounts within five and six weeks, respectively.
Considering the long-term health and financial repercussions of COVID-19, the scenario in the figure above demonstrates that companies that are financially able to do so should consider offering their essential workers an hourly wage increase over a one-time bonus. It also drives home the long-term impact of Charter's decision to permanently raise wages to $20 per hour for hourly employees, a move that will support workers throughout the crisis and beyond.
What does "good" look like?
Companies across different sectors face unique challenges, and many have had to weigh difficult decisions in assuring the future of their business. Those with considerable frontline workforces have needed to act quickly to ensure that their employees are well-positioned to stay at work – and through initiatives like expanding paid sick leave, along with prioritizing financial assistance, some companies have shown great leadership even in the face of profound uncertainty.
As we've shown above, those that provide wage increases offer greater long-term security to frontline workers, but the immediate benefit of one-time bonuses must also be recognized. Seven companies have provided both hourly wage increases and bonuses to their workforces: AT&T, Chiotle, Kroger, Lowe's, Target, Walmart, and XPO, all of which have a considerable number of essential workers who are continuing to serve on the front lines. In fact, Lowe's just provided a second bonus to workers this week, as its temporary wage increase period comes to a close. In providing both, these companies have given their workers both a preliminary boost to ride out the initial challenges of the crisis, as well as consistent support over time as they continue to work.
These efforts must be applauded, but as companies begin to reopen and we look ahead to what our post-COVID economy will look like, we also must remember that economic inequality existed long before coronavirus, and many of the workers on the front lines today are also those who will struggle with financial instability in the aftermath. For example, Amazon announced that workers who can work from home, usually those earning higher wages, can continue to safely do so until October, while financial assistance for frontline workers is currently expected to expire on May 16.
Companies looking to protect their workers from the long-term impacts of pandemic and economic recession should consider, like Charter, committing to a permanent wage increase, not only boosting wages in the immediate future, but guaranteeing higher wages – and perhaps encouraging stronger motivation from workers – in the months and years to come. In its April 2 announcement, Charter explained that a key reason behind its decision is its employees' hard work to maintain network operations throughout the crisis. Acknowledging that employees are its greatest resource, Charter has committed to both rewarding and protecting the workers that will keep business running, both during the pandemic and for years to come. With an overwhelming majority of Americans looking to companies to pay a fair and living wage to all their workers, more companies should consider following in Charter's footsteps – implementing practices that protect their workers today and support them ongoing, whatever the future may hold.