These are the ideal elements of a coronavirus paid sick leave policy
Over the past month, our team has had many conversations with corporate leaders across a wide range of industries. We understand that the coronavirus and its health and economic impacts have affected sectors differently, and many businesses have to make painful choices as they try to survive. That said, these conversations – along with our analysis of the 100 companies above, CDC guidelines, and our polling of the American people – have shown us that there are reasonable elements of a coronavirus paid sick leave policy that corporations can strive for.
They are:
Universal eligibility
Ensure paid sick leave policies extend to all workers, regardless of classification or part-time status.
Of the 100 companies we're tracking, all 36 that released new or updated paid sick leave policies during the pandemic offer this.
At minimum, a 14-day length of leave
The average length of the policies we have tracked is 13 days.
That is only one day short of the CDC's recommendation of 14 days of isolation after exposure, and a recent JUST poll found the majority of Americans not only want policies to match this, but that it was one of the most important decisions a company could make right now.
Full wage replacement
Pay workers their full wages when they take sick leave.
Of the companies that disclose information about wage replacement rates during paid sick leave, all are paying their workers at 100% of their regular wage.
Reduced barriers to access
Minimize the requirements for taking advantage of the policy, including a doctor's note, official diagnosis, or HR verification.
There is not only a national shortage of COVID-19 tests, but long wait times for results. Requiring a diagnosis to access benefits can put worker health at risk while they wait, not to mention the health of their coworkers, customers, and communities. Eight of the 36 companies have instituted some requirements: Amazon, AT&T, CVS, Dollar General, Dollar Tree, UPS, Verizon, and Walgreens.
Perpetuity
Allow the paid sick leave benefit to continue beyond the immediate crisis.
While we recognize this is not possible in all situations, we are seeing companies take this moment to make long-term changes to worker health benefits. Darden Restaurants, whose policy is explained in detail below, has around 180,000 employees and decided its new provision of paid sick leave benefits to hourly workers will extend beyond the pandemic.
Which corporations are responding
Overall, our analysis of the 100 companies shows that 36% have announced a paid sick leave policy in response to the COVID-19 pandemic.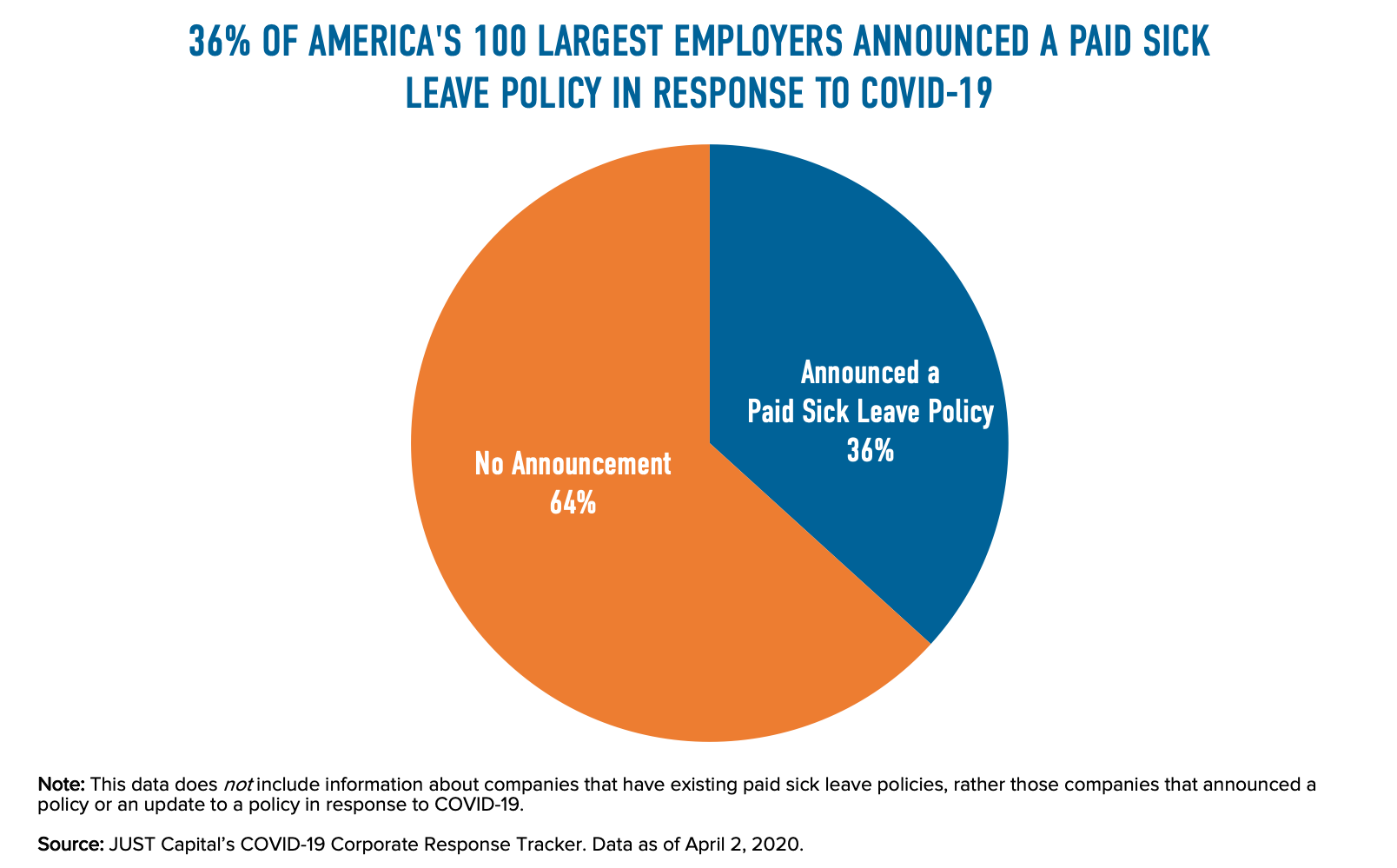 Nearly all of these paid sick leave policies are designed to give time off to employees who have been infected by COVID-19, quarantined, or to those who may be at higher risk of infection, suggesting that most companies are creating temporary benefits or filling benefit gaps for employees who would not otherwise be eligible to take paid sick leave.
As shown in our guidelines, Darden Restaurants, the operator of restaurant chains like Olive Garden and Longhorn Steakhouse, stands out as an exception. The company had previously been considering expanding its paid sick leave benefit to hourly workers, and COVID-19 hastened this decision to roll out a long-term paid sick leave policy. As the company has closed its dining rooms and shifted to a "To Go" model of operation in the wake of the crisis, hourly workers will be able to take paid sick leave if and when they need it, knowing that these benefits won't be retracted later on.
How much paid time off they're giving
For all employers rolling out programs, the length of paid sick leave is a critical benchmark. Given what scientific research says about COVID-19's incubation period, the length of leave matters not just to a worker's own health but also the health of customers and others in their community, as well. Only 25 companies disclose how much time off employees would get as part of their paid sick leave policies. Most are giving between 10 and 14 days.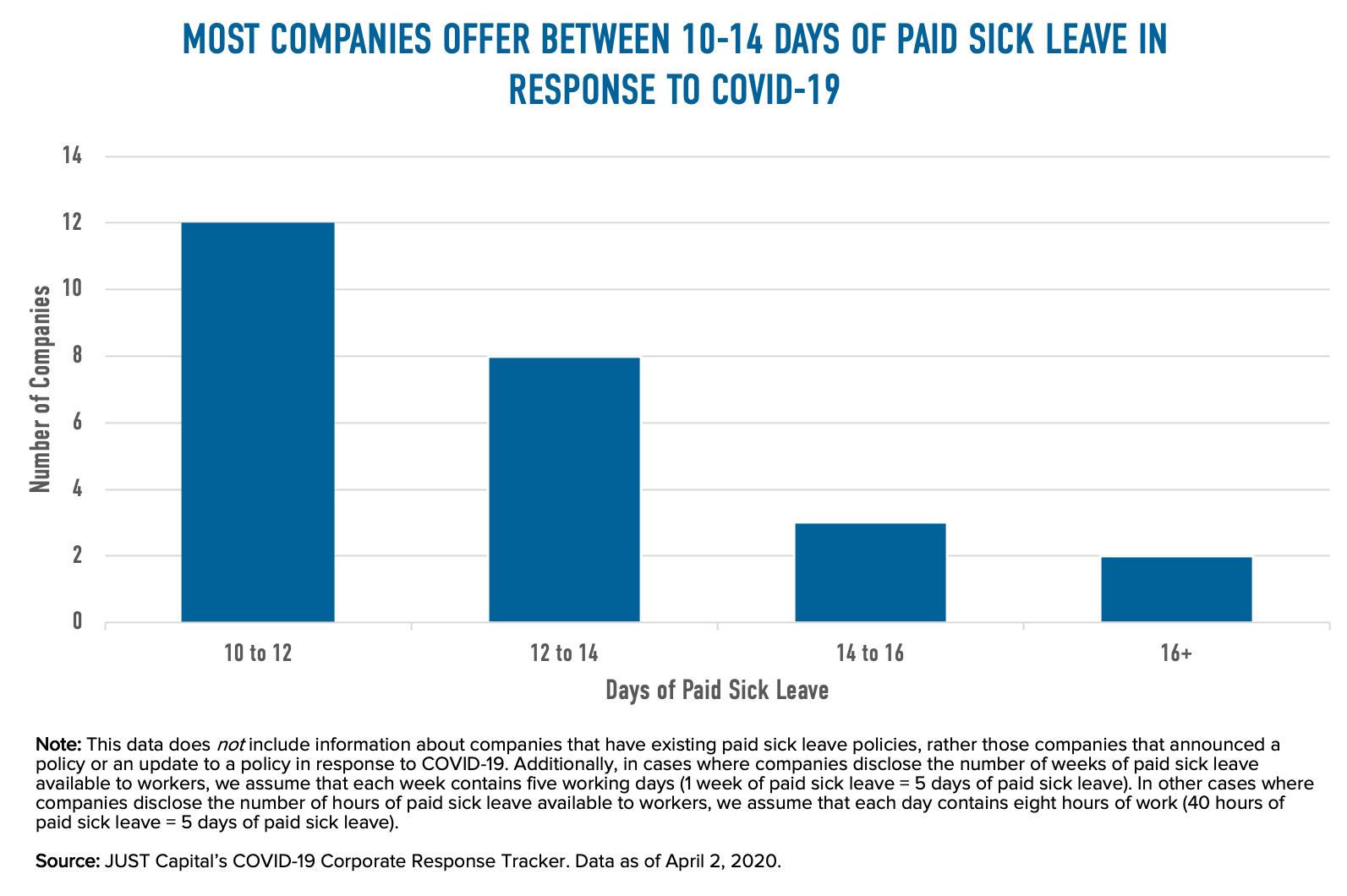 The exceptions are AT&T and Verizon, which are providing 20 and 40 days, respectively. AT&T, for instance, initially rolled out a policy that offered 80 hours (10 days) of 100% paid sick leave, but as the COVID-19 crisis has evolved, the company expanded the policy to 160 hours (20 days) for employees who have tested positive, are at high risk of infection, or need to look after dependents who have COVID-19. Verizon's new COVID-19 specific leave of absence policy offers 100% paid time off for eight weeks (40 days), and those who are medically diagnosed with COVID-19 can qualify for 100% paid sick leave for up to 26 weeks.
Where we go from here
Corporations made these paid sick leave policies out of necessity in a chaotic time, where it has been hard to predict one day from the next, and it is likely this crisis will stretch on longer than initially expected. JUST will continue tracking these policy announcements from companies for however long the COVID-19 pandemic lasts, as well as beyond it.
We believe that this crisis is a time for corporate America to truly embrace stakeholder capitalism – something the American people want to see. We'll be tracking performance closely, and highlighting the leaders that are modeling what good looks like.