A Corporate Guide to Paid Sick Leave
For years, there have been mounting calls from researchers, advocates, policy makers, and workers to increase Americans' access to a range of paid leave benefits in the absence of government action. The COVID-19 health crisis has put a spotlight on these critical issues. It has never been clearer that all workers need access to a range of paid leave benefits to care for themselves or for an ill family member or young child. Paid leave benefits, whether provided voluntarily by a company or through a government program, are vital to protecting workers' health and economic security. In the brief below, we focus on one of the most crucial and basic forms of paid leave – paid sick leave – and discuss the state of workers' access to these benefits, how corporate policies have changed in response to COVID-19, and what actions business leaders can take moving forward. 
Benefits to Paid Sick Leave for Employers 
As companies continue the process of re-opening, paid sick leave has become an important part of the puzzle. These policies serve to minimize continued spread of the virus, protect the financial security of workers, help companies retain employees, and protect against long-term shortages or reliability in the value chain. The consequences of not having a paid sick leave policy in this time of crisis have been serious in some instances. For example, several major meatpacking companies had to shut down plant operations following waves of COVID-19 cases on their factory floors.  
The benefits of these policies include, but are not limited to, retention, recruitment, and employee well-being – which all can bolster the overall financial health of a company. In fact, research from JUST Capital shows that stakeholder-focused companies that prioritize their workforces have outperformed their peers by 7.3% so far in 2020. Since the pandemic began, investors have increasingly emphasized paid sick leave as well, with 286 institutional investors representing $8.2 trillion calling for companies to provide paid sick leave, prioritize health and safety measures, retain their workforces, maintain supplier and customer relationships, and remain financially prudent in response to coronavirus. Companies are facing a distinct choice to protect their employees at all levels, keep communities and families caring for dependents financially secure, and to build healthier communities, and can take a significant step in this process by implementing paid sick leave.
JUST Capital was proud to partner with AARP to make this guide available. Download the report below to read the full report detailing the following key findings:  
The coronavirus pandemic has brought paid sick leave to the forefront of benefits discussions in ways never seen before.

Paid sick leave is crucial to limiting the spread of the virus, protecting workers' economic security, and supporting businesses.

As companies bear the majority of responsibility for healthcare access and employee benefits in the U.S., there is a significant need to focus on paid sick leave specifically as executives continue to build reopening plans and deal with the impacts  of the global health crisis.

The American public wants companies  to implement paid sick leave, including 74% of respondents in a recent survey  by JUST Capital and The Harris Poll.

Providing paid sick leave to employees  could save employers an average of  $1.8 billion a year and reduce turnover.

According to data insights from JUST Capital's 2021 Rankings of America's Most JUST Companies, only 20% of America's largest employers have instituted some kind of COVID-19 paid sick leave policy. 

In addition to supporting employee well-being, retention, and recruitment, paid sick leave protects the financial security of workers and strengthens the resiliency and reliability in a company's value chain.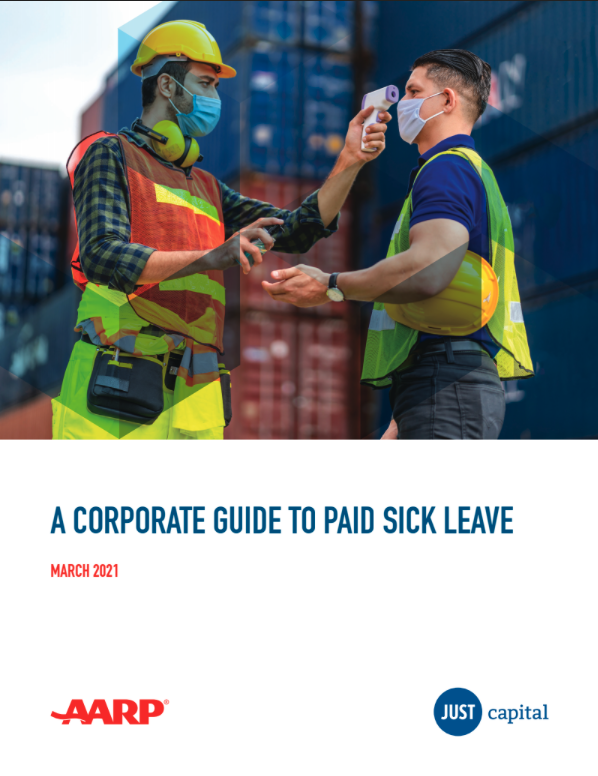 We invite you to read the other two guides in this series offering additional insights on navigating key workplace issues in the wake of the coronavirus pandemic: