A Corporate Guide to Working From Home
Of all the changes that COVID-19 has brought, work from home (WFH) policies have been among the most significant for businesses today and will likely remain a key consideration for companies as the pandemic continues and then subsides. Prior to the global health crisis, the option to work from home was accessible to only about 37% of workers, and around 20% of wage and salary workers were working remotely on an average day, with people of color even less able to access work from home benefits. 
Work, and the workplace, is changing around the world at a rapid pace. With people living and working longer, employers are managing up to five generations at work on any given day. Offering benefits, including greater flexibility through WFH policies, helps workers of all ages. While it remains to be seen how companies will adjust to work from home schedules once it is safe to return to working in the office, there are myriad benefits to creating some regular WFH structure for employees, especially the increased flexibility that can benefit employees across age groups. It is clear that companies will continue to operate under a WFH structure where possible into 2021, with some even making the decision to go remote permanently or at least offer this benefit as an option. 
Benefits of WFH For Employers and Employees
There are many forms that WFH policies can take, many of which can decrease working costs for both employers and their employees – including office space rental, commute times and costs, dependent care coverage, and more. Employers can also see a significant increase in productivity when shifting more employees to work remotely due to the limitations of workplace distractions, flexibility in working hours, ability to take more productive breaks, and increased morale. Turnover is significantly reduced by remote work policies as well, with increased flexibility, better work-life balance, and reduced/eliminated commute times increasing employee satisfaction overall.
JUST Capital was proud to partner with AARP to make this guide available. Download the report below to read the full report detailing the following key findings:
According to a

2020

survey

from JUST Capital asking what Americans want from corporate America during the coronavirus crisis, 82% of Americans agree that companies should provide the flexibility to work from home, something critically important to public health and safety during this time.

Even before the coronavirus crisis,

surveys

showed 98% of employees want to work from home at least some of the time.

According to a study from the University of Chicago,

63% of U.S. jobs require significant onsite presence and the remaining 37% can be performed entirely at home

. 

Communities of color and older workers, however, are less

likely to have access

to work from home options.

Re-opening too soon can lead to increased illness and in some cases,

fatalities

.

Enabling employees to work from home with the right structures in place has the potential to improve productivity and lower costs for employers.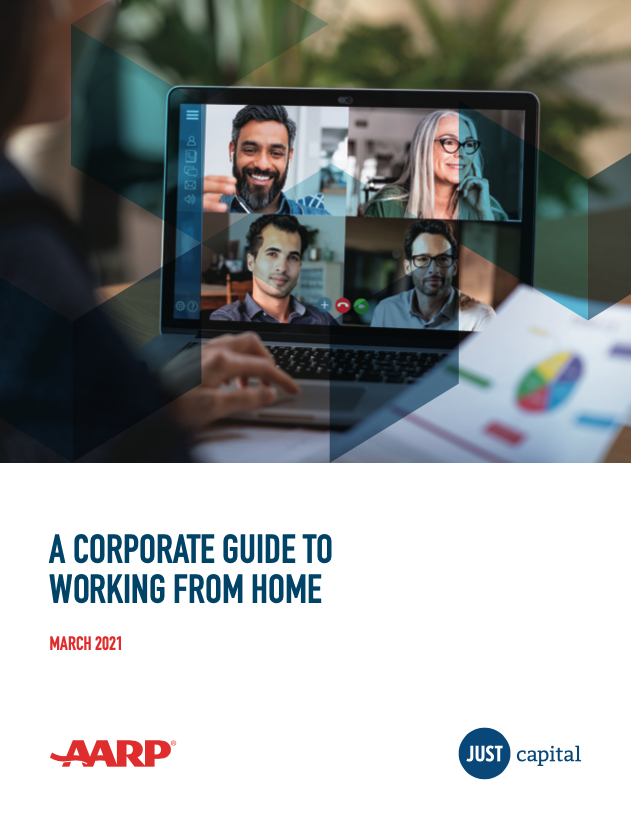 We invite you to read the other two guides in this series offering additional insights on navigating key workplace issues in the wake of the coronavirus pandemic: