Chart of the Week: Carbon-Efficient Companies Grow Their Operating Income Faster
In our latest Chart of the Week, we take another look at the environment and evaluate the rate at which carbon-efficient companies grow their operating income over the trailing five-year period. What we found aligns with last week's chart, which showed that carbon-efficient companies have had comparatively higher returns during the current recession.
This week, we found that, of the Russell 1000 companies we rank, those in the top quintile of lowest greenhouse gas (GHG) intensity by industry (Q1) have a median five-year operating income compound annual growth rate (CAGR) of 7.2%, compared to the lowest quintile's (Q5) 3.3% growth rate.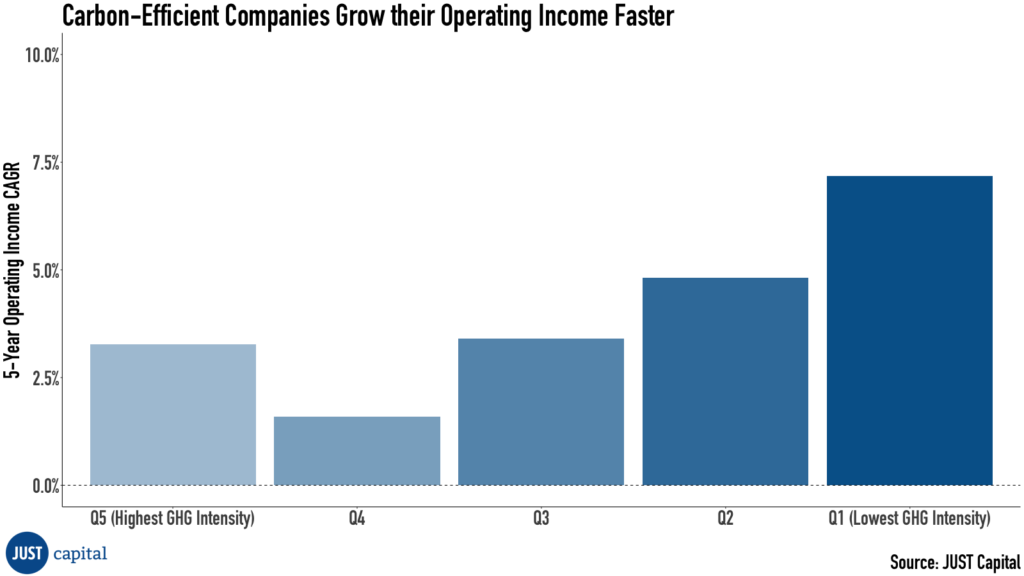 The result is not surprising, as we see that most energy- and cost-conscious companies produce higher operating efficiencies than those that continue to use less sustainable forms of power.
As many companies and governments have paused their commitments to the environment in response to the short-term effects of the pandemic, it is critical to restate the long-term importance of reducing carbon emissions.
The European Commission is pushing this point in its recovery plan for Europe, which includes funds for a transition toward a carbon-neutral economy. But this should be recognized beyond the European Union.
Former Vice President Al Gore's firm, Generation Investment Management, showed this week in its annual Sustainability Trends Report that in two-thirds of the world, wind and solar power are the cheapest forms of energy during the coronavirus crisis. That means companies here in the United States have an opportunity to cut costs, reduce carbon emissions, and maximize operating efficiency, as shown in the data above.
The more operationally efficient a company is, the more profitable it is, and you can combine this with the fact that companies are increasingly recognizing the negative impact of climate change hurting their profits. There is a chance now to address both of these points, for a win-win for long-term profitability and the health of the planet.
If you are interested in supporting our mission, we are happy to discuss data needs, index licensing, and other ways we can partner. Please reach out to our Director of Business Development, Charlie Mahoney, at cmahoney@justcapital.com to discuss how we can create a more JUST economy together.
If you have questions concerning the underlying analysis, please reach out to our Senior Manager for Quantitative Research, Steffen Bixby, PhD, at sbixby@justcapital.com.