Energy Companies That Perform Well in JUST's Rankings Have Outperformed Their Industry Peers
Political and business leaders from around the world will be in Sharm el-Sheikh, Egypt, from Nov. 6-18 for this year's United Nations Climate Change Conference, COP27, to discuss long-term plans for reducing greenhouse gas emissions. Simultaneously, however, oil companies are riding a wave of high profits linked to first the reopening of the global economy followed by the massive energy sector disruption of the Russia-Ukraine war. In fact, the Russell 1000 Energy Index is the top performing sector year to date, up nearly 66%, compared to the broader market (Russell 1000 Index), which is off by 18.6% as of Oct 31 2022.
That's sparked an ongoing ESG (Environmental, Social, Governance) debate throughout the year, over the role fossil fuel investment plays when there is a short-term urgency for oil and gas and a long-urgency for clean energy – as well as pressure from the White House to direct a higher portion of profits to investment in energy production rather than to buybacks.
JUST does not come to this as a typical ESG aggregator, but rather measures and ranks America's largest public companies according to the priorities of the public, as measured in our extensive polling research that takes into the workers, communities, customers, shareholders, and the environment stakeholders. We've found that the leading energy companies as designated by Industry Classification Benchmark (ICB) – in our 2022 Rankings of America's Most JUST Companies have outperformed their sector peers.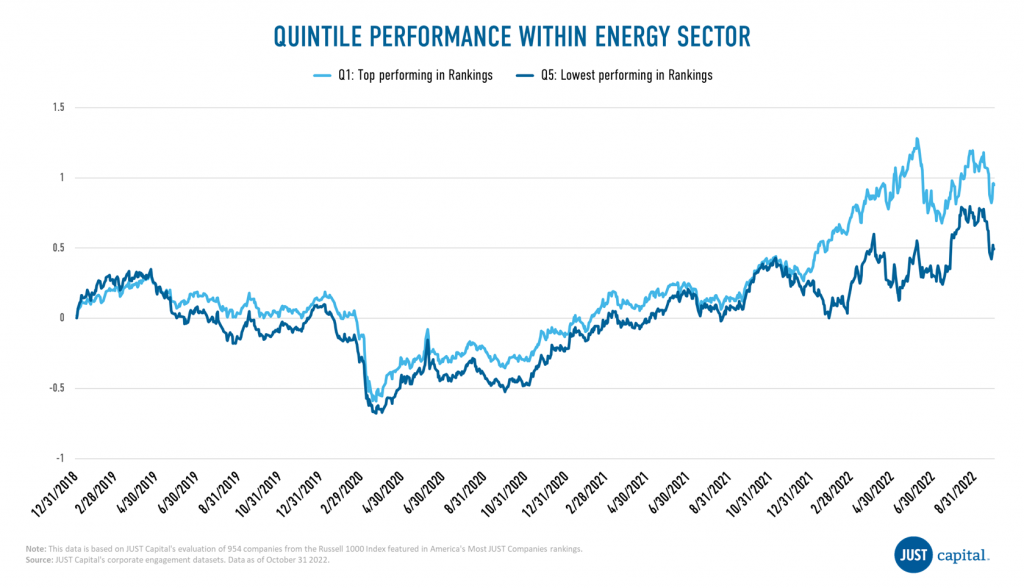 Specifically, companies that score in the top quintile of energy companies across all five stakeholder groups we measure have had 45.7% outperformance versus the bottom quintile from January 1, 2019 to September 30, 2022. Companies in the top quintile include Exxon Mobil (ranked 89th in 2022), ConocoPhillips (106th), and Chevron (110th). This top quintile has also returned 95.07%, beating the Russell 1000 Energy Index's return of 55.85% from January 1, 2019 to September 30, 2022.
Rising rates and high valuations along with a soaring U.S. dollar have led investors to move away from technology companies towards energy as an inflation hedge, and it's an attractive one not only on a valuation basis but on a free cash flow yield basis.
However, as evidenced above investors should also take note of which companies perform best in serving their stakeholders as another critical lens into their assessments.
The Investor Strategies team at JUST Capital leverages our in-depth company research and polling of the American public to delivering innovative commercial and programmatic solutions, build strategic partnerships and initiatives, and produce leading-edge research, insights, and thought leadership. Please reach out using this request form below to learn more about partnering with JUST.