Companies Disclosing the Highest Level of Workforce Diversity Data – EEO-1 Report – Saw Higher 2021 Returns
Eighteen months following the swell in diversity, equity, and inclusion (DEI) commitments from corporate America, stakeholders from employees to investors to regulators are looking for signals of action and progress. For many, that means asking companies to disclose the racial and ethnic demographic makeup of their workforce. This week, we published a new analysis that examines if, and how, Russell 1000 companies are sharing this information.
Our analysis found that, as of September 2021, just over half of the Russell 1000 (55%) share some racial and ethnic workforce data. But, only 11% of companies disclose intersectional data in an EEO-1 report – the federally mandated annual report in which companies with at least 100 employees provide information on gender, race, and ethnicity by job categories.
For this edition of Chart of the Week, we took a look at how those companies that do disclose EEO-1 or equivalent data performed compared to their peers that don't disclose this intersectional data.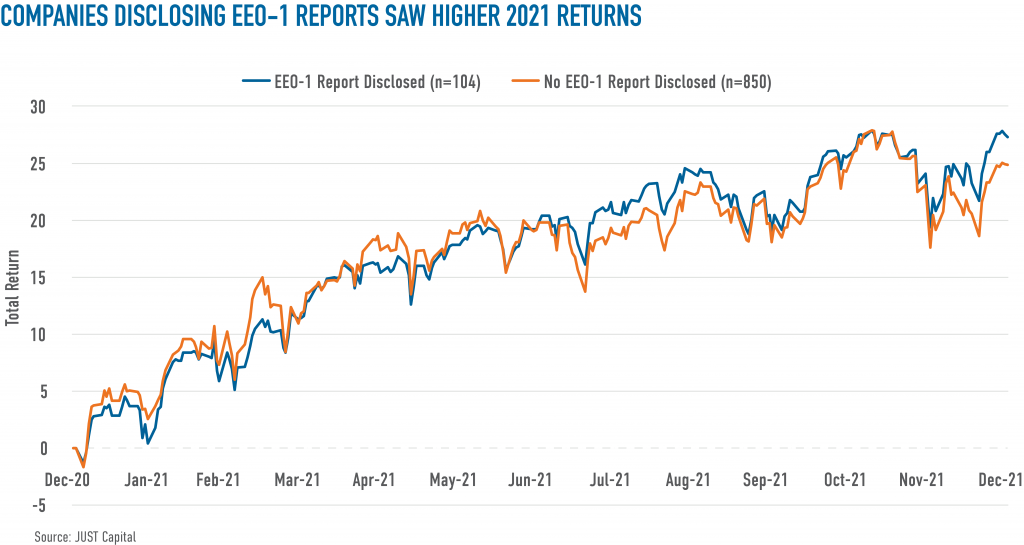 Looking at this subset of companies, we see that they saw higher returns than those that didn't disclose an EEO-1 report or equivalent by 2.4% over the trailing one-year period ending in 2021.
With companies staring down proxy season, requests to disclose this information could rise even further to the top of shareholder agendas. "This is the information investors want to see more of," JUST Director of Corporate Equity, Ashley Marchand Orme, said in a CNBC interview this week. "Companies are already collecting it so the lift to provide this information is relatively low. It's just a matter of companies making this information more public."
If you are interested in supporting our mission, we are happy to discuss data needs, index licensing, and other ways we can partner. Please reach out to ESG Business Development Associate, Michael Wirtz, at mwirtz@justcapital.com.