The JUST Report: My Top Takeaways from a Frenetic Climate Week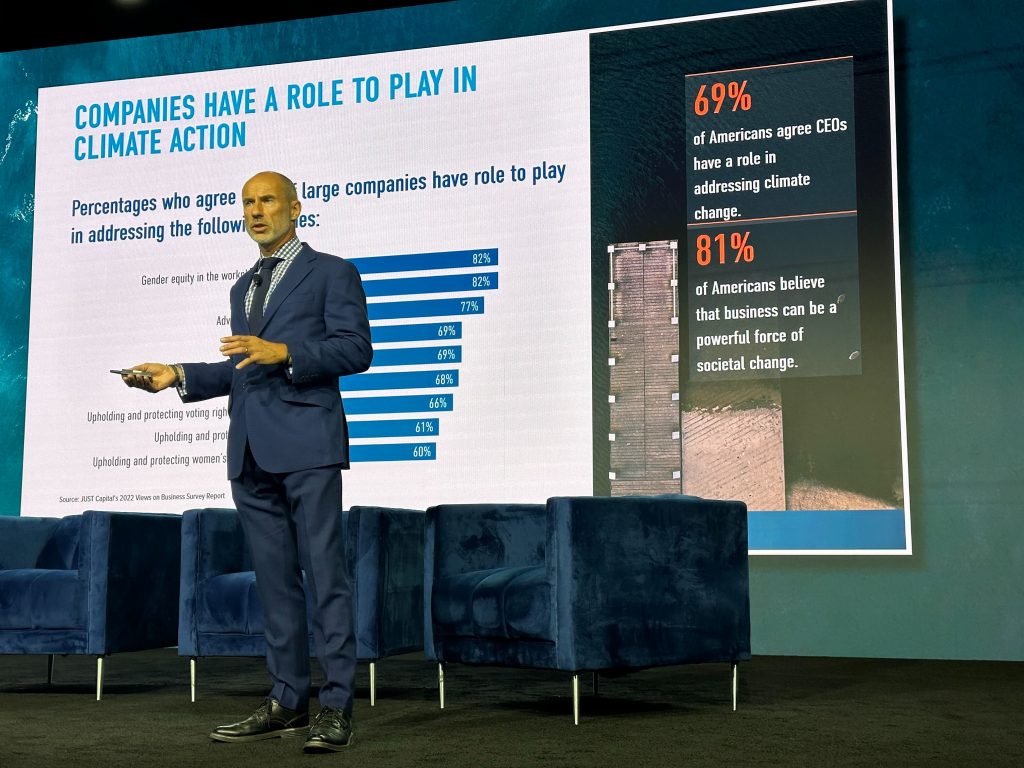 It's been a hectic but energizing few days. Conversations I've been part of ranged from how international companies should talk about sustainability and inequality in the U.S., to the ESG backlash, the rise of populism and the post-truth society, to climate politics and justice, innovation and AI, even how music can inspire people to action. Indeed, the breadth of intersecting issues discussed has been remarkable. Climate Week is not only about climate.
My sense overall is that as far as the business and finance worlds are concerned, it's all systems go. The world needs solutions to our greatest societal challenges, and those who provide them will be well rewarded. Sure, there are still a lot of groups out there trying to tell companies what they should or shouldn't be doing, but mostly it's to the business case that all conversations inevitably return. Politics, if anything, is a sideshow. One interesting observation – since so much of what happens during climate week and UNGA is shaped by an international contingent – is that the current social and political environment in America is at once bewildering, bemusing, and impenetrable to anyone not thoroughly immersed in it.
At JUST's panel at The Nest Climate Campus, I presented our latest data on the state of U.S. corporate climate commitments and performance – it was featured on CNBC the same day – and led a lively discussion with three executives at companies that are genuine leaders in the space, namely, Emilio Tenuta of Ecolab, Erik Hansen of Workday, and Scott Tew of Trane Technologies. Representing the chemicals, software, and building materials/construction industries, they gave their unique perspectives on everything from what drives them, to major innovations they're seeing in their sector, to how they think about politics and the "anti-ESG" movement.
All three agreed that the conversation has drastically changed in the last 12 months, that their work has never been more vital, that the business stakes have never been higher.
Be well,
Martin
RANKINGS SPOTLIGHT
In honor of Climate Week, we're shining a light on the Top 5 Companies for the Climate Change Issue in our 2023 Rankings:
Etsy leads the Russell 1000 on the Climate Change issue by sourcing 100% of its electricity from sustainable sources, making emissions reductions across all three scopes as part of its verified 1.5-degree Science Based Net Zero commitment, and providing sellers with 100% recycled packaging.
Apple commits to eliminating all plastics in its packaging by 2025 and has pledged to create products with net zero carbon impact. Apple is also working to transition its entire product supply chain to renewable electricity by 2030, as part of its efforts to achieve its verified 1.5-degree Net Zero target – which the company highlighted in its recent sustainability video featuring a visit from Mother Nature.
Visa aims to become a climate positive company by leveraging its global network to increase sustainable commerce and providing clients with sustainable card options and guidance on sustainable accounts, including access to high-quality carbon offsets. Simultaneously, Visa is making operational progress towards its verified 2040 Net Zero target by increasing energy efficiency within its own data centers and offices.
Moody's commits to reaching Net Zero by 2040, disclosing a comprehensive decarbonization plan that highlights emissions reductions across all three scopes, in addition to continuing to offset the company's lifetime carbon footprint.
Autodesk established the Autodesk Carbon Fund, an internal price on carbon across all of the company's emissions, to increase emission reduction initiatives across the company's value chain. Autodesk also supports impactful climate policies that move its industry toward decarbonization, as part of its effort to meet its verified 1.5-degree Science-Based Net Zero commitment.
JUST IN THE NEWS
On CNBC's "Squawk on the Street," senior correspondent Diana Olick discusses JUST's latest analysis of corporate climate commitments and emissions data, highlighting the biggest emissions reductions were disclosed by Avangrid, Owens Corning, and Johnson Controls International. The analysis – written by JUST's Senior Manager of Environment Laura Thornton and Research Analyst Shannon Cabral – finds that while commitments of all ambitions are increasing, actual emissions reductions are lagging. Fortune Impact's Peter Vanham digs into what's "interesting and odd" about the latest round of climate insights.
JUST worked with Alexis Ohanian's 776 Foundation to spotlight the next generation of climate leaders. Hear from Pranav Myana on his motivation for founding AmarraTech, which uses microgrids to increase access to renewable energy for communities around the world and Joshua Ichor about his journey to launching GeoTek, a startup tackling water infrastructure issues, after contracting typhoid fever himself.
At Fast Company's Innovation Festival, JUST CEO Martin Whittaker speaks on a panel titled "How the Culture Wars Are Shaping the Future of ESG," and encourages a new way of talking about ESG that emphasizes the issues most important to the public.
Fortune's CHRO Daily newsletter features our recent analysis of paid sick leave policies among America's largest employers, highlighting that just 28% of the Russell 1000 disclose a paid sick leave policy and only 9% disclose the number of paid sick days provided.
In a report on Hispanic Americans' economic progress, CNBC's Brandon Gomez points to JUST polling finding that 26% of Hispanic Americans believe capitalism is working for the average American – compared to 32% overall.
QUOTE OF THE WEEK
"Customers increasingly care about climate change, their footprint, their supply chain footprint. This is moving – from several years ago where this was sort of, like 'a nice to have' – to table stakes. Over the past 12 months or so, we're really seeing that ramp up."
Erik Hansen, Senior Director, Environmental Sustainability, Workday during JUST's session at The Nest.
"We know from your data that more companies are making commitments. But the big thing, the cynicism out there by consumers, is that business is setting bold, ambitious targets, but we're not showing enough action."
Emilio Tenuta, Senior Vice President & Chief Sustainability Officer, Ecolab during JUST's session at The Nest.
JUST AI
In an interview at the Milken Institute Asia Summit last week, philanthropist and Bridgewater Associates founder Ray Dalio forecasts how AI could interact with the other key issues of our time – like climate change and political conflict – suggesting that the workplace and job market could be radically disrupted. Fortune digs into the interview, which underscores why investors and policymakers alike must prepare for the changes to come.
CBS News considers the ways in which AI could be a tool to help combat the effects of climate change – optimizing electricity grids and better modeling shifting climate patterns, or even fighting wildfires – as well as the ways it could create further harm, with AI models consuming large amounts of energy and contributing additional greenhouse gas emissions.
This week Google announced that its AI Chatbot Bard would begin to integrate with several other apps, retrieving information from YouTube, Maps, and Google's Flights and Shopping search features, and if granted permission, from users' Gmail, Docs, and Drive. Insider has the details. Microsoft also announced that a new version of Windows shipping on September 26 will have Microsoft's AI companion Copilot baked right into the operating system.
MUST READS
As Climate Week wraps up, there's much to think about. In a Politico opinion piece, Former New York City Mayor Michael Bloomberg discusses why this year's COP28 underscores a newfound urgency to climate action, recommending a concerted effort across public, private, and philanthropic sectors to accelerate critical emissions targets. Climate activists agree – Quartz covers the March to End Fossil Fuels, estimating that 75,000 protested the use of coal, oil, and natural gas in New York City on Sunday.
Financial Times reports on new recommendations from the Task Force on Nature-Related Financial Disclosures (TNFD), offering a framework for companies to report on nature-related risks like species loss and deforestation – signaling growing focus from investors and corporate executives on these issues.
A new report from the Department of Energy shows that U.S. energy and industrial sectors have been slow to advance the Biden administration's climate goals – EE News reports on the findings, echoing our own analysis of lagging emissions reduction in the Russell 1000.
The Washington Post reports on a new study estimating that fully remote workers produce less than half the carbon footprint of those who work onsite, shedding light on the potential environmental benefits of working from home.
The New York Times covers California's climate lawsuit against Exxon Mobil, Shell, BP, ConocoPhillips, and Chevron, claiming that the five oil giants misled the public by downplaying the risks of fossil fuels. According to Forbes, the lawsuit – filed by the state of California last week – alleges tens of billions of dollars in damages.
Meanwhile, the UAW remains at the picket lines. CNN and Politico highlight ballooning CEO pay as a core frustration for striking workers, while NYU Professor Scott Galloway proposed in a CNN Business interview that "There should be one union. The head of that union is Biden," and that the most effective path forward will be the establishment of a $25 federal minimum wage. And in a New York Times op-ed, investor Steve Rattner warns that, while change is needed, the UAW's demands – which include a 36% pay raise, a 32-hour work week, company-paid medical benefits for retirees, and more – may be overly ambitious.
CNBC shares the good news that Bank of America – the #1 Most JUST Company in our Rankings and one of the top 10 companies that treat employees best – will boost its minimum hourly wage to $23 in October, on the way toward its goal of raising hourly pay to $25 by 2025.
CHART OF THE WEEK:
Over three years of analysis across four levels of climate commitments made by Russell 1000 companies, we have seen an increase in every category of commitment. Net Zero commitments have tripled, and our most rigorous category, Verified 1.5-Degree SBTi, has doubled since the start of our measurement. Despite the promising growth across these categories, however, our analysis also shows that corporate action on reducing actual emissions is lagging overall. In fact, companies with a general commitment to reducing emissions (e.g. reduce 50% by 2045) or Net Zero climate commitments have, on average, increased their emissions. Explore the insights.