The JUST Report: Rewriting a Key ESG Rule
This week, the Biden administration took another step in acknowledging the importance of ESG issues to investors. On Wednesday, the Department of Labor (DOL) proposed a new rule to make it easier for employers and fiduciaries to consider ESG factors when selecting investment options in private retirement plans.
The proposal, which will enter a 60-day public comment period, marks a reversal of guidance issued under the Trump administration that many saw as discouraging ESG retirement investing through its legal provisions. "If these legal concerns were keeping fiduciaries on the sidelines, it could mean worse outcomes for workers and retirees," U.S. Secretary of Labor Marty Walsh said on the DOL's new proposal.
Secretary Walsh's point is an important one. At JUST, we have seen firsthand how specific ESG issues can be material to business leaders and shareholders alike. We have extensively analyzed and reported on how ESG factors – and particularly the "S" – can have real outcomes for workers and their savings. And our polling has shown that, across political ideologies, Americans want companies to prioritize paying a living wage, providing good jobs, cultivating a strong, diverse and inclusive workforce, and protecting workplace health and safety – all key elements of strong ESG performance.
Many investors already know this. Morningstar data shows that sustainable fund inflows reached a record high in 2020 at $51.1 billion, more than double 2019's total. This week, BlackRock also reported record inflows with a third of the firm's $98 billion long-term net flows earned last quarter going to sustainable funds. The DOL's proposal, alongside the focus on mandated disclosure of non-financial metrics at the SEC, places added pressure on companies to get their ESG strategies right. As our latest analysis on human capital disclosure shows, many will have their work cut out for them.
Be well,
Martin Whittaker
This Week in Stakeholder Capitalism
Amazon is letting individual team managers decide how often employees should come into the office when its facilities reopen next year.
Chevron sets a goal for its operations – not its products – to become net-zero by 2050.
Delta, Chevron, and Google are teaming up to track emissions from sustainable aviation fuel and share data with industry peers using a new framework.
Google and YouTube say they will cut off climate-change deniers from being able to monetize their content and display ads.
JPMorgan Chase releases patents to anyone using low-carbon technologies and joins the UN's Net-Zero Banking Alliance, committing to set science-based climate targets. The company also asks its 100 largest suppliers to increase spending with Black and Hispanic businesses or risk losing their contracts.
What's Happening at JUST 
JUST Editorial Director, Rich Feloni, spoke with former Unilever CEO and founding chair of Imagine, Paul Polman, on his new book "Net Positive" and how he's building a coalition of CEOs to help scale stakeholder capitalism. "Most CEOs know what needs to be done – the 'why' question is not actually that pertinent anymore; the 'how' is really where the issues are," he said.
JUST's Senior Director of Research Kavya Vaghul and Senior Manager of Programs & Engagement Kelley Frances Fenelon sat down with B Lab's B the Change to discuss how our Corporate Racial Equity Tracker provides an on-the-ground look at company action on diversity, equity, and inclusion.
JUST Capital, Microsoft (#1 in our 2021 Rankings), and the SmartTrust® Sustainable Impact Investing Trust, which leverages JUST ESG data, received shoutouts from Hennion & Walsh Asset Management President and CIO Kevin Mahn on Fox Business in his discussion of what Prince Harry and Meghan, the Duchess of Sussex, might want to consider as they enter the field of ESG and sustainable impact investing.
JUST Events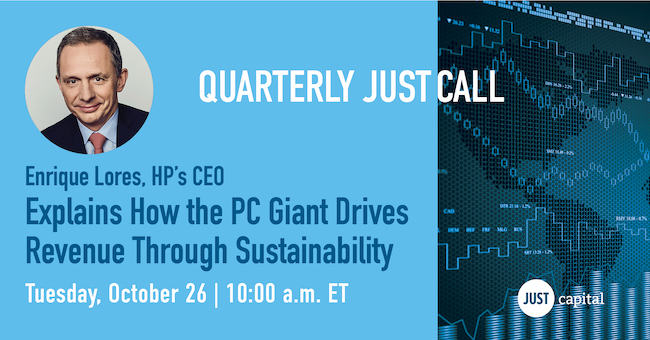 Ahead of 2021's biggest climate change conference (COP26), we're speaking to HP CEO Enrique Lores to learn how the company has managed to tie its sustainability goals to its business goals, and what other corporations can learn from its leadership. We'll explore the policies that have allowed HP to excel on climate action, diversity and inclusion, and more, while discussing how these pursuits tie into core business strategy. Join the live conversation here.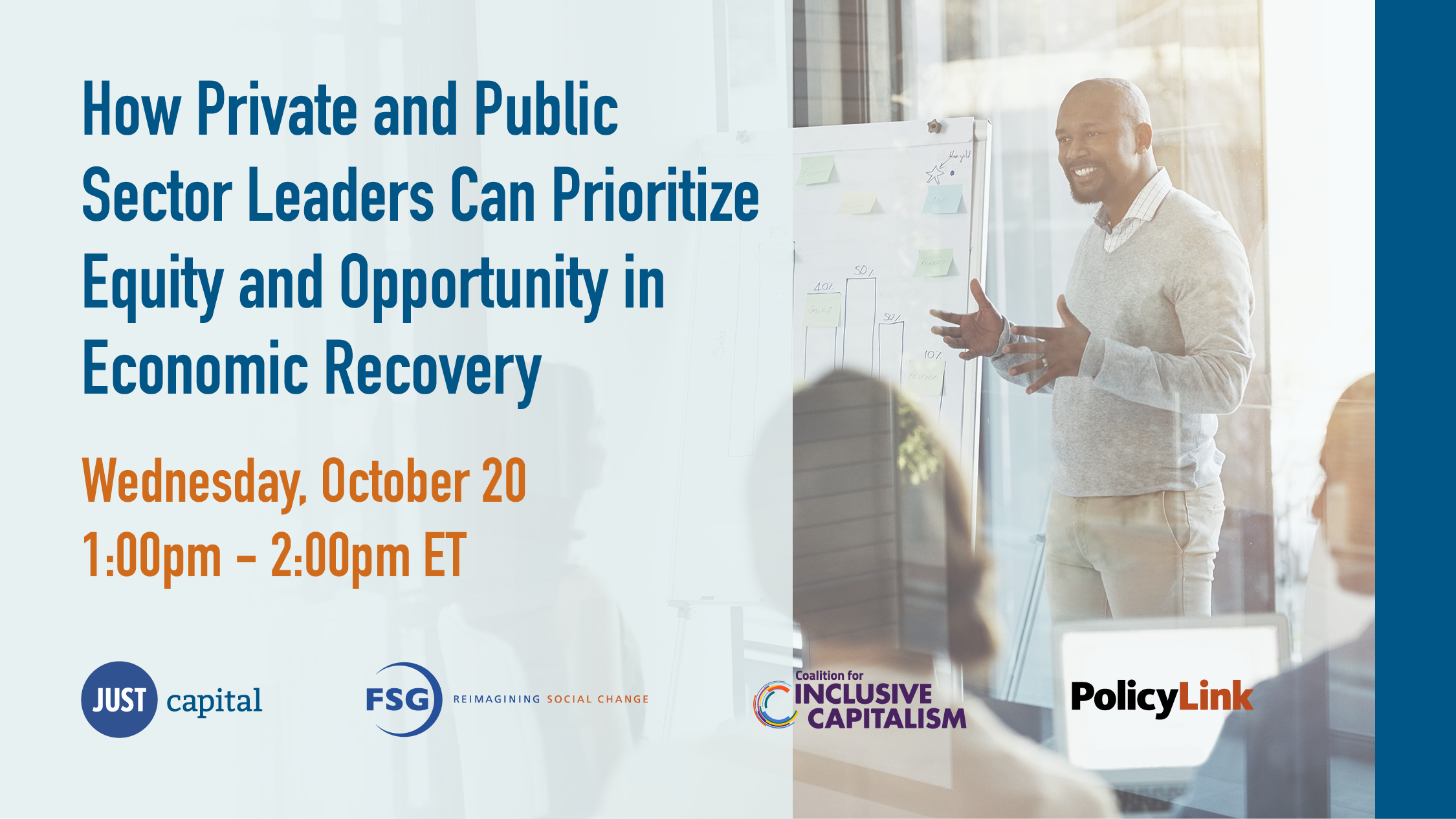 As the country looks toward an economic recovery, we're joining the Coalition for Inclusive Capitalism, FSG, and PolicyLink to host a conversation on prioritizing equity and opportunity for all workers in these efforts. Tune in to hear from Coalition for Inclusive Capitalism Founder Lynn Forester de Rothschild, PolicyLink Founder in Residence Angela Glover Blackwell, Department of Commerce Deputy Secretary Don Graves, Procter & Gamble Chief Communications Officer Damon Jones, and Edwards Lifesciences CFO Scott Ullem. Register to watch here.
The Forum
"Many companies outsource their supply chain and also think they can outsource their responsibilities. And that's obviously not acceptable anymore. You have to own the problems that you create as much as you embrace the opportunities that are there."
Paul Polman, former Unilever CEO and founding chair of Imagine, in a JUST interview on his vision for stakeholder-driven corporate leadership.
"It is one of the biggest problems threatening the country. We all took economics. When demand outpaces supply, then any CEO has got to think about what they're doing to retain workers, to be sympathetic to their workforce, to be a best-in-class employer – whether that's wages, benefits, flexible schedules, access to childcare, better training." 
U.S. Chamber of Commerce president and CEO Suzanne Clark speaking at the Fortune Most Powerful Women Summit on the tight labor market.
"Only business has the reach, resources, and responsibility to Lead this revolution. To rise to this, perhaps the greatest challenge humanity has ever faced, we must act accordingly, urgently – and collectively."
Simon Mainwaring, founder & CEO, We First, speaking on his new book, Lead With We.
Must-Reads of the Week
Insider covers the latest jobs report, which shows that August marked the fifth straight month of record high levels of workers quitting, and speaks with U.S. Labor Secretary Marty Walsh on what's fueling this trend. Axios highlights how unruly customers in restaurants, bars, hotels, and stores have contributed to these record numbers. Time also looks at the rise in worker strikes and what it means for the labor market.
Illinois Treasurer Michael W. Frerichs' Diversity Disclosure Initiative, a group of 26 investor organizations representing over $3 trillion in assets (of which JUST Capital is a member), accelerates its call for Russell 3000 companies to disclose racial, ethnic, and gender diversity data for their boards of directors. The Initiative is tailoring asks to companies depending on their progress on disclosure following its initial call last October, as covered by Bloomberg.
Quartz reports on a new analysis from the International Energy Agency, emphasizing the need to accelerate investment in clean energy tech and showing that the industry could outvalue the oil market by 2030. Reuters also highlights the "carbon budgets" that companies are implementing and the impact they could have on the airline industry.
Royal Bank of Canada's new Responsible Investment Survey finds that 72% of global investors integrate ESG principles in their investment strategies and decisions. Among them are Prince Harry and Meghan, the Duchess of Sussex, who The New York Times' DealBook reports are joining the ESG investing firm, Ethic, as "impact partners."
Chart of the Week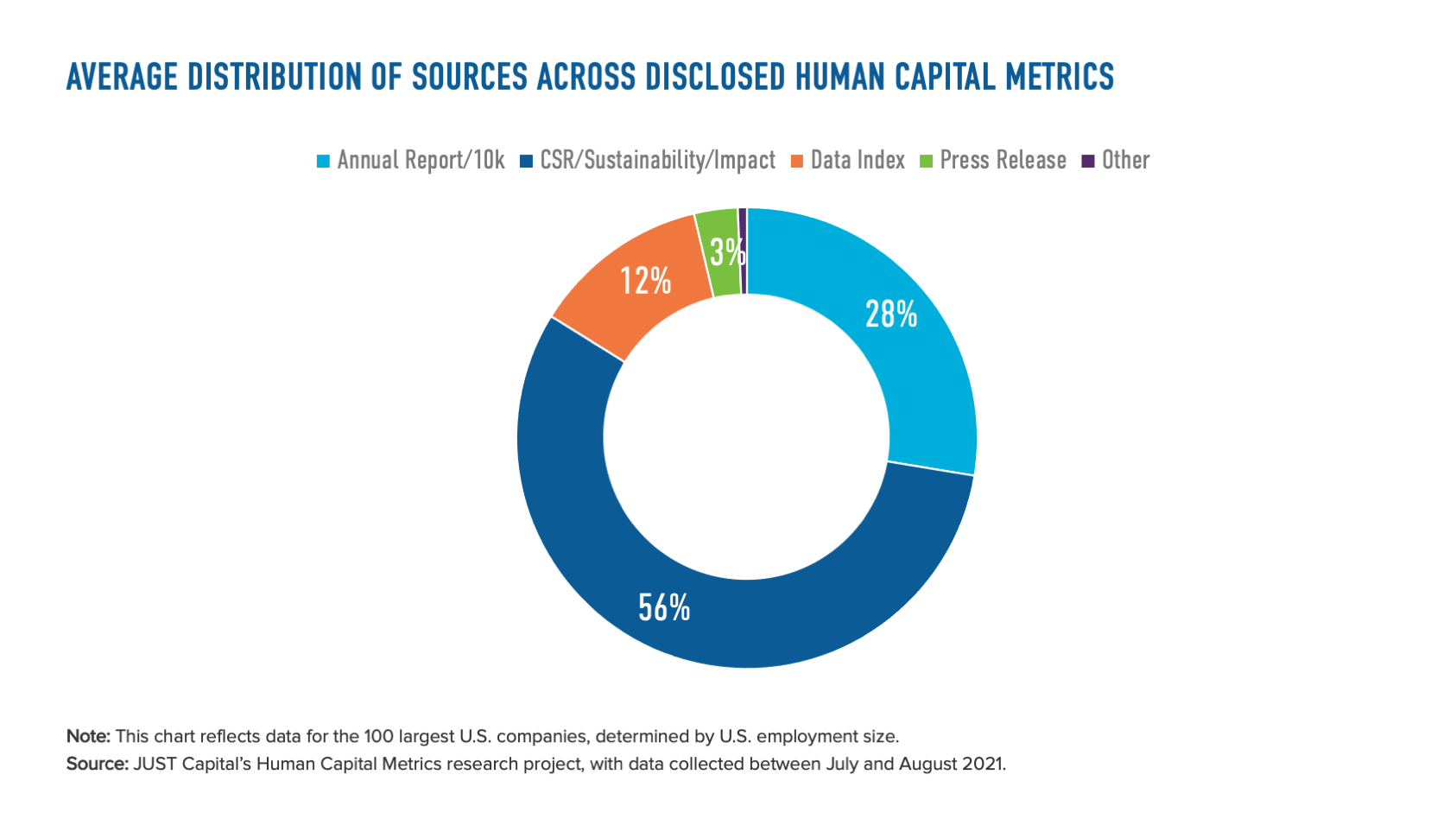 This week's chart comes from our research on the current state of human capital disclosure in corporate America, examining where companies choose to disclose these metrics. Learn more about this and other trends in human capital data disclosure here.