The JUST Report: Ringing the Bell for a JUST Economy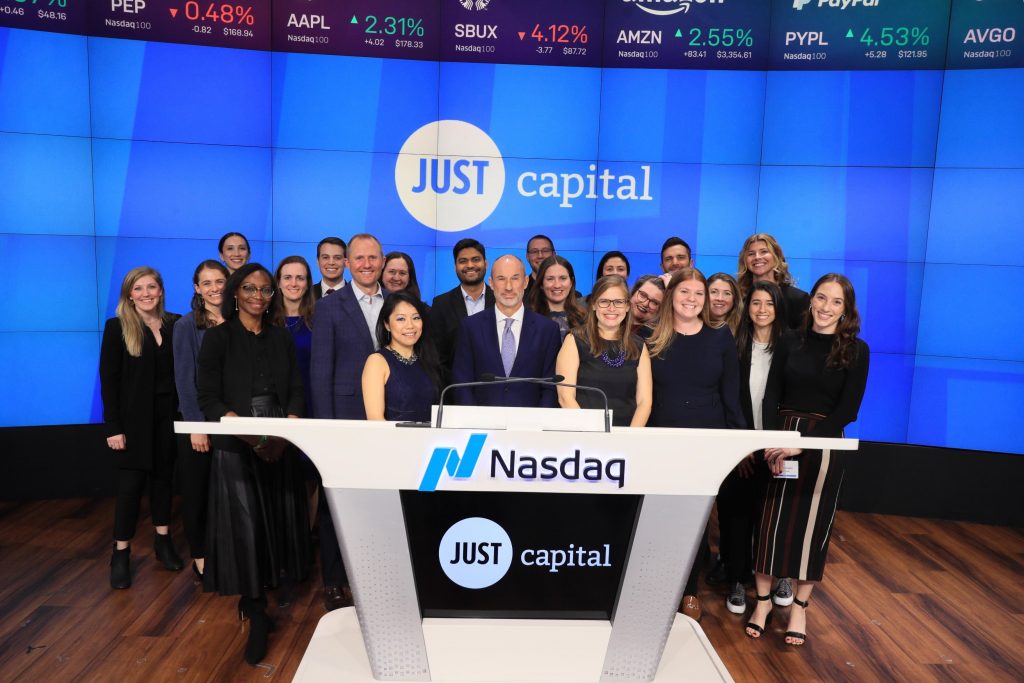 Monday was a monumental day for JUST and our mission. Ringing the Nasdaq closing bell to celebrate the JUST 100 was a major milestone on the road to a more just economy and a chance to both thank all those who've helped us get this far and reflect on where we're going.

After the bell, and with the help of Nasdaq, our event sponsors, and media partner CNBC, we hosted "The Strategic Imperative of the 'S' of ESG," an in-depth discussion among company leaders on the human element of business. Some personal highlights:
A robust discussion about Tesla and whether markets really care about how its factory workers are treated.
Exploring how the E, S, and G are intertwined with Engine No. 1, Lord Abbett, and Nasdaq.
Detailed recounting by leadership at Intel (both via a taped interview with its CEO Pat Gelsinger and panel guest Chief People Officer Christy Pambianchi), Chipotle, and Prudential of how they've seen investments in their workers and the communities they operate in create real value for their businesses, and how those lessons can be applied across industries.
Hearing from PepsiCo's Jon Banner, fresh from a trip to the Poland-Ukraine border, onhow the company has been navigating the challenges of the war.
Former Best Buy CEO and JUST advisor Hubert Joly tying all the concepts together with brilliance, insight, and humor.
I also noted the hunger for more open and honest talk about some of the challenges of ESG, how leaders have handled failure and made tough choices, how companies can act with greater authenticity and accountability, and how the stakeholder approach connects to the future of free market enterprise and democracy itself. You can watch the entire conversation here.
On the walls of Nasdaq's amazing event space hang pictures of notable IPO and bell ringing moments from the past, from Amazon to United Airlines. The images capture companies in a singular moment of transition, for them and perhaps in some cases for the market itself. I like to think Monday marked a similar moment of transition for all those who see just business behavior as the future.
Be well,
Martin Whittaker
---
---
This Week in Stakeholder Capitalism
GM CEO Mary Barra says that remote work actually allowed the company to make faster progress on its electric vehicle fleet.
JPMorgan Chase CEO Jaimie Dimon releases his annual letter to shareholders, declaring that the American economy is still strong, but that the inflationary environment and Russia-Ukraine War will require bold leadership.
Starbucks returning CEO Howard Schulz scraps planned stock buybacks to invest more into their workers amidst growing unionization efforts.

What's Happening at JUST
Synchrony becomes the newest company to join our Worker Financial Wellness Initiative and make the financial health of their employees a C-suite priority. For information on how your company can participate, go here.
Our director of corporate equity, Ashley Marchand Orme, was quoted in this article on tracking the racial equity and diversity investment promises corporations made in 2020.
CNBC compared our Rankings of America's Most JUST Companies with LinkedIn's "Best Companies to Work For" to discuss how different methodologies produce wildly different outcomes in these lists, particularly around Amazon.


The Forum
(Christopher Galluzzo)
"First and foremost, it is about putting food on the table. So, to them, are the wages competitive? But then how do you create a pathway to economic mobility and growth? And for us, it really is about level access to education. We introduced debt-free degrees back in 2019, where it is that pathway for our employees to really thrive, but then pursue their passion whether it's here as a leader or in the world as a leader."
"It's about taking leadership now and presenting guidelines that might help investors and others in the community understand what you're doing. Prior to our rule, about 25% of the S&P 500 disclosed their board diversity, now over 60% have disclosed – and that's in a year."
Karen Snow, Head of U.S. Listings and Revenue at Nasdaq, speaking about the Nasdaq created board-diversity rule, and how it's a better approach than a government-led solution.
"I don't think ESG will ever be 100% of the decision-making of buy and sell. It just won't. But five years ago, was it 5%? Today, is it 15-20%? Will it be 35-40%? Yes. Will that be an indicator of better culture, better long-term growth, more innovation? Yes."

Must-Reads of the Week
The United Nations' IPCC released its latest report on the state of global climate change and progress toward mitigating it. It's a giant report, but the Panel provides key findings and a breakdown by sector, and if you want just the most top level data, Bloomberg Green has a handy briefing. One takeaway: "Left unchanged, the world's current emissions trend could result in warming of more than twice the target limit set forth in the 2015 Paris Agreement."
The Wall Street Journal released an analysis of CEO pay, finding that it is on track to hit a new historic high, with the ratio of CEO pay to median worker pay up from the year before the pandemic, despite the tight labor market and inflationary environment.
The New York Times reported on what went on behind one of the bigger news stories of the week, Tesla CEO and notorious tweeter Elon Musk buying a controlling share of Twitter and joining its board – a move that could set the tech platform on a new course.
Fortune reports on new research that shows managers with business degrees are more likely to disproportionately distribute profit gains among leadership, instead of equitably across the workforce.
---