The More JUST the Company, the Steadier the Stock
What do Microsoft, Colgate-Palmolive, and AT&T have in common?
First off, they're all massive, publicly-traded corporations. They're also all in the 2016 JUST 100, our ranking of America's most JUST companies. And according to recent research from our team, these three companies, along with the rest of the JUST 100, carry significantly lower investment risk than their fellow Russell 1000 corporations.
In much of our research, we look to determine what investment value there is in being JUST, since we know from our polling that providing good returns and long-term profitability are important parts of the equation. Through analysis of stock volatility and profit variation metrics, we determined that companies who behave more justly are also more financially stable.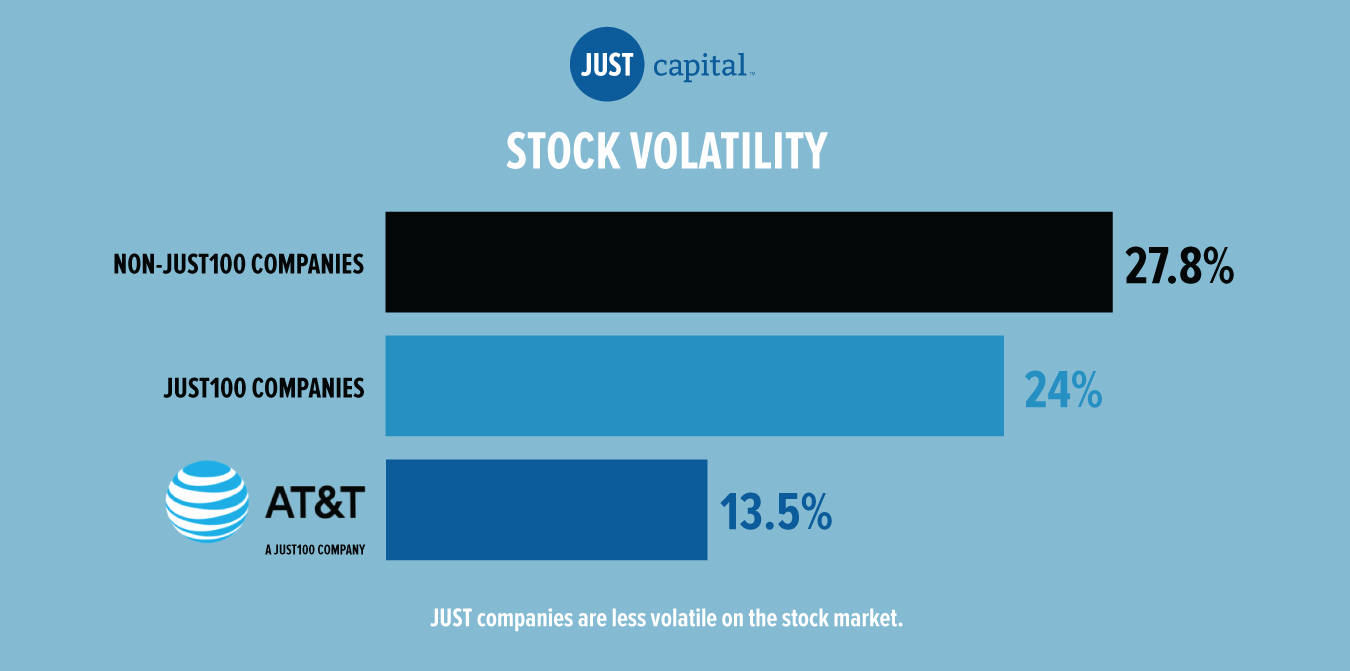 At AT&T, for example, the three-year stock volatility, or degree of variation of trading price, is 14.8%, as compared with other non-JUST 100 corporations at 27.8%. JUST 100 companies, overall, came in at about 24.5%, suggesting that just companies are less volatile on the stock market.
With interest in mission-driven investing on the rise, this research is particularly potent for stockholders and advisors in that community. As of 2016, there were $23 trillion in assets globally managed under responsible investment guidelines, a 25% increase since 2014. This research provides a better understanding of the relative resilience of stocks, valuable information for both asset owners and asset managers alike.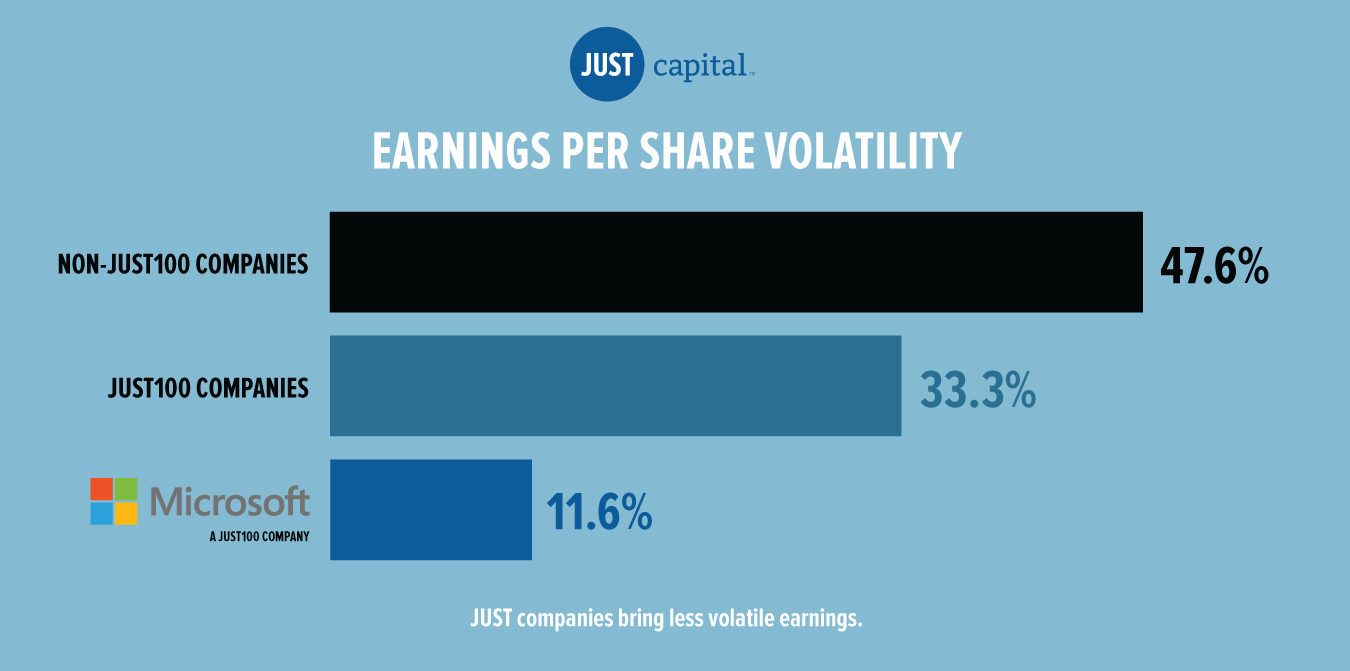 It's also relevant to corporate management teams, who might be interested to see comparisons in the earnings-per-share volatility (EPS), which capture shifts in profits over the past three years. At Microsoft, the EPS variation is just 11.6%, whereas JUST 100 companies average 33.3% and non-JUST 100 companies 47.6%. On both the trading floor and in the boardroom, this research drives home the key finding that, along with more just behavior, comes a more sustainable return.
Aside from volatility, our research also shows that more JUST companies have a higher return on invested capital, suggesting that more just practices correlate to better returns for stockholders. JUST 100 companies average 13.6% average annual ROIC over 5 years, while non-JUST companies average 9.9%. Colgate-Palmolive stands out with 27.1% return for shareholders.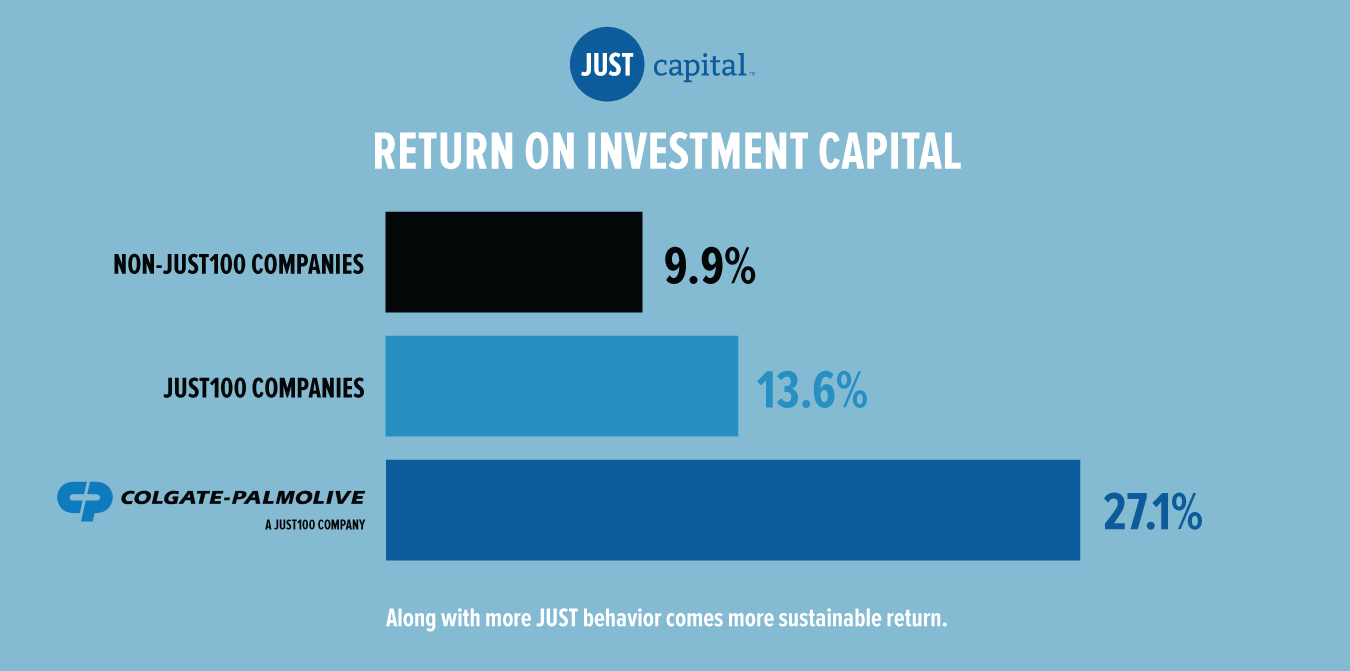 In 2016, JUST Capital's research ranked companies based on the issues that matter most to the American public. As we dig deeper into our findings, we've found that being JUST pays off in more ways than one, and we invite corporate and investment leaders to consider the financial implications of being JUST along with everything else. With AT&T, Colgate-Palmolive, and Microsoft leading the charge, together with the rest of the JUST 100, we look forward to monitoring how the market continues to shift along with the rise and fall of just business behavior.
Read the full report here.