Wells Fargo, Meta, PG&E, Boeing, and Others Receive 'Unique Event Treatment' in JUST's 2023 Rankings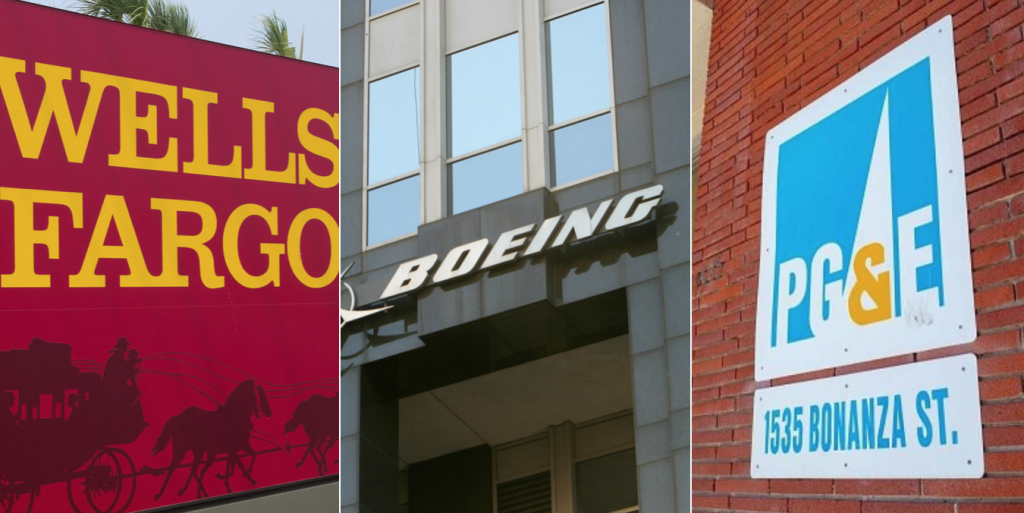 JUST Capital's annual Rankings of America's Most JUST Companies score corporate performance of the Russell 1000 against the priorities of the American public. Throughout the year, we monitor any unique events not captured by our current metrics that should theoretically have an effect on a company's score and rank. Our analysts identify those events as instances resulting from a company's actions or inactions that are: (1) considered material to just business behavior as defined by the public, (2) have the potential to affect a company's standing outside the normal architecture of our ranking process, and (3) are sudden, extreme, or unusual in nature.
This year, the six companies that received a unique event treatment are Wells Fargo, Uber, Boeing, Altria, Meta, and Pacific Gas and Electric (PG&E).
Our team screens possible events that fit the above criteria. The methodology involves a formal process of monitoring media coverage related to companies under consideration through platforms such as RepRisk, as well as consultation with the public, independent specialists, and other neutral third parties.
The details of each event, and how a company has or hasn't responded to it, determine the type of treatment given to the company's Ranking performance. These treatments, in order of increasing severity, are Serious (I), Severe (II), and Most Severe (III). Each step of the process, including the final results, are reviewed by independent specialists and other neutral third parties.
This year, the screening process identified 42 companies, which were cross referenced along geographical and legal considerations among the full Russell 1000. Independent specialists evaluated a total of 18 incidents to identify events that meet JUST Capital's definition of a unique event. From there, six incidents and their related companies qualified for unique event treatments and assigned one of the three treatments listed above. Further details on the screening process and evaluation criteria can be found in our 2023 Rankings Methodology.
The six cases JUST executed the unique events protocol in the 2023 Rankings are as follows:
The first case applies to Wells Fargo, a financial services company that provides retail, commercial, and corporate banking services through branches, the internet, and other channels to individuals, businesses, and institutions across the U.S. and in other countries. We assigned a Serious (I) treatment to Wells Fargo due to news of the company conducting fake job interviews for women and people of color. Wells Fargo has since suspended the hiring policy that allowed for this behavior. The company will receive the lowest score in the Employee Discrimination Controversies Metric within our Workers stakeholder, resulting in a rank of 42. On December 20, 2022, the Consumer Financial Protection Bureau confirmed Wells Fargo agreed to pay $1.7 billion in penalties and another $2 billion in damages to settle claims that it engaged in an array of banking violations that harmed millions of consumers. While there are several customer-related controversies captured in our Ranking model this year – including discriminatory lending practices against minorities, illegal account openings without knowledge or consent of customers, irresponsible sale of inverse and leveraged ETFs, and a rate-fixing scheme linked to variable-rate demand obligations – Wells Fargo does not receive an additional unique event treatment for the most recent customer-related fines and penalties because the case was settled outside of our tracking window.
Second, Uber, a company offering ride sharing, meal delivery, and logistics services for customers across the world, will receive a Severe (II) treatment. This is due to business practices that included efforts to specifically undermine taxi driver's rights in the process of expanding its business. Uber receives the lowest score in the Community Development Issue in our Communities stakeholder, and sits at a rank of 505.
The third instance applies to Boeing, one of the world's major aerospace companies that develops and produces commercial airplanes, military aircraft, space and satellite systems, and intelligence and security systems. One of Boeing's airplanes, the 737 Max, experienced two fatal crashes within six months of each other in 2018-2019 – one of which occurred after the company assured the plane was safe despite knowing the plane's flight control system posed an ongoing safety concern. Boeing has since replaced its CEO and settled charges with the SEC for misleading the public regarding the safety of its product. Boeing receives a Severe (II) treatment and the lowest score in the Customer Experience Issue, with a rank of 245.
The final three cases are carried over from the unique rankings treatment in our 2022 Rankings. Altria, Meta, and PG&E all received a Most Severe (III) treatment last year in our Rankings. We have placed all three of these companies at the same rank of 710th. 
Altria is a manufacturer and seller of cigarettes, machine-made large cigars and pipe tobacco, smokeless tobacco products, and wine in the U.S. We assigned a substantial penalty to companies in the Industry Classification Benchmark (ICB) Tobacco Subsector, following results from our 2016-2019 survey research. Our survey research has consistently revealed that most Americans believe that companies that make and market tobacco products are extremely harmful, less just, and should be in the bottom quartile of JUST Capital's Rankings. Altria receives the lowest score in the Customers stakeholder.
Meta is a social media conglomerate with billions of active users worldwide and owns Facebook, Instagram, WhatsApp, and Oculus, among other products. The company has faced growing reports of its involvement in the spread of misinformation, hate speech, and other discriminatory and incendiary content on its platforms – and that it was aware of these issues and has failed to address them. This event is reflected in the Customers stakeholder. Meta  receives the lowest score in the Customers stakeholder.
PG&E is a utility company that became notorious nationwide in 2019 for the bankruptcy connected to its wildfire liabilities in California. In 2021, the state determined that PG&E's continued negligence sparked or contributed to extreme regional wildfires that resulted in human deaths, widespread destruction of property, and endangerment of local communities. PG&E receives the lowest score in the Environment stakeholder.
Since our initial unique event treatment, there have been no substantial changes in business practices by any of the above companies that would result in the removal of this treatment. Barring any significant changes in business practices specifically related to these events, this treatment will remain in effect for a maximum of three years. If another event or development occurs after the three-year period, the event can be evaluated and, in appropriate cases, treatment can be reinstated.