Business and Markets as a Force for Good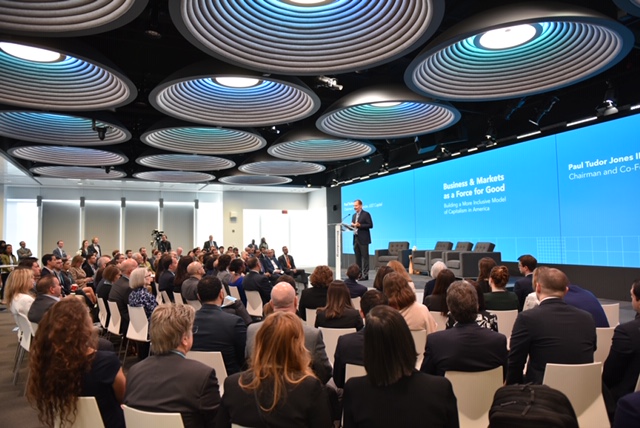 This week, we joined forces with Bloomberg to convene business and investment leaders for a discussion around the state of capitalism today, and how we might create a more just and inclusive economy that better serves all Americans.
Debunking the Myths of Just Investing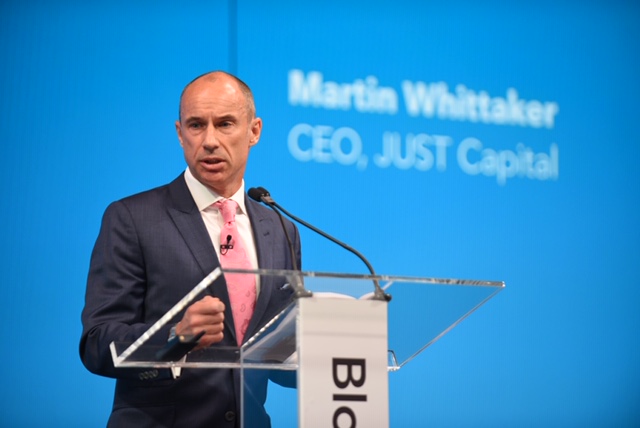 CEO Martin Whittaker kicked off the morning with an introduction to our polling and Rankings, debunking some of the myths of just investing – showing through our ongoing financial analysis that just investing does not require financial sacrifice.
Creating a Win-Win for Everyone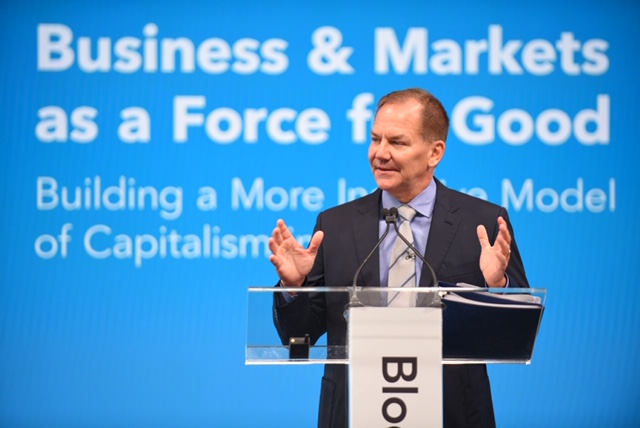 Chairman and Co-Founder Paul Tudor Jones II shared two major challenges in corporate culture that sparked the creation of JUST:
"The first problem is that our capital markets aren't working for a whole bunch of people. They're being left behind. The second problem is many CEO's don't realize that it's actually a problem."
– Paul Tudor Jones II
JUST Capital strives to narrow the gap between perception and reality on these issues by providing a blueprint – based on the priorities of the public – for how companies can operate to bring them into closer alignment with all their stakeholders.
How Pension Plans Are Shaping the Role of Business in Society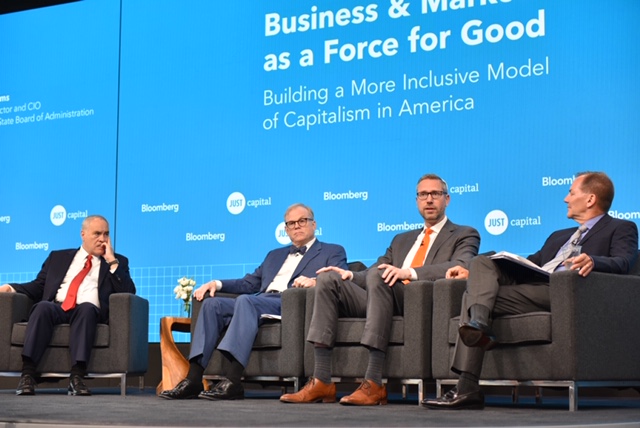 For our first panel of the morning, Paul Tudor Jones moderated a discussion between Thomas P. DiNapoli, New York State Comptroller, Michael Frerichs, Illinois State Treasurer, and Ashbel Williams, Executive Director & CIO of the Florida State Board of Administration.
Panelists discussed how investors can do better to foster long-term corporate sustainability, moving away from a focus on short-term profits. Here's what they said:
"We're trying to make sure companies have long term sustainability but one of the problems is that we put too much importance on short-term profits."
– Michael Frerichs
"We need to rethink traditional benchmarks. ESG investing is not a static field."
– Thomas DiNapoli
"We're in a new category of thinking: that one can do well by doing good."
– Ash Williams
To wrap up, Mr. Jones conducted an impromptu poll of the room – asking attendees how much shareholders should have received as a windfall from 2017's Tax Cut & Jobs Act. Just two attendees believed that shareholders should have received 80% of the tax cut (which is where the windfall actually flowed), while the majority of the room agreed it should have been somewhere in the middle (20-60%). Despite some differences in opinion, there was overall a clear consensus that shareholders should not have overly benefited from the tax cut.
Doing Good by Taking the Long View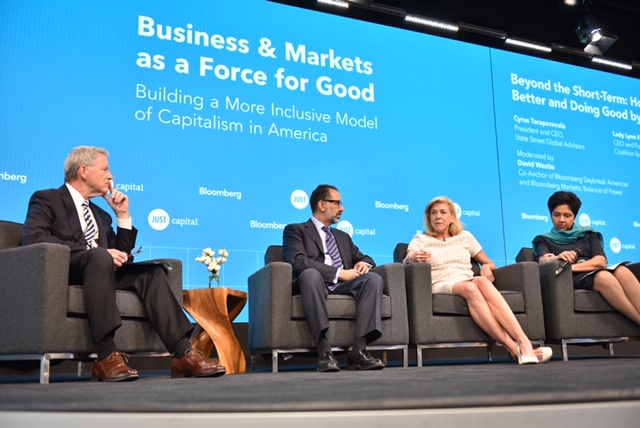 Bloomberg Co-Anchor David Westin hosted our second panel of corporate leaders, including Cyrus Taraporevala, President and CEO of State Street Global Advisors, Lady Lynn Forester de Rothschild, CEO and Founder, E. L. Rothschild/Coalition for Inclusive Capitalism, and Indra Nooyi, Former Chairman and CEO of PepsiCo.
Panelists challenged the notion that ESG factors should be seen as separate from mainstream investing, and emphasized the importance of long-term decision-making. Some key takeaways include:
"Inclusive capitalism to Adam Smith would be complete redundancy. To most people today, it is an oxymoron."
– Lady Lynn Forester de Rothschild
"Too many CEOs run the company for their term only. They need to run it for the duration of the company, not just the years they're there."
– Indra Nooyi
"I hope in 5, 7, 10 years, we're not talking about ESG investing – it will just be a normal financial factor of every investment."
– Cyrus Taraporevala
Being Good is Good for Business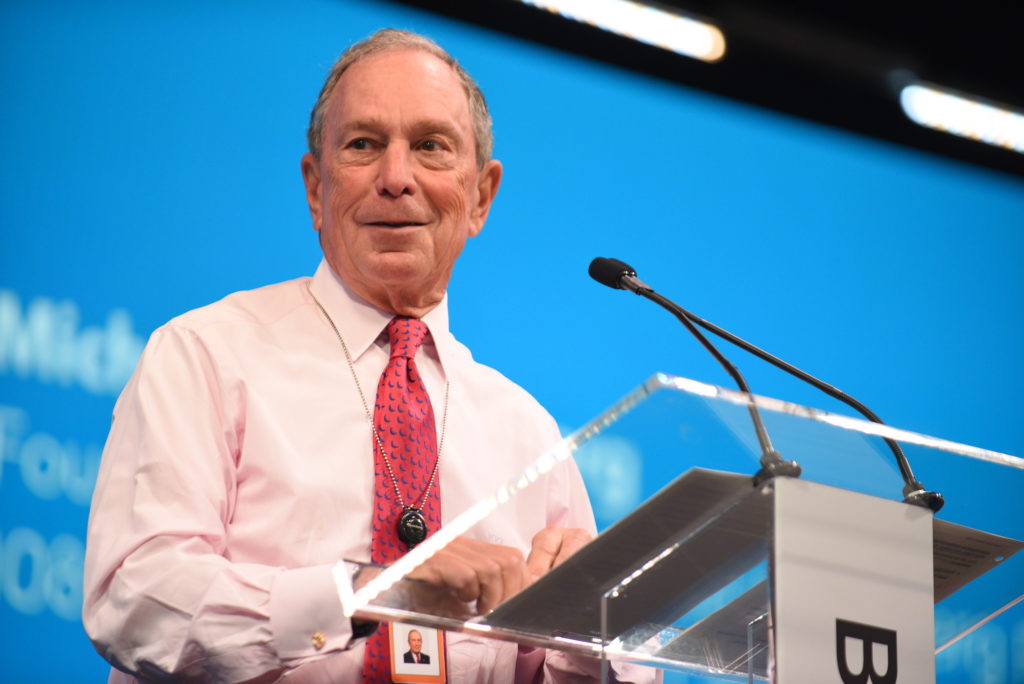 Wrapping up the discussion, former New York City Mayor Michael Bloomberg drove home that change is needed, saying:
"We have to make society more just, and I think capitalism is the way to do it. Everyone needs an American Dream."
– Michael Bloomberg
Emphasizing that companies should treat employees well, focus on philanthropy, and create more diverse and inclusive workplaces, the Bloomberg founder echoed what we heard throughout the day: that being good is good for business.