Chart Of The Week: Environmental Protection Is Paying Off For Stakeholders
In our last Chart of the Week, we argued that companies increasingly face the prospect of needing to incorporate carbon emissions and emission reductions when engaging in internal cost-benefit analysis for new projects. As we've shown before, companies with lower carbon emission intensity outperform their peers in the stock market. This week, we look at the broader picture and find that companies with overall lower environmental impacts also outperform their peers: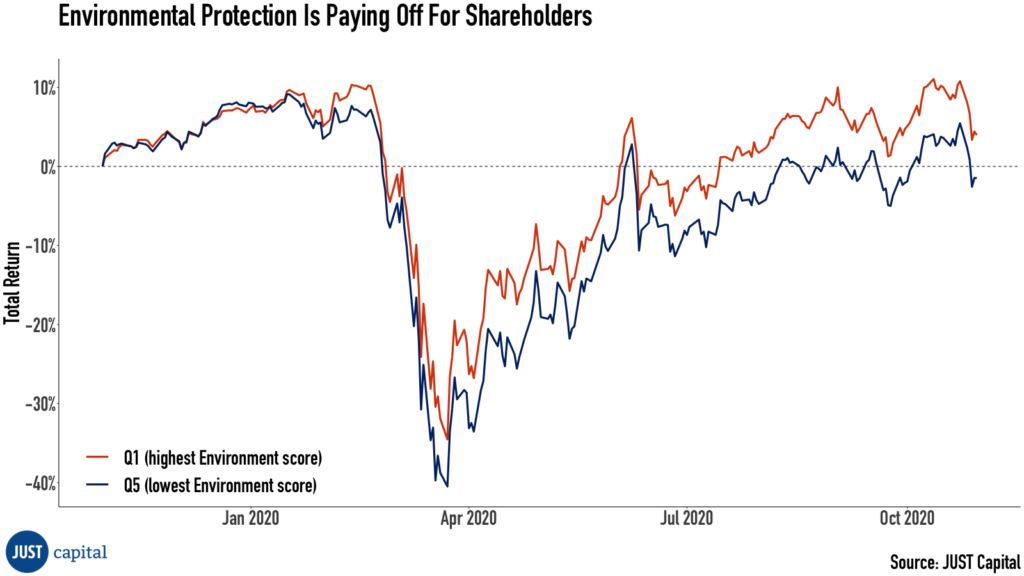 For this analysis, we divide the companies we ranked this year into quintiles by their scores in our Environment stakeholder relative to their industry peers. We find that the top quintile (Q1) had returns of 3.96% over the trailing year to October 31st, while the bottom quintile had negative returns of -1.47%. This is in line with our previous results and once again demonstrates the win-win of just business behavior when it comes to environmental protection.
In addition to this fundamental insight, with the incoming Biden administration, we expect increasing political and regulatory pressure for companies to reduce their impact on the environment. In turn, this results in an increasing divergence in company performance between those that are prepared and those that are not. What this means is that now is the time for companies to act and to prepare – both for the sake of their shareholders and for the sake of the environment.
If you are interested in supporting our mission, we are happy to discuss data needs, index licensing, and other ways we can partner. Please reach out to our Director of Business Development, Charlie Mahoney, at cmahoney@justcapital.com to discuss how we can create a more JUST economy together.
If you have questions concerning the underlying analysis, please reach out to our Senior Manager for Quantitative Research, Steffen Bixby, PhD, at sbixby@justcapital.com.