Chart of the Week: The Top 100 Companies Supporting Healthy Families & Communities Outperform the Russell 1000
This week's chart serves as a complement to our list of the Top 100 U.S. Companies Supporting Healthy Families & Communities published this week. Here, we examine the trailing one-year returns of the 100 leading companies from the list, relative the Russell 1000 companies we rank.
JUST Capital's research team, with support from the Robert Wood Johnson Foundation, identified 10 key issues that determine whether companies are supporting the health and well-being of workers, their families, and the communities in which they operate.
The methodology utilized in the calculation of our 2021 list considers whether a company scores highly on the following 10 issues:
Pays a fair, livable wage.
Cultivates a diverse & inclusive workplace.
Protects worker health & safety.
Provides benefits & work-life balance.
Contributes to community development.
Supports local communities.
Makes products that do not harm.
Helps combat climate change.
Minimizes pollution.
Prioritizes value creation for all stakeholders.
Over the time period of 6/1/2020 through 5/31/2021, the Top 100 Companies Supporting Healthy Families and Communities have outperformed the Russell 1000 Index by 4.6%. Top sector contributors were Financials, Consumer Discretionary, and Real Estate.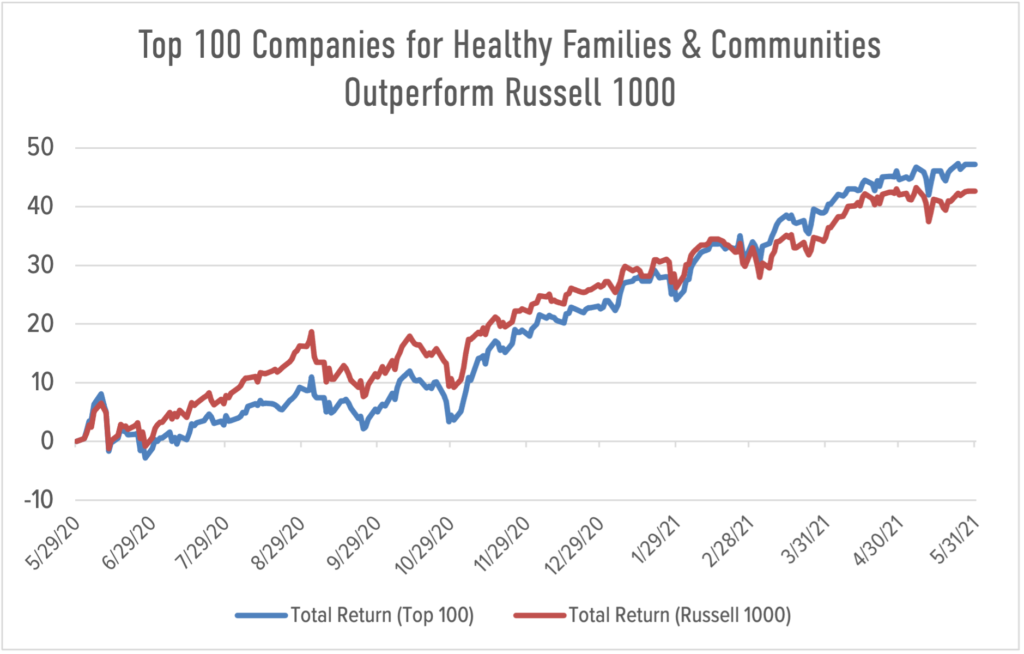 Top-ranked companies include NVIDIA, which offers unlimited paid sick leave, back-up dependent care, subsidized child care, and equitable paid parental leave for primary caregivers, secondary caregivers, and adoptive parents. Also included in the list are JPMorgan Chase, which is one of the few Russell 1000 companies to disclose non-white-to-white pay ratios.
Explore the rest of the list here to find out which companies continue to prioritize their stakeholders while outperforming their peers, and learn more about the list from JUST's Chief Strategy Officer Alison Omens, who spoke on CNBC's Closing Bell about why it's so important for companies to focus on the health, safety, and well-being of their workers and communities.  
If you are interested in supporting our mission, we are happy to discuss data needs, index licensing, and other ways we can partner, please fill out our request form to answer a few questions, and someone from our Investor Solutions team will reach out to you within two business days.