Leaders From Two Sigma, Verizon, Mastercard, and Hershey Explain How They're Building JUST Jobs and Business Resilience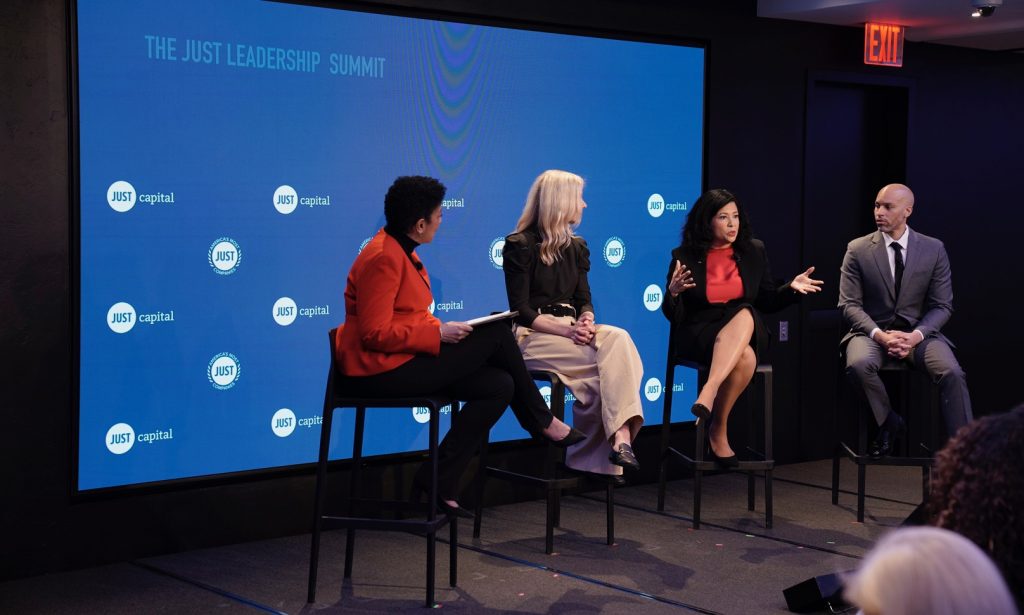 The job prospects, and on-the-job realities, American workers face today look different compared to a year, or even six months ago. Major employers continue to make announcements of layoffs or buyouts in some cases. The labor market is showing signs of slowing down, though it still remains tight. And inflation continues to hit the lowest-earning workers hardest. Amid this, a new Harris Poll survey found some Americans (42%) are worried about losing their jobs, but more (52%) are worried about worsening company culture.
Providing the jobs that will retain employees and help provide for them and their families in this environment has become increasingly imperative. It's part of the reason we developed our JUST Jobs Scorecard, as we continue to hear from the American public in our polling that investing in workers' should be an employer's number one priority when it comes to just business behavior and as attacks on "woke" companies and ESG continue. Last week, at our JUST Leadership Summit, we introduced the Scorecard and heard from job quality-focused corporate leaders and on how they're approaching these issues. Together, they discussed the importance of investing in workers in ways that will ultimately bolster business resilience.
Our Chief Strategy Officer, Alison Omens, spoke with our Managing Director and Head of Corporate Impact, Tolu Lawrence, and Ann Ruble, Partner at Two Sigma Impact, to get insight into how tools like the Scorecard can help companies and investors systematically listen to workers. CNBC Senior Correspondent, Sharon Epperson, also sat down with Samantha Hammock, Chief Human Resources Officer at Verizon, Alicia Petross, Chief Diversity Officer at Hershey, and Randall Tucker, Chief Inclusion Officer at Mastercard to learn how they're bolstering job quality right now, and what impact these actions are having on their workforce and business overall.
Watch the full discussion of each panel below and read on for key takeaways from both.
Focus on the best data to drive decision-making
Both Lawrence and Ruble noted that part of the challenge in measuring job quality and taking action to address gaps is that companies don't know where to start. For Two Sigma Impact, a private equity business advancing job quality within the companies in its portfolio, helping companies identify that data has been a key first step. "When you go into these mid-size companies, you'd think that that data [financial and operational metrics] would be clean and easy to access. But you go in there but they don't have data lakes yet, they don't have business intelligence tools," Ruble said.
Two Sigma Impact might begin by suggesting that management look at internal mobility rates or retention rates by various diversity, equity, and inclusion (DEI) metrics, she said. Importantly, the voice of workers informs that process. Two Sigma Impact employs a "voice of worker" tool throughout the deal life cycle to "systematically" listen to workers, Ruble said.
Having a tool to identify and refine the right data to focus on is also a core element of the JUST Jobs Scorecard, Lawrence noted. "There's a lot of data out there, but how do you make sure you're measuring the data that's going to have an impact? Because when you are measuring the data that's going to have an impact, that's when you see the long-term benefit and value of that data," she said.
Part of the Scorecard's focus is to help companies make sense of all the data out there and, in turn, see the long-term value in it, she added. Companies are able to take a look at how their performance on a particular metric compares to their peers or industry as a whole. Two Sigma Impact takes a similarly-minded approach in helping the leadership of companies it acquires better understand the state of job quality within their workforce. It decided on its four dimensions of job quality measurement – leadership, purpose, growth/advancement, fairness – to help executives more easily understand how they're performing and underlying data points, Ruble said.
"Build the muscle" of tying that data to core business outcomes
Once company leadership has a grasp on what data to measure, Ruble sees Two Sigma Impact's next step as helping them "build the muscle" to continually track these metrics. The goal is to get companies to scale to the point where this is in their DNA, she said. And in her experience, having companies go through the process of understanding this data beyond "something on a balance sheet" changes them.
"As people learn more about how to measure the cost of turnover or not actually developing anyone in your workforce and having to hire from the outside every time…and really understand the engagement of your workforce and productivity measures, once people start learning about those things you kind of can't not look at it again… It's really just thinking about it differently," Ruble said. Two Sigma Impact's thesis is that good jobs make better companies and findings from the JUST Jobs Scorecard support that with leading companies in the Scorecard's categories outperforming their peers.
Lawrence closed the session by raising a point JUST's Head of Investor Strategies, Cambria Allen-Ratzlaff, often notes that 90% of the S&P 500's market cap is in intangible assets, or human capital, though reporting on that hasn't kept up. "When we talk about the future and what we need to be tracking in order to really understand how a company is performing, I think that's really where we're headed."
Verizon's Samantha Hammock, Hershey's Alicia Petross, and Mastercard's Randall Tucker joined CNBC's Sharon Epperson for a discussion on JUST Jobs in Practice.
Take a measurable, business-relevant approach
Hammock, Petross, and Tucker each kicked off the conversation defining what a JUST Job means for their company. Hammock raised being able to care for your own physical and mental well-being while Petross touched on the need for fair compensation that allows employees to care for their families and communities. "For us, we think of a JUST Job as creating a place or environment where the best people want to stay and thrive," Tucker said of Mastercard's point of view. This is what Epperson referred to as a "very measurable" perspective and one that Tucker sees connected to Mastercard's performance overall.
Mastercard uses methods like employee engagement surveys, DEI metrics, and accessibility of its leadership team to measure job quality, he said. But he also raised the company's move to tie ESG goals to compensation for all employees as another key mode of measurement. "The common denominator between everyone is that they want meaningful work, they want to know that they've contributed to society in a meaningful way…. And so everyone in our organization from the CEO to an analyst is also contributing to that goal," Tucker said. Petross raised a similar, measurement- and business-relevant approach Hershey has taken toward its DEI efforts.
The company implemented its Say Hola initiative, which includes its first bilingual manufacturing facility, last year after seeing business-critical gaps in representation. "In 2020, when I started sharing some demographic stats, and I talked about the fact that in the U.S. and North America Black and Latino consumers are about 30% of our consumer portfolio. But at the time representation for those groups was about 15%. People could immediately feel the gap," she said. Hershey's employees have been proud of the program's results too, she said. "Many in our manufacturing facilities have worked with us for 40-plus years, and they will say to me 'I'm really proud that someone else who didn't have my experience is able to get this job.'"
If you ask for employee feedback, be quick to respond
Part of the origin for Hershey's Say Hola initiative came from the company's Latino Business Resource Group, Petross said. And these groups have influenced other changes, as their mandate extends to "driving our commercial business and influencing company policy" – why Hershey refers to them as Business Resource Groups, instead of Employee Resource Groups.
When the company's Women's Business Resource Group came to management and noted that Hershey's 14-week paid parental leave policy was lacking compared to its peers in the consumer packaged goods industry, the company took action. In January, following the Women's Business Resource Group's benchmarking, Hershey rolled out a 20-week paid parental leave program. "We're in this spirit of co-creation and it's one of the ways that we reinforce to employees that we hear you and we're acting on what we're hearing," Petross said.
Hammock reinforced the importance on acting on what you're hearing from employees – and acting quickly. "We all hear about survey fatigue. I don't actually believe in survey fatigue. I believe what people are annoyed by is if you don't do something about it. They're happy to answer surveys all day long if you are listening and acting on what they are asking for," she said. People want to see progress, she said, and they're focused on the speed of change and if it's implemented in a measurable way. To her, not acting on employee feedback is where businesses risk seeing employee "fatigue" around DEI and other areas of job quality.
Adapt and tailor workforce investments
In addition to employee feedback, Hammock raised adapting workforce investments based on the current economic climate or job market. While she said Verizon hasn't been affected by cost cutting measures, the company is thinking about what the right investments to make are at a time when more Americans are switching jobs. Meeting people where they are through efforts like self-selecting benefits is key, she said. As is aligning those actions with strategic workforce plans – and being able to pivot when that's not the case.
Petross made a similar point on Hershey's approach to workforce investments amid shifts in the labor and economic markets. The company acquired three new brands over the past three years and never conducted layoffs, and, as a result, its focus is now on what it'll take to retain employees. The company's achieved gender and racial pay equity in the U.S. and is now looking to reach that globally by 2025, she said. Hershey has developed programs to foster internal growth, which was sparked in part by the realization that six of CEO Michelle Buck's nine direct reports "grew up in the company." Career growth is a big priority for the company's workers and it's adapted accordingly.
"Give me the skills and abilities to continue growing my career because that is the thing that is going to make my income sustainable," Petross said, naming the second biggest piece of feedback, following compensation, Hershey receives from employees.
Whether a result of employee feedback, economic climate, or job markets, these leaders are adapting their job quality strategies. They're not abandoning them. "It's not going anywhere because it's part of our value system," Tucker said. "If we take a hit… our value system is who we are. That's not changing." And getting to the place of job quality as a core value starts with listening to workers, focusing on the right data related to those insights, and tying that to core business outcomes.
To unpack your company's performance in the 2023 Rankings and JUST Jobs Scorecard and gain insights into how to improve on the issues that matter most to the American public, please reach out to corpengage@justcapital.com.