JUST Jobs Scorecard Shows Room for Companies to Lead on Job Quality Disclosure, With Established Leaders Outperforming Peers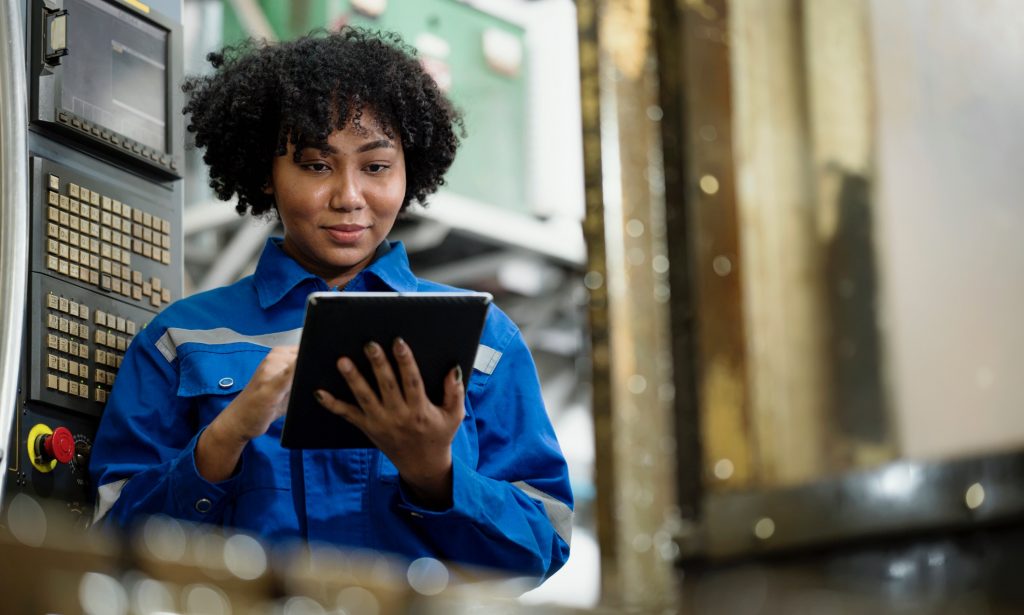 As 2023 has unfolded, the spotlight on jobs and job quality hasn't let up. News of layoffs and questions of if and when a recession will hit persist. Some employers are choosing to raise wages as workers across the country feel the impacts of inflation on their wallets. While these issues are exacerbated at the moment, and have been for the last three years, JUST Capital polling has consistently found that the American public wants companies to put their workers first. This is true across demographics we survey, including age, race, gender, income group, and political affiliation.
For companies, navigating how to invest in their workers and prioritize job quality remains a challenge. While there are emerging definitions of what "good" performance looks like, we lack clear standards for what companies should be disclosing and how to benchmark their efforts. To help companies navigate this space, we created the JUST Jobs Scorecard. The JUST Jobs Scorecard is a data-driven, interactive tool that helps corporate leaders assess job quality performance on 28 data points across seven key topic areas and prioritize ways to improve through clear disclosure and performance thresholds from "no disclosure" up to the "leading" practice.
This first iteration of the JUST Jobs Scorecard has provided us with some key insights into what we can currently measure and how we might incentivize more JUST Jobs in America today. The first takeaway is stark: there is low disclosure across all companies, even on basic job quality policies and practices. That fact tells us this is an emerging – not established – area of focus regarding corporate stakeholder performance and disclosure.
Through a more positive lens, corporate leaders can consider it a "blue ocean" opportunity, where leadership can quickly be established by taking action to disclose more data around how they are investing in and supporting their most important value creators – their workers.
Where consensus exists on what data to disclose, how to disclose it, and the business case behind why it's important, we see real progress. A great example is within Workforce Race/Ethnicity Diversity Data, where we've seen disclosure of the gold standard – the EEO-1 Report or similar intersectional data – more than triple in the last year alone.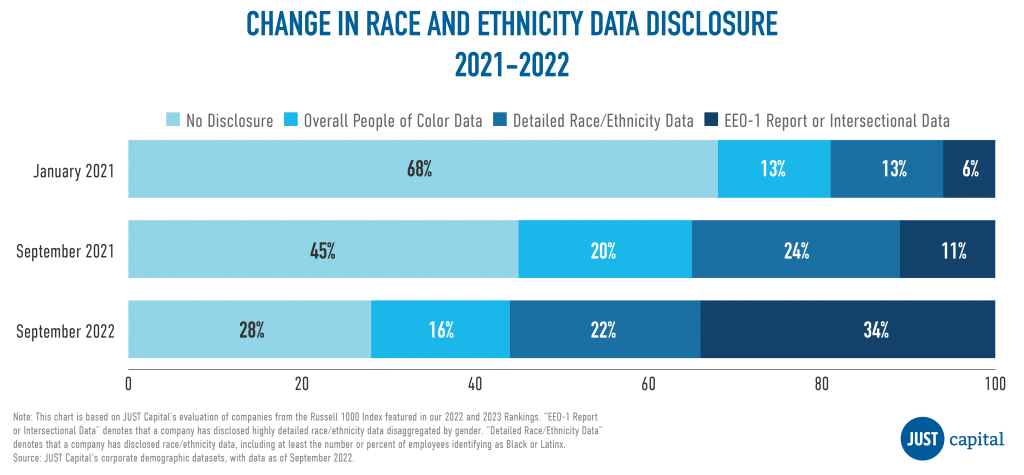 That said, this data point is only one of a few that we are tracking in the Scorecard that have high levels of disclosure. That group includes:
Workforce Race/Ethnicity Diversity Data: 73% of Russell 1000 companies disclosing.
Workforce Gender Diversity Data: 79% of Russell 1000 companies disclosing.
Tuition Reimbursement: 71% of Russell 1000 companies disclosing.
In contrast, disclosure across three quarters of all data points in the Scorecard is less than 40% as illustrated in the chart below: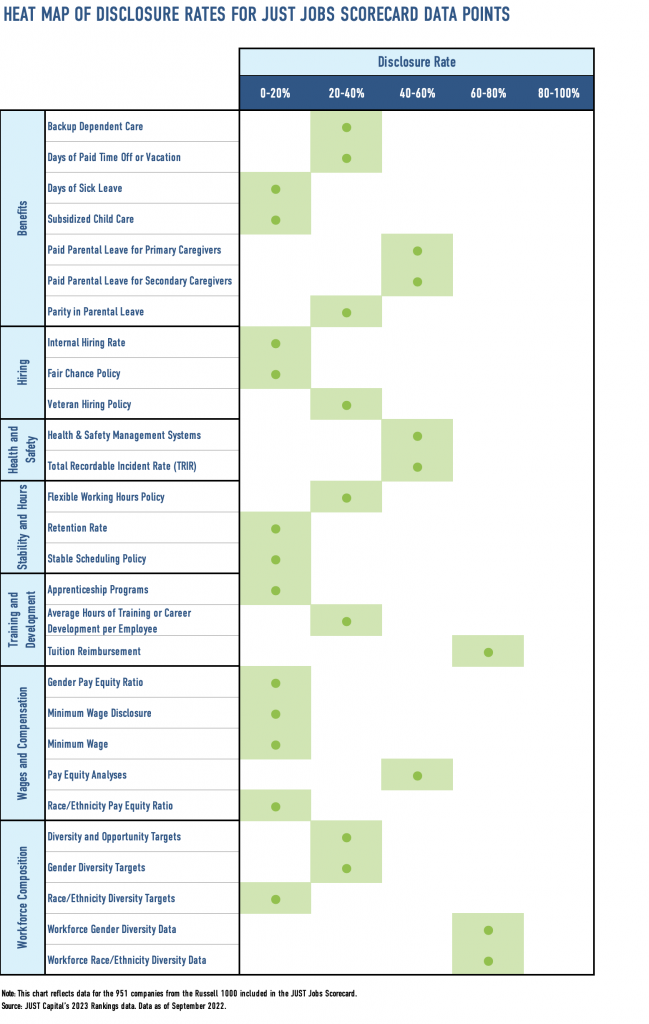 These results indicate a pressing need to incentivize business leaders to increase transparency on key job quality metrics. There is ample benefit for employers: by clearly communicating their employee value proposition, companies are able to better recruit, retain, and advance employees. They're also meeting the growing expectations of their shareholders. But the current state of disclosure also provides an opportunity for companies to demonstrate leadership as they lean into disclosure and performance improvements on the issues that matter most to their workforces – and to the American public.
Even on some metrics of top priority to Americans we polled, such as wages, the vast majority of Russell 1000 companies lack transparency.
Only 11% disclose some information about their minimum wage and just 8.6% disclose their exact minimum wage value.
Only 2.4% disclose a minimum wage value that meets the living wage threshold for one adult and no children.
And while nearly half (40%) conduct some form of a pay equity analysis, only 13.7% and 8.9% disclose gender and race/ethnicity pay ratios, respectively.
The impacts of the COVID-19 pandemic might lead one to assume that companies are clear about the necessity of disclosing that they provide paid sick leave to their employees. In fact, only 9.3% of Russell 1000 companies disclose any paid sick leave, and some corporate leaders on this issue may not receive their due because of a lack of transparency about that fundamental benefit.
When it comes to retention and advancement – clear indications that a company is a place for long-term growth and opportunity – disclosures are also low: just 4.2% of companies disclose a retention rate and 7.4% disclose an internal hiring rate.
Ultimately, the JUST Jobs Scorecard makes it clear that major U.S. companies have a leadership opportunity, in many aspects, in front of them. Taking action to disclose key job quality metrics, and improve them where needed, can help set a company apart as an employer of choice. It can also establish a company as a leader on jobs at a crucial juncture for the U.S. labor market. And it'll benefit the bottom line as well.
We took a look at the market performance of the top quintile of companies within the overall JUST Jobs Scorecard Overall Score and Topic Scores. Each area showed substantial alpha in 2022. The top performers in Safety and Training led the way, with 12% alpha each, but the outperformance in each category further reinforces the importance of creating just jobs to drive long-term business success.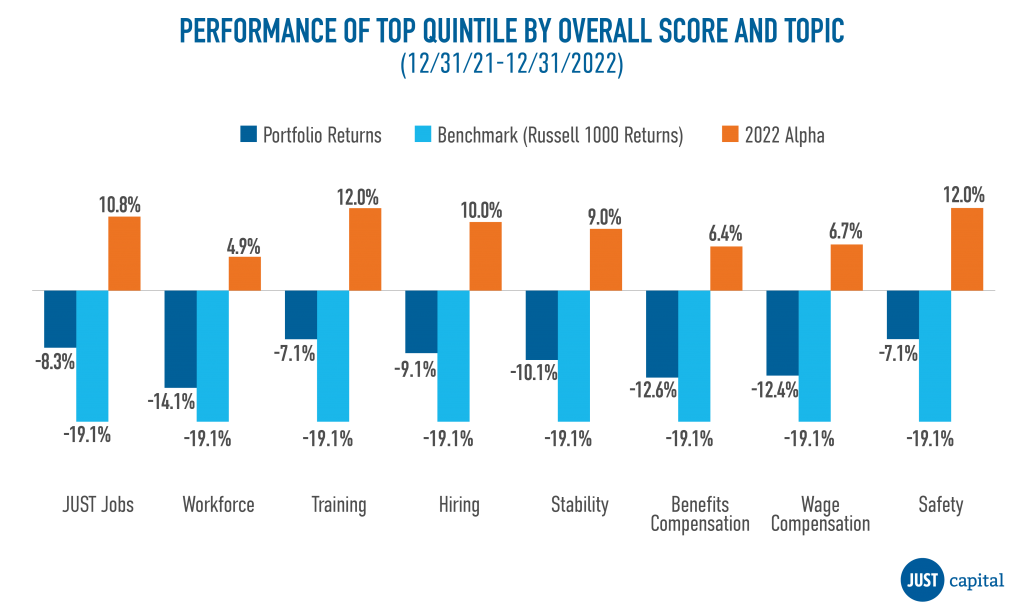 So, the business and investor case are there. Where, and how, to start on the journey remains a challenge for many corporate leaders. That's where the JUST Jobs Scorecard comes in. JUST Capital will soft launch the Scorecard on April 5, at which point corporate leaders at Russell 1000 companies will be able to view their Scorecards, respond to insights through additional disclosure and guided implementation, and share valuable feedback before a public roll out later this year.
To unpack your company's performance in the upcoming JUST Jobs Scorecard and gain insights into how to improve on the issues that matter most to the American public, please reach out to corpengage@justcapital.com.