Watch the 2023 JUST Leadership Summit: Building Better Companies Through JUST Jobs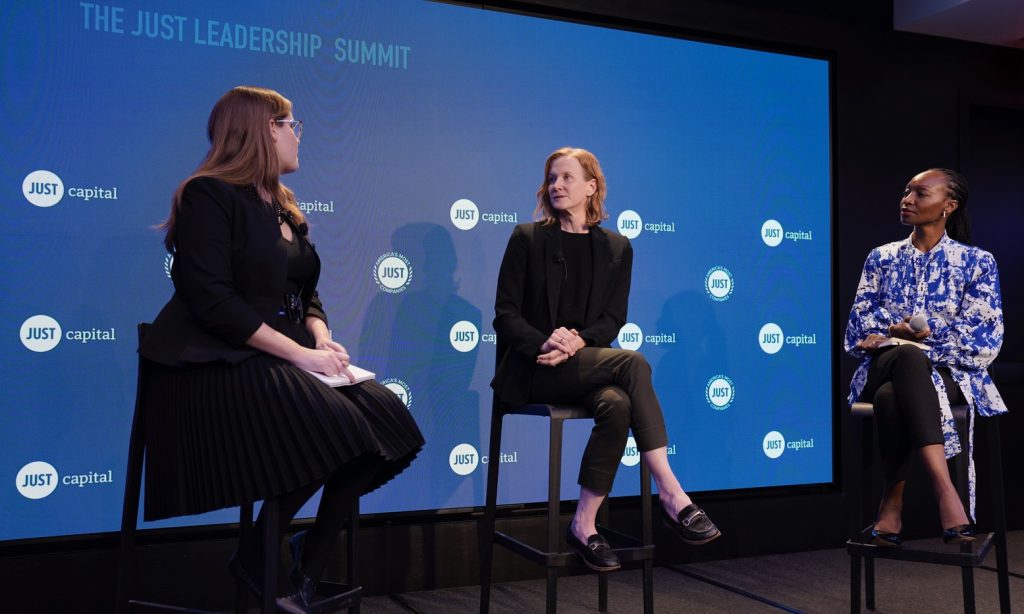 On Monday, March 13 top corporate, investment, and sustainability leaders gathered for the JUST Leadership Summit – an annual event, now in its 8th year, to celebrate corporate leadership and spotlight action from investors and American companies to help build a more just economy. We discussed the broad state of play with Deloitte, why employee stock ownership is a winning strategy with KKR, how JUST jobs build better companies with Two Sigma, and recognized the achievements of this year's JUST 100, the leaders topping our 2023 Rankings of America's Most JUST Companies. 
Explore the full video from Monday's event below for insights into how corporate leaders can navigate today's shifting ESG landscape, put workers first, and create more JUST jobs. A description of each panel, including timestamps, can also be found below.
Welcome Remarks | starts 0:50
An invitation to consider the challenges facing both American workers and corporate leaders today, and an introduction to the Summit's panels.
Speakers
Martin Whittaker, CEO, JUST Capital
Byron Loflin, Global Head of Board Advisory, Nasdaq
Driving Stakeholder Value Creation Through a Shifting Landscape | starts 10:10
In the current climate of imminent regulatory shifts and noisy political rhetoric, there are myriad unknowns about what the future of ESG and corporate sustainability strategies will require. Partner Kristen Sullivan shared insights into how Deloitte is advising clients and helping them navigate this moment with intelligence devised to accelerate JUST business practices and create value for investors.
Speaker:
Kristen Sullivan, Partner, US Sustainability and ESG Services Leader, Deloitte
Sharing the Wealth: A Fireside Chat with Pete Stavros | starts 26:40
Pete Stavros sat down with CNBC's Dominic Chu to talk about today's investing landscape and how he thinks the innovative strategies being deployed by the organizations he leads – KKR and Ownership Works – can not only improve the lives of millions of workers but also transform strategic business practices in America in the process. Includes a short video on the impacts of Ownership Works.
Speakers:
Pete Stavros, Partner and Global Co-Head of Private Equity, KKR, and Founder and Chairman, Ownership Works
Interviewed by Dominic Chu, Senior Markets Correspondent, CNBC
JUST Jobs Build Better Companies | starts 53:40
JUST Capital previewed our new innovative tool – the JUST Jobs Scorecard – that helps business leaders assess how companies are performing on job quality today and why we should all be investing in JUST Jobs to build better companies.
Speaker:
Alison Omens, Chief Strategy Officer, JUST Capital
The Value of Listening to Your Workers | starts 1:01:20
There are multiple approaches to measuring job quality but perhaps no greater tool than listening to the workers themselves. In this session, we discussed how to unlock business value by using cutting edge survey tools and other strategies to engage with and respond to your workforce – an approach well-paired with the disclosure and performance thresholds available in JUST's new Scorecard in determining where to make workforce investments.
Speakers:
Tolu Lawrence, Managing Director, Head of Corporate Impact, JUST Capital
Alison Omens, Chief Strategy Officer, JUST Capital
Anne Ruble, Partner, Two Sigma Impact
Worker Voice | Chipotle starts 1:19:19 | Verizon starts 1:22:13
We hear directly from two JUST 100 employees – Eddy Caballo, Field Leader at Chipotle and Edwenna "Eddie" Ervin, Senior Engineer Project Manager at Verizon – about the impact their companies' workforce investments have made in their lives.
JUST Jobs in Practice | starts 1:25:20
High-quality metrics, assessments, and benchmarks are key to understanding JUST Jobs, but then it's time to put the insights into practice and make strategic investments in your workforce. In this session, we heard from C-suite leaders about specific actions taken and challenges overcome that generated transformative impacts for their workers and business outcomes for their companies.
Speakers:
Samantha Hammock, Chief Human Resources Officer, Verizon
Alicia Petross, Chief Diversity Officer, The Hershey Company
Randall Tucker, Chief Inclusion Officer, Mastercard
Moderated by Sharon Epperson, Senior Correspondent, CNBC
JUST 100 Industry Leaders Spotlight | starts 1:53:00
JUST 100 Industry leaders are helping to shift norms and scale change across corporate America by influencing their respective sectors to do more in a continuous race to the top. They demonstrate through practice that an integrated stakeholder approach – where climate, sustainability, and equity are inextricably connected – leads to long-term impact and financial outperformance.
Speakers:
Noel Kinder, Chief Sustainability Officer, Nike
Sandy Nessing, Chief Sustainability Officer, American Electric Power
Moderated by Kristina Partsinevelos, Reporter, CNBC