How 10 Companies Are Protecting the Environment (and Yours Can Too)
The environment – and climate change in particular – was at the top of the list of priorities at the World Economic Forum in Davos, Switzerland, last week. That was true even before catastrophic fires broke out in Australia in late fall.
But those fires — preceded by others in California — are just one example of why politicians, community leaders, and business executives are under pressure to show how they are working toward a solution to one of the world's most pressing issues. Because the American public is eager to see action — a fact supported by our annual survey results.
Since 2015, JUST Capital has surveyed nearly 100,000 Americans in an effort to identify the issues that matter most to them in defining just business behavior today. Each year, we use the results of that survey to rank the largest publicly traded U.S. corporations on how they measure up to the priorities of the public.
In 2019, the Environment was identified as a key stakeholder — along with Workers, Customers, Communities, and Shareholders. Americans agree that corporations play a role in protecting our planet by minimizing pollution, reducing waste, and implementing robust environmental management systems.
When asked about the state of business today, Americans have an increasingly negative perception of how companies impact the environment – with just 35% seeing corporate impact as positive, about 8% less than the year prior. So while the American public believes environmental issues are important, they also increasingly feel that large companies tend to have a more negative than positive impact.
The good news is that there are companies setting an excellent example, leading the way in protecting our planet by minimizing pollution, cutting waste, maximizing use of renewable energy, and more.
Here are the 10 companies that score highest on all of the environmental issues we track, based on our 2020 Rankings.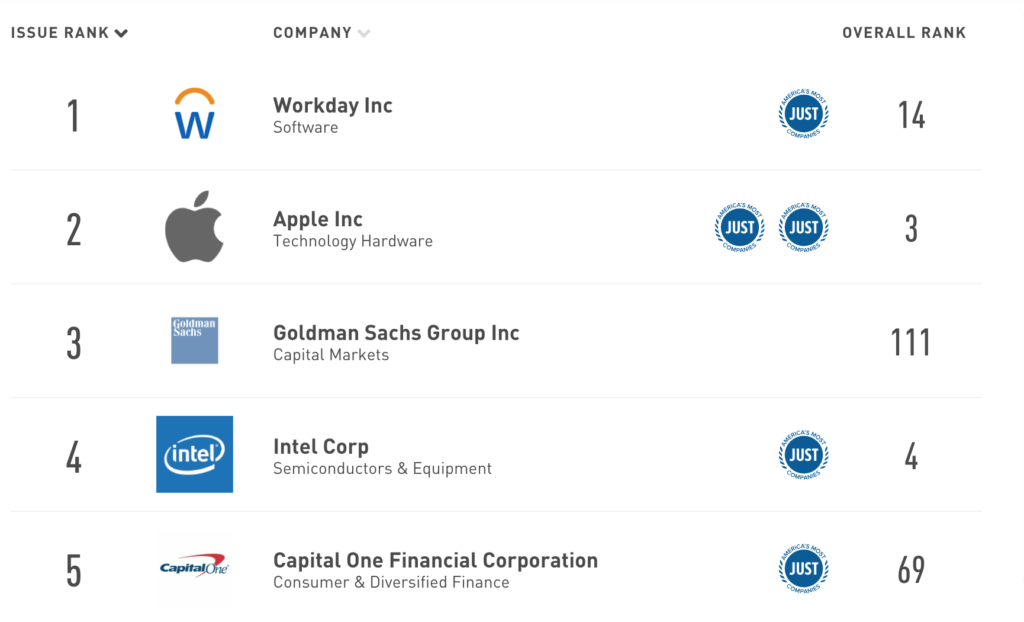 1. Workday
Industry: Software
Overall JUST Capital Rank: 14
Workday relies 100% on renewable energy, so it's not a big surprise that the enterprise cloud applications provider ranks first in its industry and overall for its treatment of the Environment. A few examples of its commitment include the following:
In 2018, Workday generated 77.4 tons of solid waste and follows a zero landfill policy.
Workday provided all customers with a carbon-neutral cloud that helps reduce business costs and carbon footprints through centralizing server processing, optimizing energy usage, and eliminating redundant equipment.
Workday achieved carbon neutrality in 2018, meaning that, in addition to the use of renewable energy, it offsets 100% of its emissions from using natural gas in the office buildings.
2. Apple
Industry: Technology Hardware
Overall JUST Capital Rank: 3
Between 2017 and 2018, Apple reduced Scope 2 greenhouse gas emissions (the kind generated from electricity usage) by 79.5%. This major drop is in part due to Apple's efforts to source 100% of the electricity used in its facilities from renewable resources. To help reach this milestone, Apple strategically established its own renewable energy projects: roughly 66% of the company's renewable energy comes from Apple's own projects.
What's more, Apple's focus on recycling and composting helped divert a total of 74% of their waste from going into landfills in 2018.
The tech company's environmental efforts extend outside company walls. Through the Supplier Clean Energy Program, Apple has gotten 44 of its suppliers to pledge to use 100% renewable energy for Apple-related production. These commitments helped reduce the company's carbon footprint by close to 3.6 million metric tons between 2017 and 2018.
3. Goldman Sachs Group
Industry: Capital Markets
Overall JUST Capital Rank: 111
Goldman Sachs has maintained carbon neutrality since 2015, and the global investment banking company aims to use 100% renewable energy to power operations by 2020. The verdict is still out on whether that's happened, but it was looking good in 2017, when the company estimated it reached 95% use of renewables.
Other notable commitments include a $150 billion contribution to green energy projects through investment and financing by 2025. Since 2014, Goldman has underwritten $35 billion in sustainability bonds related to resilient infrastructure, corporate green initiatives, and clean energy.
Goldman Sachs has set and met 2020 goals to reduce its use of water, paper, and electricity as the company strives to eliminate business waste and achieve LEED Gold or equivalent certification for 100% of all new construction and major renovation projects.
---
Want to read more stories like this?
Our FREE weekly newsletter about the future of capitalism and the movement to build a more equitable marketplace in America. 
---
4. Intel Corp
Industry: Semiconductors & Equipment
Overall JUST Capital Rank: 4
Intel sourced 71% of energy from renewables globally in 2018, while achieving 100% in its U.S. and E.U. operations through green power purchase and onsite installations. Intel campuses in 15 countries have approximately 95 alternative energy installations using 20 different technology applications, including solar, geo-energy, and micro wind turbine array systems.
Intel also hit its goal of recycling 90% nonhazardous waste two years early. The company treats and returns approximately 80% of water used to local communities and watershed, making significant progress toward its goal to restore 100% of its global water use by 2025.
5. Capital One Financial Corporation
Industry: Consumer & Diversified Finance
Overall JUST Capital Rank: 69
Capital One purchases annual Renewable Energy Certificates, which verify that the company's electricity comes from renewable sources such as wind or solar.
In addition, the company confirms its dedication to renewable energy in two ways: First, it goes through a third-party verification process. And second, in 2018 Capital One joined RE100, a global initiative uniting more than 100 influential businesses committed to 100% renewable electricity.
Capital One is also committed to reducing paper waste, setting a goal for 95% of paper used to come from sources that are either certified by the Forest Stewardship Council (FSC) or contain at least 30% recycled post-consumer waste.
6. Hasbro
Industry: Household Goods & Apparel
Overall JUST Capital Rank: 56
As the largest toy manufacturer in the world, it's not surprising that Hasbro produces a lot of packaging and potentially waste. But the company recognizes the impact its business can have on the environment and is working hard to reduce its footprint.
Specifically, Hasbro actively reduces plastics use in its products with the removal of plastic strips and encourages recycling of its products. Hasbro plans to eliminate more single-use plastics, including elastic bands and shrink wraps, by the end of 2022.
The global play and entertainment company has a program that allows parents to print out a free shipping label and send old products to a recycling company that will turn them into building materials for playgrounds and park benches.
Beyond its recycling efforts, in 2018, Hasbro obtained 55% of its energy from renewable sources through the purchase of renewable energy credits — certificates verifying electricity production comes from renewable energy — and by investing in carbon offsetting projects.
7. State Street Corp
Industry: Capital Markets
Overall JUST Capital Rank: 435
Financial services company State Street Corp committed to hitting three environmental goals by 2020:
Reduce greenhouse gas emissions by 20% per person.
Reduce water usage by 20% per person.
Divert 90% of waste sent to landfills.
All three of these goals were compared to a 2012 baseline.
How'd they do? The company achieved all three by 2017, three years ahead of schedule. But State Street knows there's more work to do. That's why the company has expanded its initiative with new environmental goals to be reached by 2025, including a 30% global reduction in greenhouse gas emissions, a 10% reduction in water usage, and an 80% increase in its recycling rate.
As always, we'll continue tracking the company's progress on these and other important targets.
8. Alphabet
Industry: Internet
Overall JUST Capital Rank: 6
Alphabet, the parent company of Google, matches 100% of its electricity consumption with purchases of renewable energy, making it the largest corporate purchaser of renewable energy globally.
In 2017, the Internet company diverted 91% of waste from landfills, while achieving 100% landfill diversion at six of its operating data centers. Alphabet has also created a take-back program in the United States to allow customers to responsibly recycle devices for free.
Alphabet is committed to building sustainability into everything the company does — and being transparent about its progress. Anyone can see details about Alphabet's goals and performance in the company's annual environmental report.
9. Microsoft
Industry: Software
Overall JUST Capital Rank: 1
Microsoft has maintained 100% carbon neutrality in global operations every year since 2012, largely thanks to its carbon fee program.
The software giant also reduced product packaging weight for new devices by 20% in fiscal year 2018, exceeding the company's 2020 goals.
Like most companies on this list, Microsoft knows there's more work to be done. Since the 2020 Rankings release (on November 12, 2019), the company has increased its commitment to environmental sustainability, announcing a plan in January 2020 to not only be carbon negative by 2030, but also to remove all carbon the company has emitted since it was founded in 1975 by 2050!
10. VMware
Industry: Software
Overall JUST Capital Rank: 10
One last tech company rounds out our top 10 list. VMware earns the recognition for reaching Carbon Neutrality in 2018 — two years ahead of the planned goal. In 2019, 100% of the energy used by VMWare in its operations across the world came from renewable sources.
In an effort to help customers understand the carbon scores of their IT operations and make more sustainable choices, the software company developed a Carbon Avoidance Meter in its VMWare incubator.
Want to see which companies are just beyond the top 10 for the Environment? Check out the full list here. And to stay up to date on how all the largest U.S. companies are performing against sustainability goals and more, sign up for our free weekly newsletter, The JUST Report, today!