JOIN US: How Private and Public Sector Leaders Can Prioritize Equity and Opportunity in Economic Recovery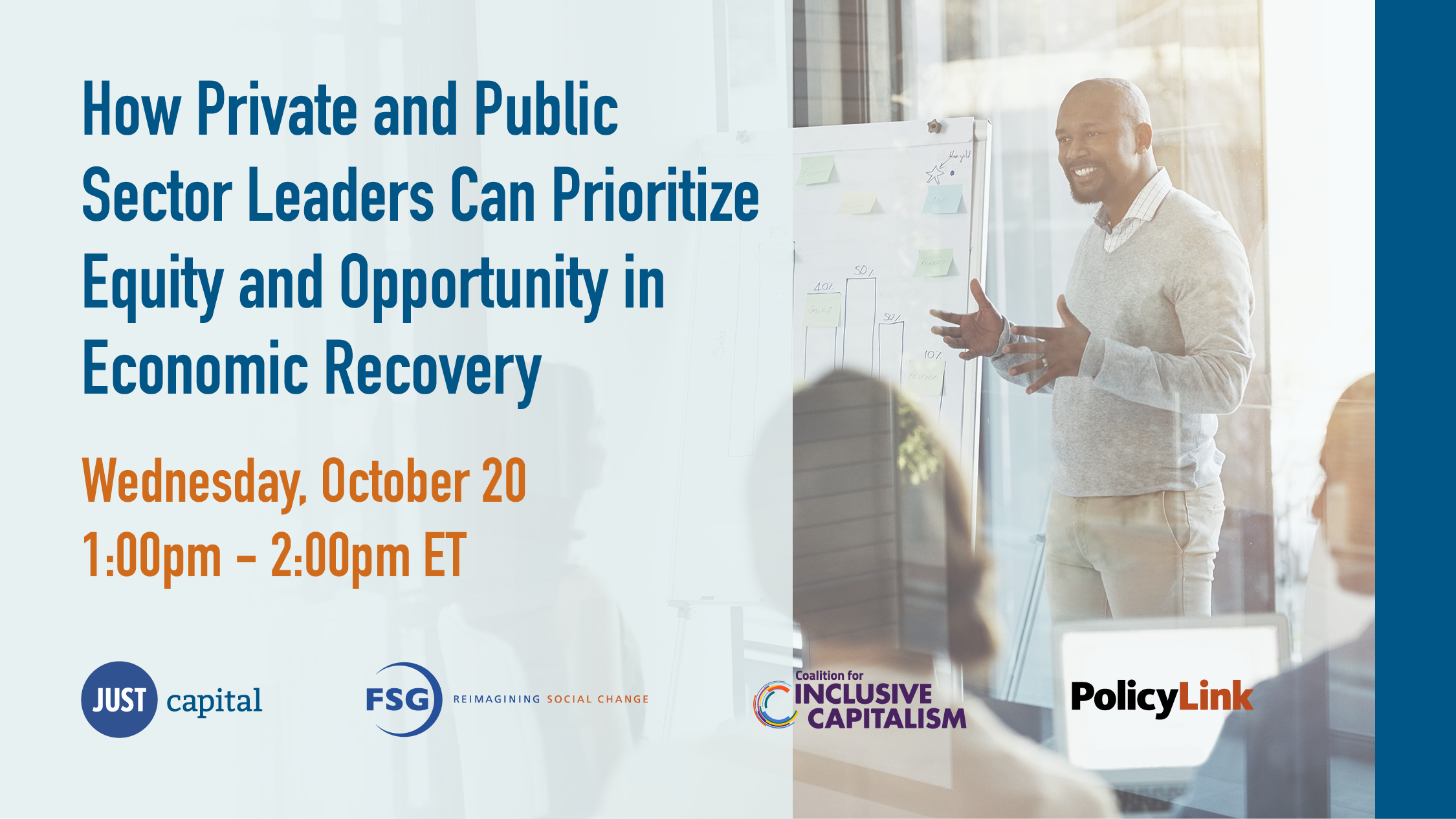 The work of building an equitable and inclusive economy requires decisive, thoughtful action by policymakers and business leaders alike, particularly as we work for an economic recovery that prioritizes workers' well-being. Join JUST Capital, together with the Coalition for Inclusive Capitalism, FSG, and PolicyLink, for a virtual fireside chat and panel discussion exploring the steps business and policy leaders can take toward building an equitable and inclusive economy.
The event will highlight how business can help lead a recovery that is more inclusive and sustainable, and how leaders can champion equity and offer meaningful opportunity for all workers. Participants will also touch on two bodies of work that have advanced these questions: the Framework for Inclusive Capitalism and CEO Blueprint for Racial Equity.
Register here to join the conversation
Hosted by JUST CEO Martin Whittaker and moderated by PolicyLink Managing Director of Corporate Racial Equity Mahlet Getachew, panelists include:

Angela Glover Blackwell, Founder in Residence, PolicyLink
Angela Glover Blackwell started PolicyLink in 1999 to advance racial and economic equity for all. Under Angela's leadership, PolicyLink gained national prominence in the movement to use public policy to improve access and opportunity for all low-income people and communities of color, particularly in the areas of health, housing, transportation, and infrastructure. Angela is also the host of the Radical Imagination podcast and Professor of Practice at the Goldman School of Public Policy, University of California, Berkeley.
Lynn Forester de Rothschild, Founder, Coalition for Inclusive Capitalism
Lynn Forester de Rothschild is the Founder of the Coalition for Inclusive Capitalism and the Council for Inclusive Capitalism with The Vatican. She is also Founding and Managing Partner of Inclusive Capital Partners, an investment manager that seeks positively differentiated returns by deploying its governance skills and value investment discipline to improve environmental and societal performance of the business' in which it invests. Until July 2020, she was Chief Executive of E.L. Rothschild LLC, a family office with interests in private companies, public markets and real estate.
Don Graves, Deputy Secretary, U.S. Department of Commerce
Don Graves is the 19th Deputy Secretary of Commerce. Graves holds decades of experience in the private sector, government, and nonprofits. He previously served as Executive Vice President and Head of Corporate Responsibility and Community Relations at KeyBank and Counselor and Domestic and Economic Policy Director under the Obama-Biden Administration for then-Vice President Biden. He was previously appointed by President Barack Obama as Executive Director of the President's Council on Jobs and Competitiveness and led the federal government's efforts in the economic recovery of the city of Detroit.
Damon Jones, Chief Communications Officer, Procter & Gamble 
Damon Jones leads efforts to help ensure P&G is and is recognized as a force for good and a force for growth. P&G and Jones have been well recognized within the CPG industry and beyond for their leadership in creative, advocacy-based campaigns that inspire dialogue and enable collective action in advancing equality for women, people of color, members of the LGBTQ+ community and other under-represented groups. A 20+ year veteran of P&G, Jones followed his passion for community engagement and took a leave of absence to serve as the Communications Director for the 2008 Democratic National Convention.
Scott Ullem, CFO, Edwards Lifesciences
Scott Ullem has been CFO of Edwards Lifesciences since January 2014. In addition, Ullem has executive responsibility for the company's information technology, information security, risk management, indirect sourcing, and corporate services teams. Prior to joining Edwards, he served as chief financial officer of Bemis Company Inc. after spending 17 years in investment banking at Goldman Sachs and Bank of America. He is a Henry Crown Fellow at the Aspen Institute and a passionate supporter of healthcare initiatives aimed at improving hospital quality and safety.